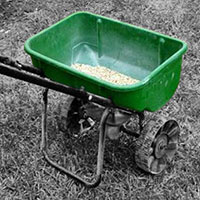 Strong fertilizer ordinance passes; then it is gutted
STORY BY STEVEN M. THOMAS, (Week of July 25, 2013)
After a marathon public hearing where more than two dozen people spoke in favor of a strong fertilizer ordinance to protect the Indian River Lagoon, the County Commission passed a confusing mishmash that left many lagoon advocates angry and disappointed.
The commission approved the state model fertilizer ordinance with several additional provisions to make it stronger, but then turned around in a second motion and exempted professional fertilizer applicators from following the added provisions if they take a state-mandated training course.
"It is unbelievable they would pass something like that," said Dr. Richard Baker, University of Florida biology professor emeritus and president of the Pelican Island Audubon Society. "It is like saying that because you pass the driver's education course, you don't have to follow traffic laws."
Island resident John Orcutt, who is on the boards of several environmental organizations, left the chamber and went out to sit in the lobby when the commission's intent to exempt commercial applicators became clear. "It is like it was all for nothing," he said of the five-hour special call meeting. "They might as well just have passed the state model."
The other major disappointment for lagoon advocates came when commissioners took the advice of professional lawn care spokesmen from outside the county and decided not to impose a rainy season blackout period that would have prohibited the application of lawn fertilizer between June 1 and Oct. 1, when heavy rains are more likely to wash chemicals into the lagoon.
"That provision is the heart of an effective ordinance," said Baker.
The action Thursday came after now-retired County Attorney Alan Polackwich informed the commission several weeks ago the lagoon has been designated an impaired waterway by the Florida Department of Environmental Protection, obligating the county to pass the state model ordinance, or a stricter ordinance, to reduce the amount of polluted runoff flowing into the estuary.
Until that notification, commissioners ignored scientific opinion that overwhelmingly favored fertilizer regulation along with the advice of officials from other counties who told them fertilizer ordinances are helping restore their estuaries.  But when urged by their own attorney and mandated by the state, they finally caved and agreed to do the minimum.
The state model ordinance requires commercial fertilizer applicators to take a training course on how to apply lawn chemicals so they don't end up in the lagoon, where they feed algae blooms that cut off light, sucking up oxygen and smothering sea life.  
It mandates the use of some slow-release fertilizer that is less likely to run off into the waterways, regulates how close to water fertilizer can be applied and limits the times when fertilizer can be applied, restricting its use when heavy rains are expected.
Baker, Orcutt and a majority of those at the public hearing wanted the commission to add four provisions to the state model, including a more consistent distance limit that would keep all fertilizer 10 feet away from water; mandated use of fertilizer that contains at least 50-perecent slow-release nitrogen; and a rainy season blackout.
Approximately 80 people showed up for the public hearing, and five spoke in favor of the added provisions for each person who asked commissioners to pass only the model ordinance.
Those who favored a stronger ordinance included fishermen, scientists, environmentalists and a number of ordinary citizens. Those who wanted the state model, which is regarded as weak and outdated by many experts, all came from the lawn care industry.
Sebastian resident John Castleberry said he moved to Indian River County for the snook fishing but has seen an 80-percent reduction of fish in recent years.
"Be leaders, not laggers," he told commissioners, calling on them to pass a rainy season blackout and other additional provisions.
"I urge you take stronger action," said a Harbor Branch volunteer who also conducts tours for the Save the Manatee Club. "I haven't been able to show anyone a manatee at the manatee center in three months because we have lost so much seagrass they are starving."
Island environmentalist Judy Orcutt showed a picture of dead manatees piled in the back of a truck to be hauled away. "We need to do something quickly to reduce nitrogen in the lagoon," she said.
"The model ordinance is the minimum. The voters expect more."
On hand to support a stronger ordinance were members of the Indian River Neighborhood Association that represents 7,000 county residents; Linda Behret, chairman of the 1,000-member strong Brevard and Indian River county chapter of the Sierra Club; Leesa Soto, executive director the Marine Resources Council; Edie Widder, founder and chief scientist at ORCA, the Ocean Research and Conservation Association; and Lange Sykes, head of the Treasure Coast chapter of the Coastal Conservation Association, a fisherman's organization with 31 Florida chapters that works to protect the environment.
Opposing that scientific and civic firepower, which appeared to represent the prevailing opinion of lagoon experts and county residents, were a handful of people who make their living by selling and applying fertilizer.
At 2:30 p.m., after hearing more than 30 speakers, the county commission did the will of the handful, not the majority.
Lawncare speakers argued forcefully against additional provisions, especially a rainy-season ban on fertilizer application. They said it would damage turf and lead to more pollution. They also said a strict ordinance would hinder their business.
Those points were called into question by, among others, John Orcutt, Linda Behret and Tommy Aiello, president of Aiello Landscaping.
Aiello, a past president of Florida Nurseryman, Growers and Landscape Association who has been in the lawncare business since 1981, said a strong fertilizer ordinance in Martin County that includes a summer fertilizer ban has not damaged turf or hurt his business. 
Orcutt said he had spoken recently with lawncare contractors in Sarasota, where a strong ordinance has been in effect for years, and that they said their businesses and the lawns they take care of are doing fine. 
He also cited a study that shows 50-percent slow-release fertilizer leaches only one eighth as much nitrogen into the environment as quick-release fertilizer and showed a chart of historical rainfall amounts in Indian River County demonstrating how much more it rains during summer.
Behret cited a study showing a 20-percent reduction in nitrogen pollution in places where strong fertilizer ordinances are in effect.
The counties around Tampa Bay passed robust regulation that includes a summer ban several years ago, and Behret said the bay now has more seagrass than it did in the 1950s.
Commissioners seemed to be responding to the public will when they added provisions to the state model mandating 50-percent slow-release nitrogen, a consistent 10-foot setback for fertilizer application and a ban on phosphorous fertilizer.
But then they exempted the lawncare professionals who put down most of the fertilizer from those provisions and refused to include the rainy season ban in any form.
"In effect, in this most sensitive time, they put the people who get paid to put down fertilizer in charge of fertilizer policy," said Indian Riverkeeper Marty Baum after the decision.
"It is sad for the lagoon. The people who had a chance to make a difference have chosen to side with the fertilizer industry instead of the people who put them in office."