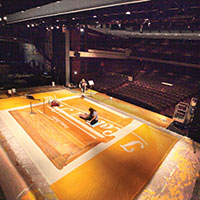 Riverside Theatre ticket sales soar; another blockbuster season ahead
STORY BY MICHELLE GENZ, (Week of July 25, 2013)
If anyone thought it would be hard to top Riverside Theatre's blockbuster season this past year, they might want to reconsider.
Season subscription sales, which broke all records following the 2012 announcement the theater had won the rights to stage "Les Misérables," are running even stronger this summer, with more than 4,600 subscriptions sold compared to not quite 4,500 by this time last year. Theater managers expect to sell another 1,000 at least.
For its Main Stage musical productions, the theater has already met its goal. What's more, for the Second Stage series – provoked perhaps by the caliber of last season – sales are already beyond the budgetary target.
"Two or three years ago, if we made goal by the first show of the season that would be good," says Allen Cornell, the theater's executive producing director.
Cornell begins his 31st season at Riverside while the final show he produced last season, "Grease," wrapped up a summer run in Philadelphia that broke attendance records at that city's Walnut Street Theatre.
This is the show that was mounted here in Vero last spring, directed and choreographed by a team from Walnut Street.  After a very successful three-week run here, it headed up to Philadelphia for the summer before closing Sunday after a nearly two-month run.
In terms of its roughly $7 million annual budget, Riverside is the largest cultural institution along the entire Treasure Coast.
Cornell puts its stature in perspective nationally: no other small town in American can claim such a huge producing theater.
Since 1985, when the board of the newly built theater decided it had to turn professional in order to fill enough seats to run such a substantial facility, Riverside's organizational savvy has hardly missed a beat.
Its development team has proved as ambitious as its productions, with steadily rising numbers of "patron producers" – donors (typically couples) of $10,000 or more, who have certain privileges including sitting in on New York auditions.  In 2012, there were 45 patron producers. There are 53 so far this year.   
What has made the difference, says Cornell, is a roster of plays that follows a formula shaped over the course of his 30 seasons at the theater.
"We have found a format that we're operating by in terms of what we're producing. The audience base has recognized that we're producing multiple large-scale productions on the Main Stage, and a mix of off-Broadway style, more contemporary works on Second Stage.
"And the reputation for what people get when people come here has spread. The cool thing about it is how people start to talk about it as 'our theater.'"
Cornell says people also are finally grasping that a musical as flawlessly staged as one fresh off a national tour can actually be produced locally, from the sets and lighting, to the musical direction. "Tons of people think it's created somewhere else and we bring just it in."
And it's not just the season's five Main Stage shows, or even the smaller shows in the adjacent black-box theater. Riverside's Celebrity Speaker series has been a sell-out almost since it began, and its children's theater classes, while subsidized by grants and donations, bring in another audience.
Once again, next year's season will end with a Walnut Street Theatre joint effort, when Riverside stages "How to Succeed in Business Without Really Trying" in April and May. It will then go on to Philadelphia for a summer run, shaving costs for both venues.
Cornell just wrapped up a week in Philadelphia casting the show. Philadelphia, his home town, has a large community of actors to draw from, many of whom make the hour-and-a-half commute to New York to perform. The Walnut Street Theatre tries to use local actors for as many roles as possible. "We say, 'Philadelphia first,'" says the theater's Amy Rodgers.
Riverside's productions are typically cast in New York. 
Cornell is only directing one show next season: the Rodgers and Hammerstein classic, "South Pacific." "Miss Saigon" and "I Love a Piano" will be directed by DJ Salisbury and James Brennan, respectively;  Casey Hushion will direct "How to Succeed…", her second production for Walnut Hill.
Salisbury, scheduled as musical director for "South Pacific," will also direct the musical revue "Closer than Ever" in the Second Stage series; the comedy "God of Carnage" is also slated for that smaller stage.    
While its all-professional productions involve only paid actors, directors, and crew, the theater still draws 500 volunteers, 44 of whom serve on the board with many more involved in fund-raising events, ticket taking, ushering, and helping with the children's theater.
Riverside is a significant employer in terms of the county's economy, with about 100 paid employees; 231 if the actors are counted.
Sadly there will be two fewer staffers come August, and one fewer child actor at Riverside Children's Theatre.
Bobby Miller III, who played Gavroche in "Les Mis," is moving with his parents Bob and Melanie Miller to Rhode Island where Bob  Miller will become managing director of a theater. He was box office manager among several other key roles at Riverside; Melanie Miller taught at Riverside Children's Theatre.