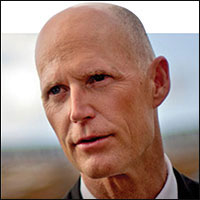 Scott vetoes funds critical to tracking lagoon pollution
STORY BY STEVEN M. THOMAS, (Week of July 11, 2013)
Governor Rick Scott has dealt another blow to the Indian River Lagoon by vetoing $2 million approved by the legislature for a network of sophisticated sensors that would have enabled scientists to track pollution and water conditions in real time, speeding up diagnosis and cure of environmental problems plaguing the estuary.
In a statement sent to Vero Beach 32963, Scott's office said he yanked the funds, which were requested by Rep. Debbie Mayfield and Sen. Joe Negron for a Harbor Branch initiative and approved by a bi-partisan vote, because the project lacks statewide significance.
The 156-mile-long lagoon encompasses 40 percent of Florida's Atlantic Coast and has an annual economic impact of $3.7 billion, according to a 2009 study by the Indian River Lagoon National Estuary Program. It adds $43 billion in value to real estate on or within 0.3 miles of its shores and supports tens of thousands of jobs.
But Scott says spending $2 million to illuminate and help remedy the ecological collapse that is rapidly undermining the lagoon's huge contribution to the state's economy would "not provide a significant return for the investment."
Problems in the lagoon include pollution from fertilizer runoff and septic tanks, unprecedented cyanobacteria algae blooms, historic seagrass loss, declining fish populations and the deaths of more than 100 bottlenose dolphins and West Indian manatees so far this year.
Mayfield says the sensors would be "extremely helpful in solving a very complicated scientific problem. They are portable and can be placed in various areas of the lagoon to monitor and measure data such as phosphate, nitrogen and oxygen levels. With the ability to receive real-time data, this will allow the experts to pinpoint the problems in different areas of the lagoon in order to find solutions."
She calls Scott's veto "disappointing."
Last year, Harbor Branch Oceanographic Institute responded to environmental challenges in the estuary by launching the Indian River Lagoon Observatory, a long-term, multi-disciplinary effort that "will produce an enhanced understanding of IRL ecology and its relationship with human health and the regional economy," according to a program summery.
The Land/Ocean Biogeochemical Observatory sensors Scott nixed are the heart of the program.
Called LOBOs for short, the 45-pound, $100,000 devices enable scientists to track a wide range of water chemistry information in real time, allowing them to see clearly what is happening in the lagoon instead of groping in the dark as they seek to stop marine mammal deaths and smothering algae blooms.
Two pilot units placed in the estuary in January are providing researchers with "unprecedented environmental data," according to Harbor Branch.
Harbor Branch Executive Director Dr. Margaret Leinen says, "The existing LOBO's are allowing us to understand the impact of individual large rainfall events on the nutrient cycling in our region, as well as providing data with which we can understand the direct effects of nutrients on plankton blooms and turbidity so that we can determine the relationship of these factors to seagrass die-off, manatee deaths and other pressing concerns."
The $2 million state appropriation would have allowed scientists to deploy a string of 12 more sensors from the Sebastian Inlet to the St. Lucie Inlet in Martin County to gain a comprehensive overview of pollution levels and sources.
Leinen says the new LOBOs would have provided "a very substantial upgrade in our observational ability. Only networked sensors can provide the continuous presence that allows scientists to understand the direct impact of events like discharges and major storms. These can then be augmented by studies of specific sites or processes to understand all of the relationships."
 "We would have consulted with our partners – local governments, research institutes and other universities – to choose the best sites to place the LOBOs to create an optimal network for ecosystem monitoring," says Harbor Branch spokesperson Cara Perry.
LOBO units continually measure water temperature and movement, murkiness, salinity and chlorophyll, nitrogen and phosphorus levels. Data from the new units would have been automatically uploaded to an open website where scientists at any institution along with interested members of the public could access it to study conditions in the lagoon.
It also would have been integrated into the National Ocean Observatory Data System for nationwide comparative studies of marine ecosystems.
Besides pulling the plug on Harbor Branch's elegant, invaluable and relatively inexpensive proposed addition to lagoon science, Scott vetoed dozens of other water-quality projects approved by the legislature.
His action in this budget cycle continues his track record of decimating clean water and other environmental programs while loosening industrial and development pollution standards.
In action the Miami Herald called "foolhardy" and dangerous to the state, Scott in 2011 slashed Florida water management district budgets by 40 percent, cutting more than $700 million from the amount available to monitor and clean-up pollution in groundwater, rivers, lakes, stream and estuaries, including the lagoon that is Vero Beach's aesthetic and economic centerpiece.
Jim Egan, then executive director of the Marine Resources Council, said at the time, "Scott's cuts to water quality protection dwarf all of the cuts made over the past 20 years by all local and state agencies."
Pelican Island Audubon Society President Richard Baker called the cuts "insane."
"No one can understand it," said Warren Falls, managing director of the Ocean Research and Conservation Association (ORCA) in Fort Pierce. "The waterways are why people move to Florida. Governor Scott is tearing down the very thing the tourism industry and the towns along the waterway are built on. I think the long-term ramifications of the state cutbacks will have a devastating effect on the waters and economy of Florida."
Ironically, a secondary reason Scott gave for defunding the LOBO sensors and $27-million worth of other water projects was that the local water management districts he previously gutted should pay for them.
Perry says Harbor Branch is committed to the Indian River Lagoon Observatory and will continue to seek funding for the LOBO units.
"We have submitted a proposal to the National Science Foundation that would allow us to purchase three more to go with the two we already have."
"Progress will certainly be slower," said Leinen. "The veto of funding means that researchers and citizens of the Indian River Lagoon region will have to wait longer to have the critical data that will allow them to understand the enormous changes we are seeing.