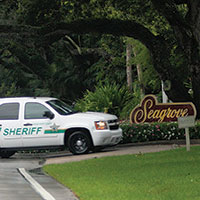 Response time to South Beach double sheriff's claim
Wait for deputy to get to priority call runs 15-17 minutes
STORY BY EILEEN KELLEY, (Week of July 4, 2013)
The average time it takes a sheriff's deputy to respond to a top-priority call from the area south of Castaway Cove on the barrier island turns out to be almost double the six minutes claimed by Sheriff Deryl Loar, and the response time if anything is getting longer rather than shorter, a Vero Beach 32963 analysis of records reveals.
Even worse, the response time – an average of more than 11 minutes – only counts the time between when a deputy is dispatched and when the sheriff's patrol car arrives on the scene.  The average time that elapses from the moment a 911 call comes in and the time a patrol car is actually dispatched to South Beach is an additional 5 minutes for top priority calls.
In March, the most recent month sampled by the newspaper and the height of the tourist season, the average total time it took for a deputy to arrive at a South Beach residence once a concerned or panicked resident called for help was 17 minutes.
March was one of two random months the paper picked to examine. July 2012 also was sampled for emergency calls and that month's total response time, from call to arrival, was 15.1 minutes.
The Vero Beach 32963 analysis of 640 pages of documents identified 64 top-priority calls from residents who live in the unincorporated county at the southern end of the barrier island – 29 calls last July, and 35 in March.  These were not calls made to report a missing cat. They were what the sheriff's office categorized as a "priority one" call. 
Vero Beach 32963 requested the documents and conducted the analysis after Indian River County Sheriff Deryl Loar told a South Beach Property Owners Association meeting in April that the average response time for his deputies to get to a residence on the southern end of the island – where 20 percent of the time no car is on patrol – was six minutes for top priority calls.
After making the statement, Loar asked his assistant Jeff Luther, who was standing at the back of the room at The Moorings clubhouse, for confirmation. Luther, a public information officer for the department, said response times were actually about four minutes.
The records for July 2012 and March 2013, however, show otherwise.
Vero Beach 32963 found that in only 11 of 64 priority one calls were sheriff's deputies able to make it to the scene in six minutes or less from the time the officers were dispatched until they arrived at the scene. In 28 of the 64 priority one calls, the response time was more than 11 minutes.  In eight of the 62 calls, the response time was between 20 and 32 minutes.
The Vero Beach 32963 analysis found:
- Deputies averaged 10.7 minutes to respond to calls from South Beach after they were dispatched in July 2012.
- Deputies averaged 11.37 minutes to respond to calls from South Beach after they were dispatched in March 2013.
- The average delay between the time the call came in, and the time a dispatcher ordered a unit to go to the scene – a delay typically caused by unavailability of a patrol deputy – was 4.3 minutes in July 2012 and 5.7 minutes in March 2013.
- The average total time between when a South Beach resident called and a deputy arrived on scene in both July 2012 and March 2013 was 16.2 minutes.
Neither Loar nor Luther returned calls from Vero Beach 32963 seeking comment on the analysis of these records.
Fortunately, there are not a great number of "priority one" calls from South Beach – an average of about one per day.  About 40 percent of the calls were for home alarms followed by complaints about suspicious people, vehicles or activities. 
Our belief is many of these calls were for relatively benign matters – a suspicious moped parked on a private street – but it was hard to tell how many were for more serious matters because the heavy redaction did not allow us to contact the homeowner in most cases.  
Excluded from our analysis were false alarms, and traffic accidents since fire and rescue units from the station on South Beach also respond and the reports weren't clear on when deputies arrived. Also excluded were cases where a deputy made a stop while patrolling. The sheriff's office lists these latter calls, which are not really responses, as having a "zero" response time.
The issue of law enforcement response times – at both ends of the barrier island – goes back more than a year when Loar assured residents their neighborhoods were covered by a deputy  24 hours a day, seven days a week.
Loar made those 2012 comments when he disputed former Indian River Shores Town Manager Richard Jefferson's claim his police department could provide much better law enforcement coverage to two island communities than they were getting.
A Vero Beach 32963 investigation subsequently revealed the sheriff's office altered records to blunt Jefferson's criticism.
Even with the records altered, parts of the island outside the municipal limits of Vero Beach or Indian River Shores had no patrol car in the area 21 percent of the time.
That revelation led to a lengthy investigation by the Florida Department of Law Enforcement which determined that Capt. Don Smith, under orders from Jim Harpring, the sheriff's attorney, tampered with public records.
State Attorney Bruce Colton's office ultimately declined to file charges against Smith for altering records or Harpring for ordering the cover up.