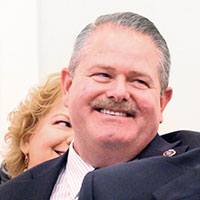 State: Shores' police chief can't also be town manager
STORY BY MEG LAUGHLIN, (Week of July 11, 2013)
When Indian River Shores decided three months ago to give police Chief Robbie Stabe the additional post of town manager, Town Council members say they were unaware the Florida state constitution bars municipal officials from holding two different offices.
Town counsel Chester Clem, who now says the Shores did not regard being director of the public safety department as an "office," apparently did not realize that Florida Attorney General Pam Bondi in April specifically ruled that a Miami police officer could not also serve as that city's acting city manager.
Bondi's written opinion said for a police officer to be appointed to also serve as acting city manager would be "violating the dual office-holding prohibition in section 5(a), Article II of the Florida Constitution." 
Her opinion supported previous similar rulings by Bill McCollum when he was state attorney general and Charlie Crist before him.  "... Dual office-holding (law) does not permit the police chief to serve as acting city manager without resigning his or her office," Crist wrote in 2006.
The news came as a shock to Shores' Town Council members, who say they got no inkling from Clem that the dual roles might be a problem.  They also hail Stabe's performance in the two months since he took over as town manager as a definite plus for the Shores.
"The law is the law, but it would be a shame if we lost Robbie Stabe in either job," said Vice Mayor Jerry Weick.
Council member Tom Slater agreed. "If the chief can't also be town manager, we'll have to change things, but the town is running much better with him as town manager."
Stabe has not resigned as police chief. While Clem subsequently conceded that Stabe "can't have two positions," he argued that "he is vested to perform the duties of public safety director as part of his job as  town manager.  Our code allows this."
When Vero Beach 32963 asked lawyers in the Florida Attorney General's office if the code of a municipality trumps state law, their reply was: "You have read the opinions of three attorney generals. That should tell you what you need to know. "
As police chief, Stabe made $106,000. The town council voted to give him an additional $14,000 when he also became town manager.   Heather Christmas, the town's financial officer, said she was "in the process of allocating" all of Stabe's salary of $120,000 to be pay for serving as town manager, rather than dividing it between the two jobs.
Clem also said Stabe's pension as police chief was being frozen as of Oct. 1.
Stabe was named town manager after Richard Jefferson retired in the spring and moved to Cape Cod. Jefferson was both town manager and head of the Shores' building department, making about $15,000 a year more than Stabe is now getting. His dual role may have also been a violation of the law. 
"It never came up," said council member Richard Haverland. "It would seem with both Jefferson and Stabe that we should have been advised by the attorney and discussed it."
"We acted in good faith, based on the information we had," said council member Tom Cadden.
"No harm, no foul," said Haverland. "If we made an error, we'll correct it."
Meanwhile, Weick worried aloud that forcing Stabe into one job or the other could "be a tough situation for the town" because of the additional expense of filling two positions with two different people.
"I would hate to see Stabe's role change because it would be a terrible setback for the town to come up with the money." said Weick.
For a definitive answer, an officer of the town – or the Indian River County state attorney – would have to ask the Atty. Gen. Bondi for a specific opinion applying to this particular situation.