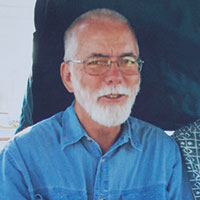 Longtime Vero City Marina resident dies in tragic firearms accident
STORY BY EILEEN KELLEY, (Week of July 18, 2013)
Photo of Larry Hallett.
There is a noticeable void at slip A-06 in the Vero Beach City Marina these days.
The Shoestring, the 31-foot sail boat, remains there but Larry Hallett, the craft's owner and a friend of many islanders, is gone.
Hallett – an experienced boat carpenter and  massage therapist – accidentally shot himself to death while cleaning his gun as revelers ushered in the Independence Day holiday.
His body was discovered July 6 inside the cabin of The Shoestring.
The 66-year-old spent the 1970s living on a houseboat in Vero. After his father died in Georgia about six years ago, Hallett announced he was coming back to live his dream of again soaking up all the life offered here: the ocean, the salt air, the wildlife, the sand, and the people who call Vero Beach home.
"He was living the dream by living on that boat," said his nephew Brett Hallett, who was bequeathed The Shoestring. "He loved his God and everything that was created."
When Hallett's body was discovered, his Taurus 9mm Millennium, a semiautomatic firearm he had been trying to dispose of, was nearby.
Harry Wheaton, his friend and slipmate, said the firearm came with The Shoestring when Hallett bought it.
"He asked me if I had a gun and I said, 'No I never want to carry one again,'" said Wheaton, a retired member of the Royal Canadian Mounted Police.
Wheaton said Hallett also had no use for the gun and even contacted the Vero Beach Police Department for advice on how to best to get rid of the weapon.
Both Wheaton and employees at Studio Gabriel, an Ocean Drive spa where Hallett worked, last saw or heard from him on July 3. 
The following day, Wheaton called him but did not get an answer. He tried again July 5, even going so far as to knock on the cabin door.
By Saturday July 6, Wheaton said he had begun to get anxious and boarded The Shoestring again, this time entering the cabin and finding his friend was dead.
Near the body were the gun's magazine, a gun cleaning kit and instruction manual that read, "How to Clean Your Gun."
"I really miss him," said Wheaton. "Poor Larry, what a shock. He was such a good guy."
Hallett was a regular at the Ocean Drive Saturday night concert series, offering mini-massages and doing what he could for many charities, said Christine Walker, owner of Studio Gabriel.
"It just seems so unreal," said Walker. "Even though he lived alone, he was always out there enjoying life. He was never the type to be depressed or down. He was always nice. It is just a tragic loss."
Tim Grabenbauer, the harbormaster at the Vero Beach City Marina, said he's been fielding calls for days from people asking if it was true that Hallett was dead.
"Larry was just a wonderful customer," said Grabenbauer. "He was always upbeat and he loved to talk to everyone."
Grabenbauer is having a plaque made to honor Hallett.
A service is scheduled for 2 p.m. July 20 at the Kingdom Hall of Jehovah Witnesses, 2126 8th Street, Vero Beach.
There will be a barbeque at the marina picnic pavilion at 4 p.m.