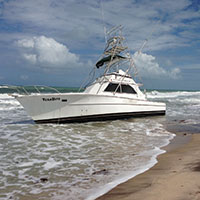 Boat gone from beach, but what it was doing is still a big mystery
STORY BY MEG LAUGHLIN, (Week of June 13, 2013)
Photo: The TeraBite washed ashore at Bermuda Bay beach.
The TeraBite, an old 40-foot motorboat that washed ashore at Bermuda Bay two weeks ago, is gone now – cut up and turned to kindling last week by a salvage crew using chainsaws.
Although the boat is history, its crew and what they were up to remain something of a mystery as well as the subject of considerable local speculation.
The saga of the TeraBite began May 25, when a Coast Guard plane spotted it drifting in the Gulf Stream, 30 miles east of the Sebastian Inlet.
When the two men on it did not respond to radio calls, the Coast Guard called a Carnival cruise ship sailing nearby and it diverted to rescue the two men aboard, who said they were traveling from Niceville, Fla., where the boat was supposedly registered, to their homes in West End, Grand Bahamas. 
The pair, who gave their names as Deon Lathen and Ted Lainge, was transported on a Coast Guard cutter to Ft. Pierce. But the Coast Guard will not say what happened to them after that.
U.S. Immigration and Customs Enforcement records show that they were not detained although Bahamian customs officials in Freeport will not confirm they returned to West End.
 "It is unlikely that Lathen and Lainge live here,"  West End Police Chief Roston Moss said. "We know everyone in the area, but we know nothing of them."
Police records at Indian River Shores Public Safety Department showed that the owner of the TeraBite is Bernardo Levarita, who has a Ft. Lauderdale telephone number that patches through to the area code of West End, Grand Bahamas. Levarita did not answer calls or respond to phone messages from Vero Beach 32963.
On the boat's stern was its supposed home port in large black letters: "Niceville, Fl." But no licensed boat in Niceville or its county is registered to anyone named Bernardo Levarita. Calls to the four marinas in Niceville got a uniform response from marina managers: "Never saw a boat called the TeraBite here."
Indian River Shores Police Chief Rob Stabe questioned whether the old, weathered TeraBite might have been used for human smuggling because of the large quantity of gasoline and canned food still aboard the boat when it washed up on the beach in front of Bermuda Bay on May 27.
"Too heavy and too slow to be a drug boat," he reasoned.  
What mostly concerned Stabe when the 40-foot boat came ashore was how to keep it from being a safety hazard, and who would pay to remove it from the beach. Removal of a boat this size costs about $1,000 a foot.
The Coast Guard used federal money from an oil-spill trust fund to drain the boat's gas tanks and remove several 55-gallon drums of gasoline. Phone negotiations between officials at the Florida Department of Environmental Protection and Levarita took place to try to get him pay the removal fee.
According to DEP's emergency response manager Kenton Brown, while Levarita said he would pay, he did nothing and the removal effort  stalled.
Meanwhile, DEP realized that before any action could be taken, a salvage team would need a turtle permit to make sure no sea turtle eggs onthe Bermuda Bay beach were harmed. Indian River County issued a permit that would expire June 8.
Meanwhile, the TeraBite was an interesting novelty for beach walkers, who would climb aboard and explore it  –  sometimes helping themselves to fishing rod holders and whatever else they could pry loose.
On Monday, June 3, a salvage team of eight workers began dismantling the boat. They worked with heavy machinery, chainsaws and axes 12 hours a day for three days, carting off truckloads of scrap.  By the end of the day on June 5, the beach at Bermuda Bay was in pristine condition once again.
 The Tera Bite is landfill now. Where its crew, Lainge and Lathen, are remains a mystery.