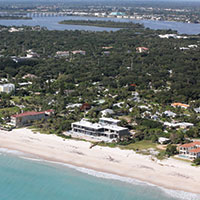 Ocean Drive's changing beachfront
STORY BY STEVEN M. THOMAS, (Week of June 6, 2013)
Katherine McConvey, the businesswoman and part-time island resident who is building an 18,000-square-foot modernist home on Ocean Drive, has purchased two more lots that adjoin her property on the north for $3 million in a cash transaction, according to several sources.
The 1.33-acre oceanfront parcel is located between McConvey's partially-completed house, which has been a beehive of activity since construction began last summer, and the large Mediterranean Revival-style spec home at the intersection of Ocean and Greytwig Road.
The sellers were Adele Clemens, who owned a two-thirds share in the property according to county records, and group of seven individuals who share the last name Hosty who controlled the remaining one-third share.  A neighbor says the Hosty's are Clemens' brother's children.
The buyer of record was 3746 Ocean Drive, LLC, which sources say is owned by McConvey.
With the purchase, which closed on May 20, McConvey now owns 2.75 acres on Ocean Dr. with 400 lineal feet of ocean frontage, which has to qualify as one of the nicest pieces of property in the city of Vero Beach.
She acquired the additional land at a bargain price compared to what she paid for the 1.42-acre parcel where the shell of her large Bauhaus-style home is nearing completion.  She bought the two lots that comprise that property in 2011 from separate buyers, paying $2 million for each lot, $4 million total.
That pencils out to a per-acre price of $2.81 million, significantly more than the $2.25 million per acre she paid for the Clemens property.
Adele Clemens, 93, had owned the just-sold property since 1981. She lived in an attractive two-story ranch house set back near the beach until 2004 when that building was severely damaged in the twin hurricanes.
The ranch house was torn down after the storms and in recent years Clemens has lived in a small cottage on the property.
Kevin Howell, who built the adjacent Mediterranean-style spec home in 2011 just north of Clemens, had an option on the parcel in 2012.
In July 2012, the city of Vero Beach approved his plans for a 9,000-square-foot house he planned to build on the property after selling his existing spec home.
Howell's six-bedroom, six-bath Mediterranean has been slow to sell, however – it is still on the market – and his option expired.
With Howell out of the picture, Clemens listed the property with Kay Brown of Premier Estate Properties in December with an asking price of $3.95 million.
Brown, who was McConvey's realtor when she purchased the property where her house is being built, represented both sides in the May 20 transaction.
The 1.33-acre property, which consists of lots 2 and 3 in Veromar Subdivision plat 3, was in the news in January when Adele Clemens' son James Clemens, 54, of Illinois, and Clemens' nephew John Kully, 30, of Sebastian, were arrested on felony charges for allegedly torching a pickup truck parked near the foundation of the torn-down ranch house.
The pair claimed Chase Austin, the truck's owner who does maintenance work for Howell, had been warned not to park on the lot.
An out-of-state tourist filmed what happened and provided Vero Beach police with the license plate of the Nissan the two men used to leave the scene. They were arrested later that night at Costa d'Este, charged with arson and eventually released on $50,000 bond.
McConvey's house has been mildly controversial during the construction process, with some people objecting to its size and style, which objectors say is inappropriate for Vero Beach.  Others have praised it as an important addition to the city's built environment.
McConvey's builder Joe Foglia says he has had to contend with neighbors complaining about the 10 to 20 tradesmen's trucks and cars that are typically parked in front of the structure each morning, but that he has heard more complements than complaints about the house itself.
Designed by celebrated New York architect Jared Della Valle, the 5-bedroom, 6-bath, 2-story house sits back about 75 feet from Ocean Dr. behind a hedgerow of trees and other plantings that mostly hide it from the view of passersby.  A 3-bedroom, 3 ½-bath, 2-story guest house in the same architectural style is located between the main house and road.
Foglia expects the house to be completed in November. "There have been a few little hitches here and there," he says of the construction process, "but we are pretty much on track."
McConvey's plans for the newly purchased property are not known, but Vero Planning Manager Hank Flores says there have not been any building permit applications filed since the sale and a neighbor says she has heard the businesswoman plans to clean up the lot and leave it undeveloped for the time being.
Vero Beach 32963 was unable to reach McConvey directly to ask her what she has in mind for the oceanfront parcel.
McConvey founded KMM Telecommunications in New Jersey in 1991 as a Woman's Business Enterprise. According to its website and other sources, the wire-cutting company does more than $1 billion in business annually with locations in 18 states, including Florida.