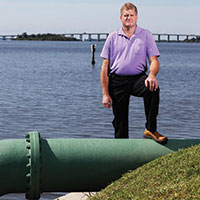 Reuse water: All the fertilizer you need?
STORY BY STEVEN M. THOMAS, (Week of June 20, 2013)
Photo: Water and Sewer Director Rob Bolton.
Thanks to island environmentalist Judy Orcutt and Vero Beach Water and Sewer Director Rob Bolton, a new way to combat fertilizer pollution in the Indian River Lagoon has come to light.
It turns out city reuse water – two million gallons of which is pumped to island communities each day – is loaded with nitrogen, the essential component in the fertilizer residents buy at Home Depot or pay to have applied to their lawns.
Because of the nitrogen content in the city water, which is used for lawn, park and golf course irrigation, many people on the island could cut back on the amount of fertilizer that goes on their turf while still keeping their lawns bright green.
"We test the reuse water regularly and there is typically 12 to 15 parts per million of nitrogen at the spray head," says Bolton. "Depending on how much water you use, you may not need to fertilize.
"Those who water twice a week and use three quarters an inch of water that have Bahia grass probably don't need any additional fertilizer. Those that have St. Augustine could probably cut fertilizing in half. I would suggest people ease into it and cut back by 25 percent to see how the grass does."
The fertilizing power of city reuse water, which is wastewater treated to make it sanitary but not clean enough for drinking or bathing, has been proven for the past four years at Vero Beach city parks.
"We used to have a contract with TruGreen to spray fertilizer on the turf at the parks, but four years ago we decided to try an experiment," says grounds maintenance manager Nannette Haines. "We needed to cut the budget and we knew there were nutrients in the reuse water, so we let the service go and continued to irrigate with reuse water to see what effect it had on the grass.
"After a year, it was perfectly fine so we kept it up. We are now in our fourth year and the grass at Jaycee Park grows so fast we say it is radioactive!"
Haines says she and her crews still fertilize palms and shrubs and do spot turf fertilizing if needed, but that there is no regular application of turf fertilizer in Jaycee Park, Riverside Park, South Beach Park, MacWilliams Park or A. W. Young Park. The Miracle Mile median and grassy areas maintained by the city at Royal Palm Pointe also are fertilized with reuse water alone.
The city saves approximately $23,000 a year by not paying TruGreen or dumping truckloads of granular fertilizer on grass that obviously doesn't need the extra nutrients.
"By the end this year, that will amount to nearly $100,000 in savings and that does not include the cost of labor if we were doing the fertilizing ourselves," says Haines. "I would think we have reduced pollution in the lagoon as well."
Jim Callaghan, superintendent of the Riomar Golf Course, says he saves about $7,000 per year by adjusting the amount of fertilizer he uses to take account of the nutrients his turf gets from reuse water.
"We do routine soil and tissue samples and the nitrogen in the city water helps us cut back on fertilizer. We are very aware of our proximity to the Indian River Lagoon and the less we use the better. All the other nitrogen we use is slow release."
Bolton says reuse water systems were designed decades ago to leave nutrients in so the water would have a fertilizing component but that people have forgotten that fact.
"If you purify it enough to remove the nutrients, the process uses more energy and costs more and you have to charge more for it," Bolton says. "Then people have to go out and spend additional money to buy nitrogen to dump on their lawns.
"By leaving the nutrients in the reuse water, the grass gets a little bit each time you irrigate instead of slug loading all at once. It soaks in better that way and you avoid the situation where a heavy rain comes along after you fertilize and it all goes in the lagoon."
The mostly unrecognized nutrient content in city reuse water started to be better known in May when Orcutt, a member of the Pelican Island Audubon Society, researched the subject, consulted with Bolton, and began to spread the word that many island residents are wasting money on unnecessary fertilizer that is adding to pollution in the lagoon.
"Anyone who wants help analyzing how much fertilizer they are already getting form the reuse water is welcome to call me." Bolton says. "I will happy to help them figure it out."