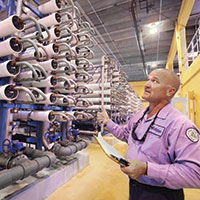 Is the county's water utility target of sabotage campaign
STORY BY STEVEN M. THOMAS, (Week of June 27, 2013)
Photo: Plant operator Mike Vernon of Indian River Country water.
Is some individual or group – for reasons not clear – mounting a sophisticated campaign of sabotage against Indian River County's water and sewer system?
County Administrator Joe Baird voiced that concern in the wake of a recent large-scale action in the wee hours of June 16 in which 17 fire hydrants were strategically opened in remote areas.
The sabotage, which drained 1.2 million gallons of water from the county system and lowered water pressure needed to fight fires and supply homes, was just the latest in a series of attacks on county infrastructure that "posed a serious threat our residents' safety," Baird said.
Prior incidents include someone repeatedly shutting off the supply of disinfecting chlorine at a county wastewater treatment plant.
Baird said the Department of Homeland Security had been notified of the attack on the county water system, along with several state agencies. No suspects thus far have been identified, according to the Sheriff's Office.
The most recent sabotage was detected around 1 a.m. on Sunday, June 16 when a county utility employee noticed water pressure falling rapidly in part of the system.
Utility operations manager Terry Southard received a call at 3 a.m. about a large leak in the system. He mobilized a number of utility employees to look for broken water mains or other leaks in locations where leaks had occurred in the past.
A plant mechanic on his way to the South County Wastewater Treatment Facility to pick up his county vehicle came across water in the road on Old Dixie Highway south of Oslo Road, according to a memo Southard sent to Baird at 6 a.m. Sunday morning.
Following the stream of water toward its source, the mechanic found a hydrant flowing wide open. As soon as he cranked it shut, the system started gaining pressure.
In the meantime, other open hydrants had already been detected, apparently by deputies on patrol, and fire department units were out in the early hours shutting off the hydrants.
Baird said whoever opened the hydrants "had an intimate knowledge of the county water system," based on the pattern of hydrants that were opened in locations where they wouldn't quickly be detected and on the speed with which the difficult operation of opening so many hydrants took place.
"It was a very serious, malicious attack," said utilities director Vincent Burke. "We are still knocking our heads together trying to figure out how to identify who did it.
"This type of thing hurts our ability to have water available for emergency service by reducing operating pressure. Somebody tried to seriously affect our system."
The Sunday night sabotage did not reduce pressure enough to undermine emergency response or allow contamination to seep into the water supply, according to Burke, but he said that potential exists.
"Whoever did this opened the hydrants in places where they wouldn't be immediately discovered. If you had a situation where the hydrants were running unabated for a longer period of time you could run out of water."
Burke said opening hydrants is not as easy as it might appear. It takes a special tool to remove the cap so the valve can be cranked open, and the right kind of wrench and sufficient physical strength to open the port on the side of hydrant.
The 1.2 million gallons of fresh potable water that was lost is about 16 percent the county's normal daily flow, according to figures provided by Burke.
He estimated the cost of the sabotage at $200,000, including the value of the water and cost of rolling emergency equipment and calling in utility employees throughout the night on June 16, along with the cost to repair dirt roads partially washed-out by the gushing water.
"There have been no suspects identified," said Sheriff's Office Public Information Officer Thomas Raulen. "Our investigators are continuing to work with the fire department and county utilities to try to establish a timeline and the order that the hydrants were maliciously activated.
"One benefit of the timeline would be the opportunity to narrow down any video which may have been captured at a business or businesses in the area where the hydrants were opened. No video has been obtained so far and the timeline has not been fully established."
Raulen says anyone with information about the sabotage should contact Det. Kevin Hening at 772-978-6121.