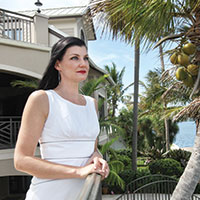 'I don't know why he would do this'
STORY BY EILEEN KELLEY, (Week of June 20, 2013)
Photo of Sara Beth Kennedy.
Sara Beth Kennedy sits near a window in her parents' Vero Isles home overlooking the spot at the edge of the Indian River Lagoon where in 2006 an international gathering of guests watched as she wrapped her arms around the man she just married and professed her love for him.
Tears spill from her sad blue eyes as she talks about Burim Turkaj, 35, the man she not long ago admired for the strength and courage he demonstrated after he arrived in the United States from war-ravaged Kosovo. When he stepped on U.S. soil, he did not speak English, but he got a college education and became an investment advisor for a major bank. 
That world unraveled earlier this year when he was accused of fleecing elderly Vero Beach clients of their life savings as a broker for PNC at the bank's Ocean Drive branch.
Kennedy, a member of one of Vero's pioneering citrus families, divorced Turkaj two years ago. Earlier this year, she found out the father of her son allegedly forged her name to open a bank account and use it to hide money he drained from his clients' accounts.
With a $1.5 million bond keeping him in the Indian River County jail, Turkaj awaits trial on four counts of theft from the elderly, four counts of criminal use of personal ID information and one count of fraudulent use of a personal ID. He is accused of stealing nearly $400,000 from the four clients whose ages ranged from 85 to 90.
Turkaj fled the U.S. and was arrested last month when investigators tricked him into returning to the United States to face a minor charge of theft of his work computer. When he landed in Orlando, they arrested him on the bigger more serious charges.
"I just don't know why he would do this," Kennedy says. "I don't know why he would make a decision that would separate him from his son. I really thought he was doing fine financially."
Turkaj is scheduled for a hearing in court next month.