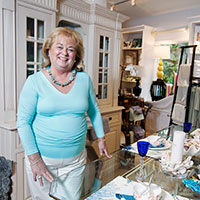 Changes taking place at The Village Shops
STORY BY STEVEN M. THOMAS, (Week of June 13, 2013)
Photo: Vickie Lautenbach, owner of home decorating and design studio Elegance by the Sea.
A number of tenants are moving out of The Village Shops, the only shopping center in Indian River Shores, as new landlord John "Jay" McLaughlin raises rents and declines to renew some leases.
English goods retailer Trafalgar Square, Coco's restaurant, Maison Beach home furnishings, and Vernon Scott's two clothing stores are among those leaving. Trafalgar Square is going out of business, while other tenants are relocating.
The new owner, according to Terry Torres, who represented him in the purchase, is "a brilliant retailer and businessman and he has definite plans to upgrade the shopping center and raise its profile." And some shop owners are excited about the planned changes to the quaint, oak-tree shaded plaza.
"I am very much on board with what he plans to do," says Vickie Lautenbach, owner of home decorating and design studio Elegance by the Sea. "Mr. McLaughlin plans to put in a nice driveway and improve the landscaping to spruce it up."
But other tenants are less than happy about the way they have been treated by McLaughlin.
Trafalgar co-owner Judy Gibson says new higher rents at the shops, which another tenant says have been bumped up to $38 per square foot, were the last straw for her struggling business.
"Things have been difficult for the past several years, so I can't blame it all on higher rent," she says.
Coco's proprietor Darcy Dunbar says McLaughlin did not renew her lease, even though her restaurant was thriving in its location in a courtyard at the Village Shops.
"Everyone says we were the first to do well in that spot. We were planning to expand our hours to seven days a week and some later evening hours. My regular customers are upset we had to move."
Dunbar is moving two miles south to the Surf Club Hotel, where Coco's will serve hotel guests in addition to Dunbar's regular clientele.
"The hotel has had some bad press, but there is fabulous seating area for 55 people outside under a Tiki-hut type roof that overlooks the pool and ocean. It is close enough to where we were to be convenient for my island customers."
Dunbar is moving her Maison Beach store, which offers "fun things for you and your home," to Pelican Plaza, a block north of the Surf Club on the opposite side of A1A.
Scott, who says he was unwilling to pay higher rent now for shopping center improvements McLaughlin plans in the future, will re-open on Beachland Boulevard in September.
But those who plan to remain seem upbeat about McLaughlin's plans for the plaza that sits on 3.13 acres of land on the east side of A1A north of Fred R. Tuerk Drive and includes approximately 24,000 square feet of retail and office space in seven buildings.
"I went over to see his store in Naples," said Lautenbach.  "It is in an area with lots of little restaurants and shops that is similar to what he wants to create here."
The store Lautenbach refers to is a J. McLaughlin high-end men's and women's clothing shop located three blocks inland from the Naples pier in the shopping and dining district along 3rd Street and 4th Street.
It is one of 11 J. McLaughlin stores in Florida, including one on Ocean Drive on the island, and one of about 70 nationwide, according to the company's website.
Jay McLaughlin and his brother Kevin McLaughlin founded the company 35 years ago with a single store on New York's Upper East Side and grew it to more than 50 stores before selling a majority stake to a private equity group in 2011.
Jay McLaughlin and his wife Joan moved to Vero Beach in 2009, buying and renovating a townhome in the Moorings.
He bought the Village Shops in April for $3.85 million, according to public records, putting down $1.5 million in cash and securing a balloon mortgage for the balance.

"It is a gorgeous, garden-like property with an ambiance unlike any other," says Torres.
"There are seven buildings with interesting architecture and roof lines, and giant old oak trees. Mr. McLaughlin plans major improvements to make it more attractive and bring it up to its full potential."