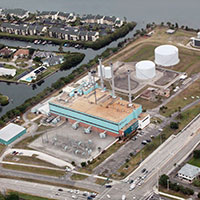 Mailed Vero electric survey sparks mass confusion
STORY BY LISA ZAHNER, (Week of March 28, 2013)
When more than 33,000 blue postcards hit area mailboxes last week, readers flooded the Vero Beach 32963 email boxes with questions. "Didn't we just do this?" was the general tenor of the correspondence.
Well, yes, and no.
City of Vero Beach voters did cast ballots on the same question on March 12 and approved the sale of the electric utility to Florida Power and Light by a nearly two-to-one margin, but only registered voters within the city limits could participate.
The blue postcard survey went out to every electric utility customer with a meter, including both Vero residents who had just voted – or not voted – in the referendum, plus all of the customers outside city limits who had been excluded from the balloting. The number on the postcard is the customer's meter number.
The goal of the survey, according to Vice Mayor Tracy Carroll who pushed for it, is to capture the will of every electric customer, be they a business owner, a seasonal resident who does not vote in Vero or a customer who lives outside the city limits but who pays Vero electric rates. That's why Indian River Shores and South barrier island residents received the postcards.
The results of the survey are not legally binding, but the city intends to use the results – presuming they come back strongly in favor of the sale – as further proof to regulators like the Florida Public Service Commission that consumers want to be served by FPL.
The reason the postcards caused mass confusion is that after being planned and approved in late 2012, they didn't much come up in official city discussion until last Tuesday night's city council meeting when Carroll announced that the mailing was set to hit.
The Council had always intended that the postcard survey be conducted after the referendum, Carroll said, to avoid confusion and having city residents thinking they had already cast their ballots before the actual vote.
Several customers wondered why the postcards weren't inserted in utility bills.
"We did discuss putting the questionnaire in the utility bills but since we bill about 20 times a month and customers can take as long as 30 days to pay, the responses would be protracted over a long period of time and the City was looking for a faster response time," said City Manager Jim O'Connor.
Carroll also said the city found it was actually cheaper to do a separate mailing than to integrate the surveys into the production of the utility bills. Finance Director Cindy Lawson said "the total cost of the survey, including production, printing and postage is approximately $17,000.   The survey cards do not include return postage paid…customers will have to put on a stamp."
Lawson also said that though the postcard directs customers to return it by April 2, the actual receipt deadline is April 5, to allow for postal and other delays.