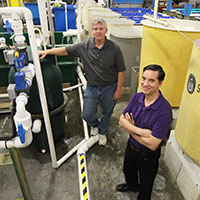 Harbor Branch aquaculture program a leader
STORY BY STEVEN M. THOMAS, (Week of March 14, 2013)
Photo: Research scientists Dr. Paul Wills and Dr. John Scarpa specialize in fish aquaculture.
The aquaculture program at Harbor Branch Oceanographic Institute has played a prominent part in developing the $100-billion aquaculture industry, educating key scientists, creating improved protocols for commercial fish farms and launching the state's clam-growing industry in collaboration with the University of Florida. "People come here from all over the world to attend our workshops," says Paul Wills, 47, a research scientist who grew up in Hawaii dreaming of being a marine biologist.
Now the self-described mad-scientists who work at the program's 30-acre compound on the shore of the Indian River Lagoon are creating a remarkable new technology to grow many types of seafood at once that mimics the recirculating ecosystem of planet earth.
"We are in the initial stages of developing the technology for a land-based sustainable aquaculture that will reuse all waste to maximize efficiency and productivity," says Wills. "The idea ultimately is to have no discharge from the system."
In traditional aquaculture, which goes back to prehistoric times, fish are contained and fed in ponds, tanks or ocean enclosures. When they reach an optimal size they are harvested and eaten.
It is a reliable way to grow food, but there is a lot of waste and pollution.
Wills says many fish are sloppy eaters, so much of the feed falls to the bottom, and the animals' feces and urine amounts to lost energy in the form of nutrients that in large quantities can disrupt nearby ecosystems, just as nutrient pollution from fertilizer runoff has damaged the Indian River Lagoon.
A radical and fairly recent improvement on basic fish farming called integrated multi-trophic aquaculture – IMTA for short – utilizes the waste of a primary fish species raised for food to feed other edible animals or plants.
Dr. John H. Ryther, who did part of his work at Harbor Branch back in the 1970s, is considered one of the grandfathers of IMTA.
"It was him and some scientists in Japan and Israel," says Dr. John Scarpa, 52, who led Harbor Branch's successful efforts to help create a $60-million-a-year clam-farming industry to employ Florida fishermen who lost their livelihoods when gill net bans and other commercial fishing restriction went into effect in the 1990s.
"The IMTA concept has been substantially embraced by the salmon industry," says Wills. "There is a big farm up in New Brunswick that is directed by Thierry Chopin who was post-doctoral Fellow at Harbor Branch in 1987."
Situated in the ocean, the New Brunswick farm takes advantage of a reliable current to carry salmon waste along the shore to a large bed of blue mussels that use it for food. Beyond the mussels, scientists have planted kelp beds that consume the nutrients left over after the mussels to create edible plant biomass, filtering the current clean.
"They have sea cucumbers below the salmon cages that use the large particulate matter that falls to the bottom, which gives them another product," Wills says.
Harbor Branch's refinement of the IMTA system for land-based farms appears to be the next big step in the evolution of aquaculture for food production in a hungry world.
Wills and his colleagues considered using a linear system like the one in New Brunswick, where waste material/nutrients go from A to B to C, but detected systemic and economic weaknesses.
"In a linear system, if one component fails [because of natural processes, disease or equipment breakdown], the whole system is disrupted," Wills says. "If I am a farmer, I don't want that risk."
"We came up with a new hub and spoke model in which waste from the fish goes to a central filatration system that allows us to pick and choose the water quality we deliver to various species within a closed recirculating environment. That is the difference between our system and a linear system."
Harbor Branch scientists and technicians designed and built the prototype system from a series of large tanks, PVC pipe of various dimensions and multiple pumps and filters. They have been using it successfully for the past year to grow substantial amounts of pompano, oysters, shrimp, seas urchins and seaweed.
"With the oysters, John found that they will use the particulates in [the waste water that comes from the pompano] but they don't grow particularly well on them alone," says Wills. "There is something missing.
"So we did an experiment where plumbed another loop in the system and used a separate stream of filtered water to grow microalgae – which grows very well from the nutrients in that stream, without any additional fertilizer – and then used the microalgae to supplement the oysters' diet. With that supplement, they grow quite well."
In basic aquaculture, 1,000 pounds of feed might produce 100 pounds of fish, with the fish waste and wasted feed creating a polluted effluent.
In the Harbor Branch system, the oysters, sea urchins, shrimp and seaweed are all extra, economically-valuable products and there is no pollution or need for a continual supply of fresh water.
After the oysters, sea urchins and shrimp have consumed most of the waste and all of the particles, water that is still loaded with nitrogen and other nutrients feeds a thriving seaweed garden in four outdoor tanks instead of entering the lagoon or some other water body.
"We harvest 240 pounds of seaweed each week during the summer," Wills says.
The seaweed is edible and has other commercial uses.
Wills says it could potentially be processed into feed for the pompano, closing the magic circle and making the system a world unto itself.
"Right now, we have energy inputs, because of the pumps, but someday we may use windmills or solar power," Wills says. "Our goal is sustainability."
The hub and spoke system is highly scalable, meaning it can be made as large as a farmer wants, and it allows species to be plugged in and unplugged without disrupting the flow of nutrients to other parts of the system.
Wills, Scarpa and three other Ph.Ds. who work them are research scientists, which means they create new knowledge by carefully observing nature, recording their observations and duplicating their experiments to be sure first results were correct, all in accordance with classic scientific method.
They crank out a steady stream of peer-reviewed scientific papers that report the results of experiments conducted to better understand and improve the practice of aquaculture and fish populations in the wild.
But they are not ivory tower academics, accumulating knowledge for knowledge's sake.
"We want to move new information and improved techniques into the industry as fast as possible," says Scarpa. "That is our main focus."
They do that by sharing their latest findings in an ongoing a series of workshops, some open to the public and some by invitation only, that target different segments of the aquaculture industry.
Farmers and state extension agents who take classes also help guide the scientists' research, presenting problems encountered in the field for them to solve in their marine laboratories.
"We try to keep the classes as inexpensive and accessible as possible," Scarpa says.
Harbor Branch aquaculture also has a robust academic education program, with programs and classes for interns, undergraduates and students studying for master's and doctoral degrees.

A number of students introduced to aquaculture in a general education requirement class have caught the marine biology bug and gone on to get advanced degrees in marine science.