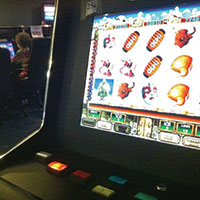 Will local arcade king be the next target of probers?
STORY BY EILEEN KELLEY, (Week of March 21, 2013)
Photo of a local internet cafe.
A joint state and federal raid on internet cafes last week raises the question of whether Indian River County's largest internet café and arcade operator Harold Dukes, who is already in hot water in South Carolina, will be investigators' next target.
Authorities in cracking down on the internet cafes of the Allied Veterans of the World arrested software providers, café owners, the national commander of the Allied Veterans and the group's Jacksonville attorney – who also represents Duke's interests here – on accusations of racketeering, fraud and illegal gambling.
While the Allied Veterans had just one internet café here, Dukes has operated several Gold Mine Arcades.
Dukes first introduced Indian River County to internet cafes when he and Arcola Systems – which provides the gambling software – established internet-style operations to complement his arcade machines. 
Like Allied Veterans, which investigators charged was giving needy veterans only two cents of every dollar gambled, Dukes claimed to be helping the less fortunate. His charity of choice was children stricken with cancer.
But like Allied Veterans, sources within Dukes' organization say, only about two percent of his earnings ever went into his so-called charity fund. 
Dukes got into trouble in South Carolina in August when he and a business partner who run five arcades and internet cafes in that state were arrested.  According to court records, Dukes' computers at his Charleston County Business Service Center were seized as well as money and other belongings.
In October, Dukes and several others countered with a civil suit aimed at blunting the South Carolina investigation.
Jacksonville attorney Kelly Mathis, whom investigators say was a key man in the Allied Veterans fraud, represented Dukes as well as Allied Veterans. Mathis was one of those arrested last week.
After attempts in recent years by the legislature to ban internet cafes, Dukes clearly thought he was winning the battle, those close to him say.  They say he spent weeks on the road and came back claiming to have many politicians, both local and throughout the state, in his back pocket.
One former state representative he didn't have was Scott Plakon, who sponsored a bill last year to ban internet gambling that passed the House, but got hung up in the Senate.
The Longwood Republican did, however, feel the pressure of Mathis' lobbying.
Plakon said that three years ago when he first introduced legislation to ban internet cafes, Mathis showed up in his office, talking about all the good the cafes do for charities.
 "I cut him off mid-sentence and said, 'I am not moved by that arrangement, so let's get on to the next subject,'" Plakon said.