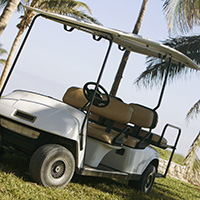 Vero to start enforcing new golf cart regs
STORY BY EILEEN KELLEY, (Week of March 7, 2013)
Vero Beach police soon will start handing out traffic citations for golf carts that are not street legal and are being operated on roads that do not fall within certain areas of the barrier island.
City police announced the crackdown – which will come with a $50 fine – after giving beachside residents one month to get familiar with a new ordinance that went into effect in early February. The warning period ends March 18.
Only people with valid driver's licenses and proof of insurance will be allowed to drive golf carts on island streets.
All carts deemed street legal must be registered and have a tag proving it is legal.  For carts that are not street legal, the city's ordinance now requires that carts be able to travel no faster than a maximum 20 miles per hour, have a horn and reflectors in the rear and in front.
Exceptions will be given to golf carts rented from the Riomar Country Club.
Golf carts may only be used after sunset and before sunrise if they are equipped with head and tail lights and have a windshield.
The idea to review the old 1984 city ordinance came after Vero Beach police issued citations to some golf cart drivers.
Police Chief David Currey told members of the city council that everyone – golfers, police and those who own golf carts to tool around the island – needs to be clear on what the city law states.
Council created the new ordinance in early February.  Police last month were told to start warning people violating the city law.
Officer John Morrison said a number of islanders have called the department to try and get a better understand of the current code. He said the key is to remember that with the exception of areas around Riomar Country Club, the carts must be street legal and have the proper tag to prove it.
Both Morrison and Captain Keith Touchberry said they are not aware of any warnings being issued to date.
The 18 roads where non-street legal golf carts are permitted are as follows:
> Flamevine Lane: A1A to Ocean Drive

> Gayfeather Lane: A1A to Cardinal Drive

> Hibiscus Lane: A1A to Cardinal Drive

> Iris Lane: A1A to Cardinal Drive

> Cardinal Drive: Flamevine to Iris Lane

> Ocean Drive: Flamevine to the curve of Bay Oak Lane

> Riomar Drive: From its western point starting point west of A1A  to  Ocean Drive.

> Painted Bunting Lane: A1A to Ocean Drive.

> Sandfly Lane: Western terminus to Ocean Drive.

> Bay Oak Lane: Club Drive to start of just before curve on Ocean Drive

> Club Drive: Riomar Dr. to Marigold Lane

> Greenway Lane: Club Drive to Ocean Drive

> Ladybug Lane: Club Drive to Ocean Drive

> Seagrape Lane: Club Drive to Ocean Drive

> Tulip Lane: Club Drive to Ocean Drive
Golf carts can be drive on many private streets in Riomar such as Lake Drive, Lagoon Road and Egret Point, although they are subject to homeowner association rules.
Golf carts are not permitted on any sidewalks except as allowed by the Florida Department of Transportation along A1A where signs are in place.
After two public hearings on the matter, the council voted 3 to 1 in favor of the new ordinance.
Councilmember Jay Kramer was absent although he had supported the new guidelines in the past. 
Offering the dissenting vote was Tracey Carroll, an islander, who said she thought golf carts should be used as a means of more environmentally friendly transportation throughout the city portion of the barrier island. 
Carroll also said it didn't seem right to allow the Riomar area to use non-street legal golf carts on certain streets if the same did not apply to mainland residents who live near the Vero Beach Country Club. 

Mayor Craig Fletcher said the Vero Beach Country Club could apply for such provisions if it wanted them.