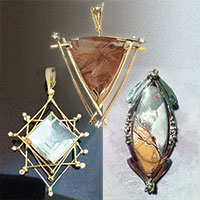 Ocean Drive jewelry theft nets $140,000
STORY BY EILEEN KELLEY, (Week of March 28, 2013)
Photo: Three of the pieces of jewelry stolen from an exhibitor at the Under the Oaks show.
A Connecticut jeweler designer – in town earlier this month for the Under the Oaks fine art show in Riverside Park – was robbed of $140,000 in merchandise on the first night of the event when she parked her van on Ocean Drive and went to get ice cream.
When she returned to her van, a window was broken and half her stock was gone.
Vero Beach police have no suspects in the theft.
The theft capped a day that started out so encouraging for designer Vicki Thaler of Connecticut.
Thousands of eager art enthusiasts swarmed 200 vendors when the 62nd annual Under the Oaks opened  March 8 in Riverside Park.
Thaler, a first-time participant  at the area's biggest annual art show, said last week she thought the weekend was very promising, particularly after a busy first day. She said her jewelry sold well and she was enthusiastic about the size of the crowd.
Taken in the theft, which first became public last week, was half of her handcrafted, one-of-a-kind designer jewelry.
Thaler said she wasn't away from her van for more than 10 minutes after she stopped on Ocean Drive to grab an ice cream cone. "I'm shocked," she said.
Thaler, who has designed jewelry for four decades and who studied at the Boston Museum of Fine Arts and Tufts University, said she fell in love with the island a year ago when she first visited Vero Beach.
From that moment on, she said she hoped to one day call the barrier island home. "I always felt that Vero was a safe place, but I guess it is not," she said.
At this point, it's unclear if the crime was the work of a very lucky thief or perhaps a larger crime ring that may have known Thaler was carting around valuable jewelry.
Thaler said that after the opening day of Under the Oaks, she packed up her jewelry and headed to the Elks Lodge where a dinner was held for exhibitors. After the dinner, Thaler she said she took a wrong turn and found herself lost in the Vero Beach Country Club area.
She said she was certain no one was following her because she is very cautious when carrying valuable jewelry.
When she finally got her bearings, she made her way over to the barrier island and parked on Ocean Drive.  Her minivan, she said, has a screen that makes it impossible to see what is inside. 
The thief or thieves sliced the shade and unzipped the bag, grabbing about half of all her pieces. The bag itself was fastened with a lock to the vehicle and therefore could not have been removed.
Thaler and police say the 99 rare gemstone pieces that were stolen were valued at $140,000.
Thaler wonders whether the thieves tracked her with a GPS, subsequently located her unoccupied van and broke into it.
Otherwise, she asks, how does one account for a thief just happening to break into her van the short time she spent on Ocean Drive?
Thaler said two friends of hers – also in the high-end jewelry business –  have had their merchandise stolen elsewhere. 
In those cases, she said, the thieves tracked the victims' vehicles with  GPS devices and stole the merchandise when the victims left their vehicles.
Police in Vero Beach did not find such any such GPS device, which can be removed with ease. 
An agent with the Florida Department of Law Enforcement say he wasn't aware of thieves using GPS trackers.
Vero police, after hearing Thaler's recollection of what she did the night of the theft, admitted a GPS tracker could have been used.
"Anything is possible," said Vero Beach Police Detective Rick Lombardo. He said his gut feeling tells him the theft was not a random smash and grab.
"If it is random, he is the luckiest thief around and personally, I don't think this is random," Lombardo said.
Most of the items are inscribed with Thaler's name.
"Hopefully, someone will see my name and call police," Thaler said.
The theft is at least the second such high-end theft of rare jewelry on the island in the last six months.
In September, someone stole a $24,000 diamond ring that had been left soaking in a cleaning solution in an area assessable to the public at John Michael Matthews jewelry store on Beachland Boulevard.
Anyone with any information on the Ocean Drive theft or the diamond ring theft is urged to call Lombardo at 772-978-4660 or e-mail him at rlombardo@vbpd.org. 
Tips can also be made anonymously at Treasure Coast CrimeStoppers, 1800-273-8479.