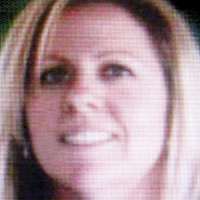 Albrecht: Self-described 'goddess' trying to live out fantasies
STORY BY BY MEG LAUGHLIN, (Week of May 16, 2013)
Photo of Gina Albrecht.
Gina Albrecht wanted money, adventure, travel, fine things and armfuls of clothing, according to her own words and the people who knew her.
On her Myspace page and another website, Albrecht painted a fantasy world of an exciting life and called herself a "domestic goddess" – a persona far removed from her every-day struggles with mounting debt, overeating and a sometimes turbulent marriage.
Indian River Shores police say she found the materialistic life she always wanted when she went to work as a health aide for George May, an elderly Marbrisa homeowner who had recently lost his wife and was slipping into dementia.
Albrecht moved her husband and children into May's home, looted his finances to the tune of $200,000 and enticed him to change his will and make her his beneficiary.
Then, police say she left him alone and bedridden for 10 to 14 days to die in his house. That's where Indian River Shores police found the 81-year-old May dead Oct. 24 in his urine-stained bed. The medical examiner categorized his death as a homicide.
After a six-month investigation, police charged Albrecht – 45 years younger than May – with manslaughter, crimes against the elderly, forgery and  fraud.
Albrecht – despite still being married – became engaged to May and helped herself to hundreds of thousands of dollars of his money. May changed his will so Albrecht and her husband would inherit his house and his remaining assets when he died.
While he was dying of dehydration and starvation, Albrecht went to the house every few days, but did not give him food or water or request outside help that could have saved his life, according to investigators. The obvious question:  Was she checking on the suffering man to see if he had died.
Repeatedly, those who know of the tragedy shake their heads in disbelief and ask:  "What kind of a person would do that?"
A look at Albrecht's life before she met May reveals a woman obsessed with having the things and experiences only money could buy without the means to buy them. Her story is pieced together from investigation and court records, her Myspace musings, neighbors and others who knew her. No one wanted to be identified.
Albrecht had trouble keeping a job and earning a regular income. Nevertheless, she was a compulsive spender, eater and adrenaline junkie, who bragged about her great, adventurous life, while sinking deeper and deeper in debt.
A year after she graduated from Vero Beach High School in 1995 at 19, weighing almost 300 pounds, Gina Ziegler (her maiden name) was convicted of shoplifting. The court file was destroyed and no details of the theft charges are available.
Two years later, at 22, she had run up over $30,000 in credit card debt – owing close to $24,000 on a Citi Bank credit card and almost $7,000 on a Target credit card.  At the time, she worked in her parents' flower shop, earning about $1,000 a month. 
Three years later, in 2001, when that debt had increased by another $16,000, she married Ryan Albrecht in Las Vegas.
The wedding announcement she provided appeared in the Vero Beach daily. It said the wedding and reception were at a Las Vegas banquet hall with gardens. Eleven friends and family members flew to Las Vegas for the big event. 
"The bride wore an empire A-line satin gown accented by pearls, sequins and Schiffli lace, with a cathedral length train," wrote Gina Albrecht, who, at 25, was now more than $45,000 in debt.
The couple honey-mooned in Las Vegas and made the rounds of the city's casinos.
Gina Albrecht liked the slots. She was drawn to the thrill of beating the odds. In that vein, she also took up the expensive hobby of skydiving at Skydive Sebastian, which she wrote about on the Internet.
Years later, when she was May's caretaker, police found records of numerous visits to casinos where she played the slot machines.
On her MySpace page years before, she boasted about her fearlessness when it came to taking risks: "Most people enjoy sports that involve one ball, mine takes two. I love skydiving and am jumping toward my A license (which requires 25 solo jumps)."
Skydiving had become a hobby that added up to more than a $1,000 in just a few months.
By 2003, her debt topped $50,000.
But her MySpace page painted a picture of a carefree bon vivant with no worries. "I cannot travel enough," she wrote. "Have been to Mexico and Bahamas many times, all along the east coast (from Maine to Keys) Vegas and France. Love to cruise....The best so far was snorkeling through the caverns in Xcaret in Mexico.... Swimming in the middle of the ocean with 8-foot stingrays wasn't so bad either."
By 2004, Gina Albrecht weighed over 400 pounds.
Before she had gastric bypass surgery in July 2004, she wrote about her weight struggle and unhappiness on an obesity website: "I'm just another fatty w/the same story of always being overweight all my life....  Every day is a struggle to stay w/my husband Ryan. He comes from a family of alcoholics & he too is one.... My husband mentally & emotionally abuses me daily.... It just sucks that he has stripped & drained me from all my friends."
Oddly, when Gina Albrecht went to work for May years later, witnesses said she did to him what she accused her husband of doing to her: She isolated May from his friends.
Furthermore, Gina and Ryan Albrecht's neighbors in south Vero Beach say that the many arguments they heard the couple have suggested Albrecht was more verbally abusive to Ryan than he was to her.  
In 2004, Ryan Albrecht worked as a surveyor for an engineering firm, making about $2,400 a month. The couples' debts, excluding the $99,000 mortgage on their 1,600-square-foot home in the Highlands, topped more than $100,000 in unpaid credit card and medical bills.
Gina Albrecht quickly dropped weight after the surgery.
Neighbors recall that she bought new clothes, styled her hair every day and wore make-up. 
About a month after the surgery, she called police and wanted them to arrest Ryan for punching her in the face. The police report said they had a fight over his drinking with his buddies. In the report, Ryan Albrecht said his wife was lying and he hadn't hit her.
What she wrote on a website, however, gave no indication the couple had marital  problems.
Instead, the new-and-improved Gina Albrecht made a list of what she planned to do: " Share a bath with my husband. Skydive again. Go on more cruises.  Have an unlimited wardrobe."
Her to-do list was perplexing, given that the couple's financial liabilities far exceeded the money coming in.
In 2006, Gina Albrecht went to work at the CVS distribution center in the warehouse. Records show she was fired after five months. Meanwhile, her husband lost several jobs as a surveyor. Nevertheless, neighbors say, she constantly got out of the car loaded down with plastic bags filled with clothes and other things she bought on shopping sprees.
In 2007, the couple filed for bankruptcy. Records show they owed over $149,000 in unpaid bills beyond their mortgage. The bulk of the debt was for credit cards; a portion was for unpaid medical bills.
In an itemization of expenses, they said their wedding bands were worth $10 each, their dog $5. They listed their most valuable possession – aside from the house with a mortgage and their 2002 Chrysler – as a five-year-old sofa worth $75.
They bought groceries with food stamps. 
In yet another baffling disconnect, Gina Albrecht described herself on MySpace as a "Domestic Goddess."  She also wrote about her daughter's success in beauty pageants and said they were headed to "nationals."
"She has too many trophies and tiaras for us to know what to do with," gushed the pageant mom, who traveled with her daughter on borrowed money to earn more trophies. 
Months later, a second daughter was born.
Neighbors said that when the baby was about a year old, Gina Albrecht kicked her husband out of the house and an Indian River County prosecuting attorney moved in. They could not, however, remember his name. A check with the state attorney's office turned up no identifying information.
Neighbors said the prosecutor moved out after Ryan Albrecht slashed his tires.
At that point, Gina Albrecht began packing on the pounds again. She entered a program to become a certified nursing assistant, and Ryan Albrecht moved back in.
She completed the nursing program in 2010 and went to work for George May through Nightingale Private Duty Nursing in June 2011. In September, after convincing May to hire her directly, she moved her husband and daughters into May's home on the barrier island with her and her elderly patient. Despite saying on MySpace that she "loved, loved, loved animals," she left the family's golden retriever locked inside her south Vero home. 
When Ryan Albrecht went back to feed the dog, he told neighbors about the "sweet deal" his wife had landed in Marbrisa.
In her first year with May, she spent about $200,000 of his money.
Meanwhile, May's family, friends and neighbors became increasingly concerned and called police to check on him.  But police say Gina Albrecht had the confused octogenarian under her control,  frustrating everyone's efforts to help.
At last, she had access to a pocketbook that fit her obsession for spending money.
As May's health and mind continued to decline, Gina Albrecht became less and less of a caretaker to him – until October when she moved out of his Marbrisa home with her husband and daughters, leaving her patient  alone, uncared for and bedridden.
Medical examiner reports said the condition of May's body indicated he had been dead from dehydration and starvation several days before police found him Oct. 24.  Gate entry records at Marbrisa showed Gina Albrecht visited May's house on the afternoon of Oct. 20, a Saturday.
Her south Vero neighbors say she arrived back at her Highlands home in the late afternoon that day, driving May's blue van.
Usually, Gina Albrecht and her husband stayed inside, arguing and cursing at each other.
But after her return from May's that Saturday, the couple was unusually festive and happy, according to neighbors.
They came outside, kissing and cooing in a display of affection unusual for them.
Neighbors heard Ryan Albrecht tell his wife how happy she made him, that she had done a great job and he loved her. Gina Albrecht, they say, cooed and giggled and thanked him as he praised and kissed her.
The Albrechts drank beer together in their yard and, in a burst of celebratory spontaneity, burned their daughters' wooden swing set in a big, festive bonfire.
After all, the girls, who both had new bikes bought with May's money, no longer needed an old swing set.
Besides, the flames lighting up the yard as darkness fell added to the celebration.
The Albrechts' South Vero neighbors say they are still trying to answer the question: What were they celebrating?