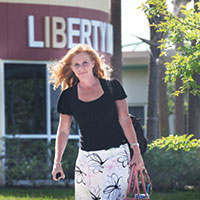 Beloved principal's transfer roils parents
STORY BY MEG LAUGHLIN, (Week of May 30, 2013)
Photo: Liberty Magnet principal Kelly Baysura
When distraught students and parents at Liberty Magnet Elementary School ask why their beloved principal, Kelly Baysura, is being transferred to another school, the response they say they are getting from the school superintendent and school board is:  "Because we said so."
That is not a response, they say, which will make them sit down and shut up. They point to the Indian River school system's organizational chart which places the citizens of the county over the superintendent and ask: "If we're losing our principal and we, who are on top of the organizational chart, ask why, don't we deserve an answer?"
 "We're told Kelly Baysura is being transferred to Treasure Coast Elementary and Dodgertown's principal is coming here because it's best for the district. Period. No other information," said Liberty Magnet PTA President Kelly Kormanec. 
"Don't we deserve a better answer than that?"
The answer to that question is, of course, yes. But the reason the parents are not getting the detailed answer they deserve may have to do with a sore spot between the school board and the superintendent, and employee issues that both the school board and superintendent are reluctant to discuss.
"Don't go down that road," said superintendent Fran Adams. "The transfers I am making and the positions being filled have to do with the big picture and my deep knowledge of what is best for the district. The decisions are entirely student-centered."
In 2011, Takeisha Harris, who had never been a principal, was tapped for the principal's position at Dodgertown by Harry La Cava, Adams' predecessor. Harris had no experience with elementary school students or Title 1 schools like Dodgertown, where most students qualify for free lunches and many parents are bogged down by poverty-related issues.
Despite having some great students, teachers and parents, Dodgertown, by all accounts, is a very difficult school to run.
"Dodgertown needed a very dynamic, experienced leader, not someone taking their first job as a principal," said school board member Jeff Pegler of Harris's appointment.
 When Fran Adams replaced La Cava as superintendent, she saw that Dodgertown had problems and suggested to the school board that they close the school down, turning it into a successor to Osceola Magnet. 
Dodgertown students, she proposed, would be sent to other elementary schools around the county, and Osceola Magnet students would be sent to Gifford to what had been Dodgertown.  
The community outrage was immediate, loud and clear, and the school board voted unanimously to reject Adams' proposal.
"We believed you don't just write off a school with problems; you try to make it better," said Pegler.
But instead of replacing Harris, who, by all accounts is a kind, well-meaning person, with a principal better suited for the challenges of Dodgertown, Adams chose to keep her in place for another year.
Beth Weatherstone, chief of the county's teachers union, said that she was called to Dodgertown "numerous times over the past few years because of teachers' verbal complaints."
Some speculated  Adams was slow to act to make the point to the school board that they should have listened to her and closed Dodgertown.
"Absolutely not the case," said Adams.
Nothing in Harris' written performance evaluations as principal points to her having difficulties running the school.  But, recently, Dodgertown received a C-rating from the Department of Education and many speculated that without a change in the leadership team – both principal and assistant principal – Dodgertown was facing an even lower rating for 2013.
"Much to her credit, Dr. Adams took action," said Pegler.
That action, however, involved playing musical chairs with several elementary school principals.  For starters, Adams hired a principal from Stuart with experience running a Title 1 school to run Dodgertown. That freed up Harris.
Treasure Coast Elementary's principal was retiring, which opened a slot. But Treasure Coast, while an A-rated school, is a large school with its own challenges, which also requires a strong principal.
"Kelly Baysura is one of the best principals in the district – if not the best," said Pegler. "Treasure Coast needs her."
Baysura is a South Beach resident and a good number of children who attend Liberty Magnet reside in Summerplace and other neighborhoods on the north barrier island.
Under Baysura and her highly-esteemed predecessor, Liberty Magnet has become what many call a "well-oiled machine." The PTA is exceptionally strong, as is parent involvement in the school. The teachers are also hailed as among the best in the district.
"With Kelly Baysura's leadership, we have become a model school with a fantastic learning environment for our children," said PTA President Kormanec.
"Liberty Magnet practically runs itself at this point," said  union leader Weatherstone.
So Adams decided to move Baysura out of Liberty and place her at Treasure Coast, and move  Harris in as principal at Liberty.
Neither Harris nor Baysura would talk to Vero Beach 32963.
"We don't think these transfers are fair to Kelly, and we worry they're not fair to Takeisha Harris either because she is coming to a school full of students, teachers and parents who wish her well but who are very upset about losing Kelly," said Kormanec.
The Liberty parents have circulated a petition that now has more than 400 signatures asking to keep Kelly Baysura as the school's principal. At the last school board meeting about 300 Liberty parents and kids attended, waving signs that said, "Keep Ms. Baysura" and "We want answers." The meeting had to be moved to the commission chambers to accommodate the crowd.
Several students and parents spoke, asking the superintendent to reconsider.  They pointed out that Baysura was certified to lead an international baccalaureate like Liberty and the new principal was not. They pointed out it would cost taxpayer dollars to certify the new principal, whose background is in middle school math and counseling.
But Adams remained firm in her decision to move Baysura out and move Harris in, and the school board voted unanimously to back the transfers.