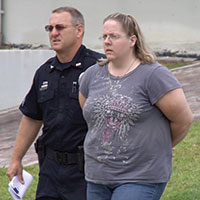 Home nursing aide charged with forgery, manslaughter
STORY BY MEG LAUGHLIN, (Week of May 9, 2013)
Photo of Gina Albrecht being arrested.
Gina Albrecht, a nursing assistant who described herself as the "Anna Nicole Smith" of an elderly Indian River Shores man entrusted to her care, took the role to homicidal extremes, according to police.
On May 1st, the 37-year-old Albrecht was charged with aggravated manslaughter and neglect of an elderly person in the Oct. 24, 2012, death of 81-year-old Marbrisa resident George W. May Jr.
The sordid tale of isolation and willful neglect for financial gain is one that practically every person over 75 – who lives alone and is not in frequent and close contact with a trustworthy family member or friend – fears could be his or her own.
"The saddest, saddest thing about how my father, with his failing mind, was isolated, robbed and abused until his death is that it's an all-too-frequent occurrence," said May's only child, Patricia Corapi , 53, of Melbourne.
 When May was discovered alone and dead in his dark, smelly bedroom six months ago, the 5-foot-8 retired pharmaceutical executive and Korean War veteran weighed 101 pounds. The medical examiner said he died of malnutrition, dehydration and pneumonia with dementia contributing.
Corapi said her father fell victim to Albrecht, who would not allow her in the family home.
"Gina told me she had a gun and I was not to step foot near the house," said Corapi. "She took the money then watched my dad starve to death." 
Along with aggravated manslaughter, Albrecht is also charged with crimes against the elderly, four counts of fraud and impersonation for criminal use of IDs and four counts of forgery for allegedly using May's deceased wife's credit cards and signing her name.
Aggravated manslaughter of the elderly is a first-degree felony which can carry a life sentence.
At his death, May left his home, appraised at over $500,000, and all of his assets to Albrecht in a revamped will drawn up about seven months before.  Hundreds of thousands of dollars were already missing.
Albrecht's total bond: $205,000. 
Currently, Bobby Guttridge is standing in as her criminal defense attorney while a search is conducted to make sure no payments on her behalf are made with money she may have illegally gained. 
Albrecht and her husband Ryan are being sued by May's niece by marriage, whom May had previously named as his sole beneficiary in a January 2011 will. Eight days before May signed that will, a doctor diagnosed him with dementia after a CT scan.
The civil suit against Gina Albrecht and her husband filed by niece Mary Olsen of Delaware accuses them of using "duress, force or artful or fraudulent contrivances" to get the final will, which the suit calls "a product of unnatural and undue influence."
Prior to May's will leaving everything to Olsen and the subsequent will leaving everything to Albrecht, his beneficiary was his daughter, Corapi, who says she, too, is considering a lawsuit.
In June 2011, Albrecht, became caregiver to May, after completing courses at Indian River State College to become a certified nursing assistant. An alumna of Vero Beach High School, records show that she graduated with honors from the IRSC program, which included a course in how to recognize and report elder abuse.
She went to work for May 11 months after his wife Catherine – a polio victim in a wheelchair – died. Corapi said her mother was "the decision maker" in the family and her father was "lost" without her.
In the beginning of her employment, Albrecht worked for Nightingale Private Duty Nursing which oversaw her work.
May quickly warmed to Albrecht, who, her neighbors say, was quick to make decisions and had a reputation for being "aggressive." Bartenders at Kelley's Irish Pub say May and Albrecht would regularly come in for a beer in 2011. At first, they thought May was Albrecht's grandfather, but kisses between them suggested otherwise.
Nightingale, which is owned by the Visiting Nurse Association of the Treasure Coast, has a policy that caregivers can neither give nor receive gifts from clients, nor develop personal relationships with them. 
Albrecht subsequently left Nightingale, not telling them she planned to go to work for May independently, with no oversight or restrictions.
Within months, according to witnesses, Albrecht – a married woman with two young daughters – was engaged to May and her husband Ryan Albrecht was bragging about the "cash cow" his wife had found on the beach.
At the time, the Albrechts were receiving food stamps.
Gina and Ryan Albrecht, and their two young children moved into the 2,272-square-foot Marbrisa home with May. The two daughters, now 11 and 4, swam in the pool and the Albrechts hired renovators to add a bedroom for them and to redo the kitchen, as well as generally spruce up the house.
Witnesses, from the kitchen renovator to the house painter to the floor tiler, said in police documents that they saw blue-eyed Gina Albrecht – 5-foot-5 and over 240 pounds – emerging from Mays' bedroom in pajamas and negligees and saw her kiss him on the lips. The pool maintenance guy told police that May called Albrecht his soon-to-be "little trophy wife."

"Witnesses tell me that Gina showed them hickeys on her neck and chest from my dad," said Corapi. "He would be so embarrassed if he had been in his right mind."
The house painter told police that Albrecht told him she was sleeping with May.
Meanwhile, according to witnesses, May's health and mind were rapidly declining.  During the time Albrecht was supposed to be caring for May, paramedics were called to the house four times between late May 2011 and late June 2012. Three of those times, May was taken to Indian River Medical Center because of extreme weakness.
When he was sent to a residential rehabilitation center by his doctor to regain his strength, his daughter, records show, was able to visit him and be part of his recovery plan.
Corapi says she asked her father why he wanted to be around Gina Albrecht, when, in her care, he became dehydrated, malnourished and too weak to walk.
"Because I'm so lonely," Corapi said she was told by her father.
After spending 47 days at the rehabilitation center between late June, 2012 and early August, May had improved enough to go home with home healthcare nurses. But nurses hired from an agency said no one would answer the door when they went to May's house. Albrecht had returned.
Despite warnings from friends and family, May continued to let Gina Albrecht be his only caretaker. Between early August when May left the rehabilitation center and October when he was found dead, he lost 40 pounds in under three months.    
 On about Oct. 10, 2012, with May apparently severely ill, Albrecht moved out, leaving him alone. Though Gina Albrecht told police she did not return to the house till the day of May's death, Marbrisa gate entry records show she was there repeatedly between Oct. 10 and Oct. 24th when he was pronounced dead.
The Albrechts are also charged with possession of marijuana which was found in a tin under their bed when investigators searched their mainland home. Currently Ryan Albrecht is living in that home with their two children.
Neighbors describe Ryan Albrecht as a "caring guy who has gone downhill." Frequently, when the Albrechts lived in their home in south Vero Beach, neighbors said they heard loud yelling and Gina would tell Ryan to "get out," which he would do for several weeks at a time before returning.
Gina Albrecht's parents owned Alice in Flowerland, a flower shop near downtown Vero Beach, where Gina worked as a young woman. Her father, William Ziegler, who is the full-time caretaker of Gina's disabled mother, expressed sadness over his daughter's arrest and charges, but would not talk about it.
Court and law enforcement records show that Gina Albrecht was sued by Target in 2006 for not paying over $5,000 in Target credit card charges. She filed bankruptcy and the Target suit was dismissed.
In 1996, when she was 20, she was convicted of shoplifting. Other than that, she has no previous record of crimes.

Gina Albrecht's arraignment for aggravated manslaughter, elderly neglect, fraud, illegal impersonation and forgery is set for June 17th with Judge Robert Pegg. At that hearing, she will hear the charges and plead guilty or not guilty.

If you have information...
... about the events leading up to the death of Indian River Shores resident George May, please call Detective Sgt. Shawn Hoyt at (772) 231-2451, ext. 346.