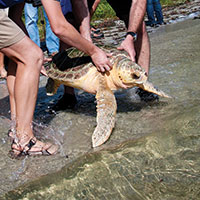 Injured turtle back in lagoon after SeaWorld rehab
STORY BY MEG LAUGHLIN, (Week of May 2, 2013)
Photo: SeaWorld staff release Herbert the loggerhead turtle into lagoon.
An injured sea turtle's journey to recovery reached a happy conclusion last Wednesday when it was returned to the Indian River Lagoon near Vero Beach after 10 months of rehabilitation at SeaWorld in Orlando. 
Members of the SeaWorld film production team were so taken with its story that they made the turtle a feature in the SeaWorld documentary series "Sea Rescue."
The turtle's problems began last June when a Boston Whaler at St. Edward's School water camp in the Indian River lagoon accidentally hit it.
"We heard a klunk. When we looked behind the boat, we saw a sea turtle floundering in circles," said camp counselor Garrett Spear.
Along with Spear, two other camp counselors and the school's athletic director jumped in the water to rescue the turtle. At the time, the loggerhead, whom they named "Herbert," weighed about 60 pounds, had a shell over two feet in diameter and was a three-year-old juvenile.
"He was floundering in the water and disoriented, probably from a concussion," said St. Ed's athletic director Jeff Lamscha.
Holding the turtle's shell and its head out of the water, he and the counselors swam to a sandbar so they could stand up and continue to hold the turtle so it didn't drown.
"It was bleeding a lot from the back of its shell and its head, which made you hope no sharks were in the area," recalled counselor Matt Murphy, a senior at St. Ed's.
Lamscha used his cell phone to call the Florida Fish and Wildlife Conservation hotline, and a sea turtle rescue team arrived in about an hour.
"We put Herbert in the covered bed of my F150 pickup in a kiddie pool full of wet towels and drove him to Sea World," said FFWC marine biologist Karrie Minch. 
At SeaWorld, vets took blood and X-rayed the turtle. He was turned over to marine biologist Julie Moore, who became his nurse. Her job was to keep the water chemistry balanced in his hospital room which was a plastic pool, 10 feet in diameter and three feet deep.
Moore was also charged with giving Herbert – whom she calls "the patient" – medications, looking for signs of decline and feeding him. "The biggest problem was that he had an infection and wouldn't eat, which caused him to get weaker and weaker," she said.
To remedy that, she gave him antibiotics and force fed him with a tube placed down his throat and a plunger filled with "a fish milkshake."  As time passed and he gained strength and recovered from his wounds, he began to swim with better coordination and forage for fish placed on the floor of his pool.
Moore, who has worked with injured sea turtles for years, said Herbert was different from most: "Mellow, not feisty and inclined to bite like most loggerheads."  
Every month, she recalled, Lamscha, the St. Ed's athletic director, phoned to check on him.
In fact, Lamscha drove over to Orlando to visit Herbert. Even though the turtle had only a number on his tank in an area with a dozen or more sea turtles in pools recovering from injuries, Lamscha recognized him.
"He was asleep," said Lamscha, who called out his name.
Herbert woke up and began swimming around the tank.
"I was really happy to see that," said Lamscha.
A few months ago, he got an e-mail from Moore saying that Herbert would be ready to be released back into the Indian River lagoon in late April.
"I knew I was going to SeaWorld for the trip back to the lagoon with Herbert, and I asked the kids who had helped rescue him if they wanted to go," said Lamscha.
As about a dozen people waited for the send-off at Harbor Branch Oceanographic Institute on the lagoon, Herbert arrived last Wednesday with nurse Moore, Lamscha and three camp counselors in a SeaWorld truck.
"Herbert will probably go back to the same area of the water camp where he was injured and will stay in that area for five to 10 years before heading out to the ocean," Rick Herren, a field biologist who heads the Indian River Sea Turtle Rescue Team (which responds to calls from FWCC), told everyone gathered at the water's edge.
"We'll be on the lookout for him," said Lamscha.
With that, Moore, Lamscha, Herren and the water camp counselors placed Herbert in the sand at water's edge. For 10 seconds, he remained still. He then flexed one flipper and then the other and edged into the water where he began swimming slowly out and down, out of sight.
Everyone applauded, and a few people wiped away tears.

"It's really cool to see this come full circle," said camp counselor Matt Murphy.