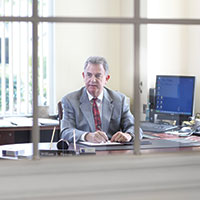 Marine Bank returns to profit; FDIC wants more
STORY BY EILEEN KELLEY, (Week of May 2, 2013)
Photo of Bill Penney: "We've made some great progress."
An improving economy as well as an aggressive focus on getting rid of bank-owned properties has made it possible for Marine Bank and Trust to announce something it hasn't been able to say for years:  It made a profit last quarter.
The bank last week reported first quarter pre-tax earnings of $61,000, a significant improvement over a year ago this time when the island's only locally owned bank closed the quarter $482,000 in the red.
The bank's non-performing assets – loans that were not being paid – also shrunk by more than half to $2.05 million compared to $5.63 million at this time last year.
"We've made some great progress," said Bill Penney, president and chief executive officer of the island's community bank, who expressed the hope that the dark days of a few years ago – when non-performing assets peaked at close to $11 million – are gone for good.
Penney's optimism is understandable and he vows to keep pushing forward.  He doesn't have much of a choice.
According to a 38-page federal report made public Friday, the board of directors of the Federal Deposit Insurance Corporation sided with an administrative law judge's earlier ruling and on March 19 ordered Marine Bank and Trust to continue reducing its portfolio of non-performing assets and increase its capital.
Should the bank fail to meet those guidelines and several others laid out by the FDIC, it could be forced to merge with another bank or be sold.
But Penney expressed confidence the FDIC guidelines can be met because the banking issues the commission questioned in 2010 came at a time that Indian River County and all of South Florida was in the throes of a recession and unemployment was at a crippling 16.8 percent. Until this past quarter, the bank had not posted a profit since 2009.
"This is not panic mode," Penney said.
The order follows a lengthy hearing in Fort Pierce and Stuart nearly 16 months ago when Penney's team of lawyers tried to persuade an administrative law judge that a 2010 examination of the bank that suggested the Marine Bank and Trust was lax in its loan underwriting and administration was not accurate.
The lawyers argued that Marine Bank's financial problems were a direct result of the recession, and questioned why lending and capital ratios that had been considered acceptable by bank examiners prior to the housing market collapse suddenly were now considered unsafe.
The judge and ultimately the FDIC board said that while it was true that the local housing and commercial real estate market had taken a nose dive, that alone was not the only reason it perceived the bank was operating in an unsafe mode. At time of the 2010 examination, the FDIC said the bank needed to diversify its portfolio and had too high of a concentration of commercial loans.
While the judge acknowledged that bank management had made credible strides in turning the tide, he said the bank waited too long to act and that it should have been able to increase capital and decrease expenditures in a deteriorating environment sooner.
Marine Bank and Trust was far from alone in this added scrutiny.  About 40 percent of all community banks in Florida were on a watch list last year. 
Under the recent FDIC order, Marine Bank and Trust must get its most common capital ratio – the ratio of its capital to its total assets – up to 8 percent.  Penney on Friday said his ratio now stands at 5.44 percent. Typically banks fail when the ratio falls below 2 percent.
To meet the 8 percent goal, the bank is in the process of selling common stock.
Penney is optimistic about the bank's future. "It looks very, very promising," he said.
"For two of three years, it seemed as though the sun was never going to come up," said Penney, "and all of a sudden we have blue skies. We had a world of hurt going on in this economy that is beautiful Vero Beach, but it is healing quickly."