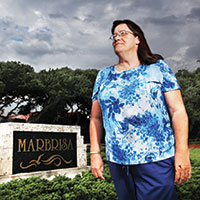 Daughter details how health aide manipulated her dad
STORY BY MEG LAUGHLIN, (Week of May 23, 2013)
Photo of George May's daughter Patty Corapi outside gates of Marbrisa.
A frequently asked question about Marbrisa resident George May's gruesome death – while supposedly in the care of nursing assistant Gina Albrecht – is why his daughter or niece didn't come to his aid.
May died Oct. 24 from starvation and dehydration. Albrecht – his nurse and girlfriend – is charged with aggravated manslaughter and elder abuse, forgery and fraud.
May's daughter Patty Corapi and niece Mary Olsen, as well as his friends and neighbors, tried to intervene. But their numerous attempts to save May were thwarted by Albrecht's tight control, May's confused defense of Albrecht's decisions, and a misunderstanding of what legal steps were necessary to wrest control away from Albrecht.
The tragedy also raises a question about who now winds up with May's Marbrisa house and remaining estate – his daughter, his niece or Albrecht?
"Answering these questions is like a classic law school exam because so many legal issues are involved in this complex case," said attorney John Stewart, who represents the niece in her claim to be sole beneficiary. Stewart's father and senior partner, Bill Stewart, wrote a will leaving the estate to the daughter years earlier.
At the heart of the legal tangle is a falling out May's daughter, now 53, had with her mother 16 years ago over Patty's husband-to-be. Catherine May quit speaking to her only child and George May went along.
"I was 37, old enough to make my own decision about the man I wanted to marry," said Corapi. "I made peace with my mother's decision."
May's best friend Steve Foster said he and May talked about the estrangement: "George said he was stuck in the middle," said Foster. "He said he kept up with his daughter secretly."
Corapi said she didn't learn of her mother's death in July 2010 until months later when she Googled her name and came across her obituary.  "I was very upset," she said.
Those at Catherine May's funeral noticed her daughter wasn't there. But Mary Olsen of Delaware, the daughter of Catherine May's sister, was at George May's side.
"George called Mary almost daily after the funeral and she came to see him about once a year," said Shirley Mank, a Marbrisa neighbor.
Olsen lives and works in Newark, Del. In January 2011, May signed a will giving his niece the power-of-attorney and making her his beneficiary, instead of his daughter.  Neither Olsen nor her attorney would agree to an interview, but her attorney said "the last valid will of George May" names Mary Olsen as his beneficiary.
In late November 2011, five months after Albrecht went to work for May, his daughter said she got a call from an upset Olsen.
The niece said May had taken away her power-of-attorney, and she was worried about his finances and what was disappearing from his home.
After Corapi got the call from Olsen, she called her father and talked to him and Albrecht. "I didn't want to anger Gina because I wanted to get in the house and see how my father was doing," she said. "So, when Gina complained about Mary, I said nothing."
Corapi told her father and Albrecht that she was there for him. Her father said he was "passionately in love" with Albrecht and planned to marry her.
 Albrecht forwarded all phone calls to the Marbrisa house to her cell phone so she could screen them, Corapi learned.
"Gina was living out POW 101 and my dad was the prisoner," she said.
After the first phone conversation with her dad and Albrecht, Corapi called regularly.
Sometimes Albrecht took her calls, she said, and complained about Olsen "butting in their business." Infrequently, Albrecht allowed May to talk to his friends, the Fosters. But Albrecht wouldn't take Olsen's calls and deleted her voice messages.
By late March 2012, May and Albrecht told Corapi, a tax preparer, that she could come to the house to prepare her dad's taxes.
On that day in April, Corapi recalled, her dad had a morning cup of coffee. At lunch, Albrecht heated a Velveeta cheese dip in Catherine May's large Revere pot and brought it into the room where Corapi was asking her father about accounts and receipts and her father was looking confused.
"Gina opened a big bag of chips and sat there eating the orange dip without offering us any," said Corapi. "Neither of us ate all day."
That day, Corapi learned the Albrechts were helping themselves to her father's money and that the house and the remaining assets were in a revocable trust although she didn't know whose name was on the trust.
Albrecht had driven May to see attorney Daryll Jacobs in March. He changed May's will, setting up a revocable trust for Albrecht, and husband Ryan to inherit in her place if she were dead.  Olsen, like Corapi, a year before, was cut from May's estate.
"I was unaware of who drove Mr. May to my office," said Jacobs. "But I can tell you that he was a typical client after 22 years. It is not unusual for an elderly person to cut out family members and transfer assets into a revocable trust for a friend. I saw no red flags because Mr. May had cut out his daughter before he came to me."
Three days after her first visit to her father's home, Corapi returned to finish his taxes.  Albrecht was not there, or so Corapi thought.
Seizing the moment, Corapi told her father the Albrechts were taking all of his money and not caring for him. She said he needed to sign papers to get rid of them. She asked him to go with her to his attorney, Bill Stewart. Her dad refused and told her the Albrechts were "family."
"I lost it," said Corapi. "I yelled they were going to wipe him out and put him in a county nursing home or worse, and that he was doing nothing to help anyone stop them."
That's when Albrecht, who had been listening behind a closed door, walked in and told Corapi to leave. Corapi said she noticed Albrecht was wearing her mother's diamond earrings.
She told her father he had big problems that he didn't understand and asked him: "Dad, do you want me to fix them?"
"Yes," she said her dad answered.
But Albrecht spoke next. Corapi recalled these words: "I will protect whatever is mine by any means necessary. I've got a gun and you better get out, right now."
Corapi said she then saw something that haunts her: Albrecht walked over to May and rubbed his back with one hand, while bending over him and slipping her other hand between his thighs. Her father's face broke into a smile.
"I was nauseated," Corapi said. "I knew I had lost. I knew we all had – except for Gina and Ryan," her husband.
After that, Corapi, Olsen, the Fosters and other friends talked more frequently on the phone. The topic was always: How do we get the Albrechts out of May's life?
Was it possible to have May declared a danger to himself and committed to an institution? Could police do anything? Why didn't the Department of Children and Families intervene after launching an investigation? Could they get the Albrechts into court?
But having May declared legally incompetent and having a guardian accountable to the court in charge of his affairs, instead of the Albrechts, was not discussed. Yet, lawyers say that was probably the only action that would have removed May from Albrecht's control.
In May 2012, Corapi said her dad called her and asked her to come to the house, again.
At the house, with the Albrechts not there, her father said he wanted her and his niece to "visit Gina and me here at the beach house so we can all have a good time."
 Corapi replied: "When you are being wiped out financially and not getting fed and getting sicker and sicker, it is not a good time."
In June, concerned Marbrisa neighbors, who tried to help May repeatedly, called police, again, to come out to the house.
The result was an emergency trip to Indian River Medical Center and seven weeks at Consulate, a rehab center, where May thrived with regular meals and medication.
May's daughter participated in his health program and visited him often, as did the Fosters. His niece called frequently from Delaware. The plan was for a home healthcare agency to provide home care instead of Albrecht, who did not visit him at the center.
But, when May returned home in mid-August, able to walk and 20 pounds healthier, and home healthcare aides called, they encountered Albrecht, who wouldn't answer the door.
Neighbor Jim Mank saw May in his front yard in early September. "He looked better than he had in a long time," said Mank. "He told me he was going to marry Gina Albrecht soon."
Seven weeks later May, 81, was found dead from starvation and dehydration. About 10 to 15 days before his death, according to police, Albrecht, 36, moved out and left him bedridden and alone without food or water. For about two weeks prior to his death, she returned to Marbrisa regularly, but did not call for help.
After her father's death, Corapi arranged a memorial service at the funeral home. The Fosters and several of May's friends attended. The Albrechts did not. Nor did Olsen.
"Mary Olsen really cared about her uncle-by-marriage," said Foster. "But Patty Corapi did too, and she was George and Catherine's only child."
Police arrested Albrecht six months after May's death. If convicted of manslaughter, she cannot inherit May's estate under Florida law.
If convicted of a lesser felony, her position to inherit is significantly weakened because it suggests the most recent will was signed under duress. Even if acquitted, the attorney for her inheritance claim, Chuck Sullivan, must show May did not name Albrecht beneficiary while incompetent or under duress.
Ryan Albrecht, Gina's husband who was not arrested, may be in a better position to be the beneficiary, said Sullivan. "There is case law supporting that position," he said.
Olsen sued the Albrechts, saying she is May's rightful heir. Albrecht "took advantage of Mr. May's elderly and lonely position," and May and his niece had "a long and loving familial relationship," says Olsen's suit.
Corapi said she is not likely to get involved in a fight over her parents' house and the remaining assets.
"I knew nothing about the wills," said Corapi. "What I knew was that if my mother or father needed me and let me know, I'd be there in a shot.
"That house has my childhood in it, but battling over it after my father's horrible death is like taking a hammer and repeatedly slamming it down on my thumb," she said.   "It's too late for all of the wrongs to be righted."