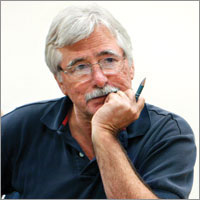 Wilson makes final appeal for probe of Orlando contract
STORY BY LISA ZAHNER, (Week of May 2, 2013)
Photo: Former Vero Beach City Councilman Charlie Wilson.
Former Vero Beach City Councilman Charlie Wilson has mounted what might be his final case against the City Council members, city staff and consultants involved in the 2008 power deal with the Orlando Utilities Commission.
Wilson fears that the city staff or consultants involved will walk away not only without punishment for alleged wrongdoing, but without even being questioned. The statutes of limitations for the various possible offenses have either already expired, or will be expiring in coming months.
Frustrated at why the current council members seem to be cowering in the face of this criminal probe, Wilson said, "They all just want this to go away.
"They say it has already been investigated, but no questions were asked about the crimes that could have been committed and the only council member who they attempted to question fled the interview," Wilson said.
As part of a cursory investigation conducted by State Attorney Bruce Colton's office in response to a complaint by a member of a grand jury, former Councilman Ken Daige refused to answer questions on two occasions. He skipped out on an interview at City Hall and shunned the investigator who went to his Vero Beach home. No other member of the council has ever been questioned.
Wilson, in a presentation to the council last month, presented evidence from the public record that he thought would ignite the council's interest in requesting a Florida Department of Law Enforcement investigation on the matter.
Wilson displayed a bid ranking form which appears to show former City Attorney Charlie Vitunac sandbagging FPL in favor of OUC.
For example, Vitunac gave OUC 10 out of 10 in transmission capabilities, two points higher than the eight he awarded FPL, despite the fact that FPL owns all the power transmission lines being used by OUC to get electricity from Orlando to Vero Beach.
Vitunac also gave FPL a six and OUC a 10 in the economics category. Wilson asked: "Whose economics – the ratepayers or the city employees – was Mr. Vitunac using as his criteria?"
As further evidence of wrongdoing, Wilson offered up the transmittal letter which accompanied the original, executed contract OUC sent to R.B. Sloan in April 2008. That letter shows that the contract was sent back clean, without redactions, to a city e-mail address.
That would seem to give rise to two problems. First of all, city staffers are on the record saying that OUC blacked out the so-called "trade secrets" in the contract. Second, the moment the contract hit City Hall, by e-mail or otherwise, it should have been made a part of the permanent public record.
"We now know things that have previously been in dispute," Wilson said. "We now know that a group of employees acted in their own interests instead of in the interest of the ratepayers.
"What we've learned from here is that, just in a private business, you can't let employees run the business. If you take $20 from the 7-Eleven, you go to jail. If you take $20 million from the citizens of the City of Vero Beach, you get retirement pay."
Former Councilman Brian Heady also spoke at last month's meeting, urging the council to finally give the ratepayers funding the $20 million exit penalty on the OUC deal some real answers.
"I think Charlie Wilson's presentation had an impact on the public," Heady said. "I had people calling and e-mailing me very upset at the city council's lack of willingness to investigate. They asked me what is there to be afraid of unless they're involved in something, too?"
Heady said members of the public compared the current city council to the likes of then councilmembers Sabe Abell and Tom White, but he said he disagreed.
"I think Tom White, Sabe Abell, those people were never engaged and did what they're told. They got their marching orders on a Monday of what they were supposed to do on Tuesday," Heady said. "But I don't think Pilar Turner is disengaged, or Tracy Carroll."
Councilwoman Pilar Turner is seen as the most likely person to bring the OUC matter back up, but she describes her position as being in a wait-and-see mode. She said would first like to have the approval of the city's utility sale to FPL on a more firm footing with the Florida Municipal Power Association.
"It's still under study. I think Charlie did a great job pulling together information and backup. A lot of it were things that we brought up when we terminated Charlie Vitunac," Turner said.
Turner said she's weighing several competing factors, including the fact that OUC, a key partner in the FPL deal, would be drawn into the investigation. Among them are the public's right to know what occurred versus the potentially burdensome task of assisting investigators.
"The statute of limitations I think on all of this is gone," Turner said.
Charges for fraud can be filed up to four years after the offense, which would have occurred in April 2008. But the legal argument would be whether or not that could be stretched to the date when the public had the ability to discover the hidden $20 million and $50 million penalties in September 2009,  because the allegation that the redactions were "trade secrets" kept them behind black marks in the document until then.
"I think fraud would be hard to prove and recovery of financial damages, that's also hard to prove, but there is the moral obligation to the public to provide some answers because we've been lied to for so long," she said. "But I'm considering whether or not this is a good use of staff time and city resources."

The Vero Beach City Council is scheduled to meet at 9:30 a.m. Tuesday, May 7.