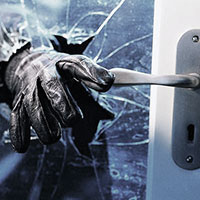 Pillowcase burglars break into homes in Shores subdivisions
STORY BY EILEEN KELLEY, (Week of May 2, 2013)
A brazen thief or thieves broke into two Indian River Shores homes last week and used the homeowners' sheets and pillowcases to cart off jewelry and other items after ransacking the homes.
Forced entry was made into the homes in the Peppertree and Park Shores subdivisions through locked front doors. The burglaries happened sometime between noon and 4 p.m.
Police in Indian River Shores are concerned for good reason. The break-ins bore distressing similarity to the pillowcase burglaries that have plagued the Sewell's Point and Stuart areas of Martin County this past year, and which recently spread into St. Lucie County.
The burglars typically rent late-model cars in Fort Lauderdale, come up the interstate, and according to Martin County Sheriff William Snyder, pull into a driveway in ungated communities and knock on the door. If no one answers, they break the door in, stuff valuable into pillowcases, and are out in a matter of minutes.
Neither Peppertree nor Park Shores has gates the burglars would have to get through.
Indian River Shores Police Chief Robert Stabe said his officers are working with the crime scene unit of the Indian River County Sheriff's Office to process a number of clues that were left behind. 
Stabe encouraged residents to be vigilant and to not hesitate to call 911 if they see suspicious activity in their neighborhoods. He also encouraged residents to not get caught up in a comfort zone which easily happens in areas typically free of crime.
"…It is up to people to be vigilant. Pay attention to your surroundings."
Burglaries in general are rare in Indian River Shores.
Stabe said police heavily canvassed the two neighborhoods after the April 25 burglaries.  One car believed to be possibly a getaway vehicle was ruled out.  He said his department has a possible lead on another vehicle. 
The chief said a breakdown of the value of the items taken from the Peppertree and Park Shores homes was still being sorted out. He declined to release the incident report while the matter is still under investigation.