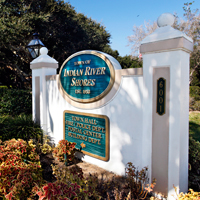 Shores Council votes to let three retirees keep pensions for life
STORY BY MEG LAUGHLIN, (Week of May 2, 2013)
Three Indian River Shores retirees finally got good news last Thursday when the town council voted to let them continue receiving their monthly pension checks. Months earlier, the council voted to replace their pensions with lump sum payouts equal to about nine years of the monthly checks.
The sudden shift put the three retired women into an uncertain future as they grappled to figure out how to invest lump sums in order to approximate their monthly checks.  Repeatedly, financial advisors told them it couldn't be done without high risk.
"We've had a lot of sleepless nights," said retired town postal clerk Alice Hayslip.
But the latest vote of the council to keep the three retirees pension plan intact – through a town ordinance – promises to change that, though Hayslip and her two former colleagues worry that a future town council could vote to take their monthly payments away,  just as the council did in January.
"Can we be grandfathered in with an amendment or a contract signed by you," retired town manager Virginia Gilbert asked council members, after thanking them for restoring the plan. She said, she, Hayslip and retired town clerk Barbara Readdy  feared a new town council could reverse the decision.
"We don't want to go through this again," she told council members.
Town Attorney Chester Clem said one  council cannot bind another with a contract.  "I think an ordinance saying the three women remain in the plan is a forceful action that should give them great comfort."
If no one could take their vested rights away, how was the council able to previously vote to do that?
"A lack of information and poor communication," said Clem. "But now everyone is better informed."
What informed the council members was a concerted effort by the three women, who put together packets to show the council that they had been promised the pensions for life. The packets contained more than a dozen documents – from actuarial reports to the  document governing their pension plan – which included these written descriptions: "This benefit is payable as a single life annuity." And, "the benefit will be paid over the life of the participant."
The packets also contained numerous estimates from A-rated financial advisors who said what a lump sum payout would have to be in order to generate a monthly income equal to the retirees' pension checks. In every estimate, the pay-out amount far exceeded what the town had offered the three women.
In the case of retired town clerk Readdy, the financial advisors' average estimate was a lump sum payout of $155,934.  The town, however, had offered her $62,000 less than that. Gilbert had been offered about $100,000 less than what was required to approximate her monthly checks, and Hayslip had been offered about $45,000 less.
New councilmen Tom Slater and Brian Barefoot, along with councilmen Tom Cadden and Jerry Weick, agreed that the documents in the packets proved that the three retirees had contracts stating their monthly pension checks were for life.
"This whole issue never should have come up," said Slater.