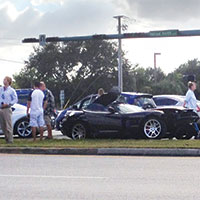 Viper in horrific crash after hitting 120 mph on Loy Bridge
STORY BY EILEEN KELLEY (Week of November 14, 2013)
Photo: Viper after crashing into Porsche at foot of Loy Bridge.
A Dodge Viper that police said was going at least 120 miles per hour as it crossed the Alma Lee Loy Bridge spun out of control, careened off the bridge's concrete barriers like a pinball, went airborne and slammed into a Porsche that had been waiting for the light on Indian River Boulevard.
To the startled people in other cars crossing the bridge who witnessed the horrific crash, it was like a car chase scene from an action film.
"It was like watching a movie," said Rachel Robbins, a 34-year-old island housekeeper, who was on her way to the emergency room with a friend experiencing chest pains when the Indian River Boulevard traffic signal at the foot of the bridge turned red for her.
But it wasn't a Hollywood stunt that jarred Robbins and other innocent passersby. It was a 48-year-old island resident pushing his Viper to outrageous speeds on the bridge on Nov. 1.
Police said John F. Walsh (no relation to the star of America's Most Wanted) was going at least 120 miles per hour along the western span of the bridge when he lost control of the Viper, a torqued-up, two-seat supercar. 
Robbins said she heard a loud pop, possibly a tire blowing on Walsh's racing car. For the next 600 feet or so, the Viper bounced back and forth slamming into the bridge's concrete barriers.
"It was like a ping pong ball going back and forth," said Robbins.
Wayne Sandlin, a Moorings resident and auto enthusiast who last year brought the Vero Beach Grand Prix back to life after a 50-year hiatus, also saw the out of control Viper as it came down the bridge.
Sandlin, who had been stopped at the light and was about to turn onto the bridge from the southbound lane of Indian River Boulevard, watched in horror as the Viper came barreling down the bridge, sometimes sideways and backwards.
The Viper, which sports a CHAOS 06 vanity license plate, then slammed into Sandlin's Porsche.
Several witnesses told police they thought the Viper was going between 90 and 130 miles per hour.
 "It was really frightening," Robbins said. 
Walsh, who lives in Ocean Ridge, was taken to Lawnwood Medical Center. He told police he was travelling about 45 mph and that he lost control when Sandlin's car had cut him off on the bridge. Sandlin declined comment.
Walsh also refused to allow blood to be drawn to determine the presence of drugs or alcohol in his system.
Walsh's 12-year-old son Joseph, a passenger in the Viper, apparently set the record straight.  Police said he told them his dad was pushing the limit on his car and the Porsche was on a completely different roadway when his father lost control.
Joseph Walsh went with his mother Patricia to the police department and said that his father had been working on the Viper's engine and decided to take it out for a test run before the accident.
"(Joseph Walsh) advised that they were travelling really fast over the bridge. He stated he looked at the speedometer and it was registering 120 mph prior to the crash. He advised that they went to pass one vehicle, came up on another vehicle, cut back to avoid that vehicle and then lost control," states the police report.
Another witness, Lisa Randall, said she was one of the drivers the Viper passed on the bridge. She says she always sets her cruise control at 50 mph on the bridge to keep from getting a ticket. As she was heading to the descent down the bridge, she saw the sleek black Viper behind her.
"He was going so fast over the bridge, I thought I was dead," said Randall. Moments after he passed her, Walsh lost control of the Viper.  Walsh was cited with reckless driving and speeding, and police said the Viper was totaled.
The Dodge Viper SRT – the initials stand for street and racing technology – is considered a super-car. It has the ability to go about 175 miles per hour.
"It is very expensive and typically a person that buys one does not drive it fast. In fact, they rarely leave the garage," said Tom Dickens, the certified Viper dealer at Vero Beach Chrysler, Jeep, Dodge Ram and SRT on U.S. 1.
Dickens said the whole situation seems like it went from bad to worse with Walsh and his son both claiming that Walsh was working on the engine himself before taking the car out to see how it ran.
"It is not something that I am going to do in my own garage and I am certainly not going to take it to 120 miles per hour on a public road in the middle of town," Dickens said.