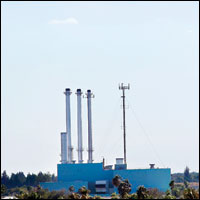 After election shock, is sale of Vero electric in jeopardy?
STORY BY LISA ZAHNER (Week of November 7, 2013)
With the most contentious municipal election in recent Vero history over, what do the results mean for the issue that has dominated public debate the past four years – sale of Vero electric?
Despite the fact that the winning candidates – incumbent Dick Winger and newcomer Amelia Graves – both claimed they support the sale of the city's electric system, the fact is the staunchest supporter of the deal with Florida Power & Light, Tracy Carroll, is now gone and with her the assured Council 3-to-2 majority.
Beyond her other problems with voters, Carroll was clearly hurt by the perception that she was "owned" by FPL.  The electric utility ran ads and sent mailers on her behalf, contributed the bulk of the funds spent by a PAC that supported her, and had an FPL executive make it clear Carroll was their favored candidate.
But less examination was given to the strong support anti-sale forces provided to the campaigns of Winger, and even more particularly to Graves. 
If one wonders whether Winger and Graves will now team with Council member Jay Kramer to seek to scuttle the sale, the names Schumann, Abell, Larkin, Hillman and Vitunac appearing among the ranks of supporters might  give electric ratepayers pause.
- Attorney Lynne Larkin, who protested the FPL sale with federal regulators, endorsed Amelia Graves in a guest column and spent an unreported amount of cash on an anti-Carroll mailing to all city residents.
- Former city attorney Charles Vitunac's wife Suzanne gave Graves $100. Vitunac ran the Voices for Vero Beach PAC formed to defeat the March referendum on the Vero electric sale to FPL.
- Cheri Schumann, wife of a political blogger, donated $500 to Amelia Graves on the heels of a $2,000 donation on March 5 by Schumann's husband to Vitunac's Voices for Vero Beach PAC.
- Mark Schumann day after day on his blog attacked Carroll, and at a cost of thousands, mailed out a "special issue" of his campaign columns backing Graves.
- Former Vero mayor Sabin Abell, who opposed the sale to FPL and told ratepayers concerned over soaring electric rates to "open a window," donated $100 to the Graves campaign.
- Linda Hillman, who orchestrated a failed recall attempt of Carroll and Mayor Craig Fletcher, wrote Graves a check for $500. Hillman and her husband Steve donated more than $1,200 to the Voices for Vero Beach PAC in the unsuccessful effort to defeat the March referendum.
Will these staunch opponents of the sale expect anything in exchange for their support?
Some of the same names pop up on Dick Winger's campaign finance reports. Vitunac donated to Winger, as did Abell, and former mayor and county commissioner Caroline Ginn, who gave $1,650 to the Voices for Vero Beach PAC.
Former councilwoman Debra Fromang, former mayor Warren Winchester and activist Hillman also wrote checks to Winger. Another donation came from the wife of councilman Kramer, who protested federal approval of the FPL sale.
What might Vitunac, Abell, Ginn, Fromang, Winchester, Schumann, Hillman and Kramer expect of Winger and Graves? What happens now?
Well, if the City Council does something (or fails to do something) in the months ahead that results in a breach of contract causing the sale to FPL to fall through, it would be a massive victory for those who aim to Keep Vero Vero.
They could "keep" the bloated city staff and municipal employee benefits taxpayers can no longer afford. They could "keep" the more than $40 million in unfunded pension debt. They could "keep" the transfers flowing in to pad the Vero Beach general fund and make it all possible. And last but definitely not least, they could "keep" electric rates more than 40 percent higher than FPL.
The "partial sale" advocates, led by Kramer, could then attempt to sell off the 61 percent of Vero's customers who live outside the city. Vero Beach 32963 has reported extensively the many reasons why a partial sale is a non-starter.  FPL has shown not an iota of interest in purchasing the non-city customers from Vero Beach.
But that doesn't mean customers in Indian River Shores or areas of the unincorporated county on the barrier island are necessarily locked into Vero electric forever.
If the city somehow manages to torpedo the sale, the 20,000 outside customers could ask the Florida Public Service Commission to carve them out of Vero's service territory, allowing Indian River County and the Town of Indian River Shores to broker their own franchise deals with FPL.
Vero and its remaining 14,000 customers inside the city limits would be left with the cost of operating and maintaining Big Blue. They would be stuck with the expensive power co-op contracts, stuck with payments on the bonds, stuck with the overhead, the employees, the health benefits and the crushing pension debt – without the revenue from the bulk of Vero electric's current customers.
Will any of this happen? Or will Winger and Graves disappoint their most ardent supporters by backing the sale to FPL?
Special interests and city employees fought the 1976 attempt to sell Vero electric, despite an overwhelming vote to sell. Regulators finally killed the deal in 1979 after lawyers wrangled for three years. It took 30 more years to get FPL back to the negotiating table.
Angry voters made that happen by picking off obstructionist City Council members one by one until they got a three-vote majority in favor of the sale. Tuesday's election may have undone nearly five years of effort.  There no longer is a clear three-vote majority. 
"I'm worried about the sale without Tracy on the Vero City Council because she was our best bet for getting the FPL deal through," said Gerry Weick, vice mayor of Indian River Shores.
"With her in office, we were sure it would happen," Weick said.  "Now, we just don't know."