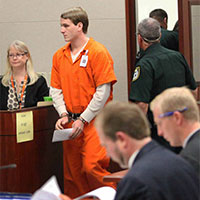 Dustinn Keeling sentenced to 2 years for scamming Haiti Club and North County GOP
STORY BY MEG LAUGHLIN (Week of November 7, 2013)
A hangdog Dustinn Keeling entered the courtroom in shackles at the end of last week to plead guilty to 11 felonies – four counts of grand theft, five counts of forgery and two counts of writing worthless checks connected with scamming two local nonprofits, The Haiti Club of Vero Beach and the North County Republican Club of Sebastian.
In an unusual sentence for a convicted felon, Keeling, 22, got two years in prison and 12 years of probation, with adjudication withheld.
Looking more like barber Sweeney Todd with waxed, flattened hair than the jet-setting youngster he appeared to be 16 months ago, Keeling told the judge he regretted his actions, which, he said, were caused by excessive drinking and "wanting a lifestyle that wasn't mine."
To maintain a flashy lifestyle of showing up at gala fundraisers driving a BMW and wearing designer clothes, Keeling became adept at forging signatures and creating fake cut-and-paste bank documents to conceal draining funds from the two nonprofits.
The Haiti Club provides medical services in the slums of Port-au-Prince. The North County Republican Club sponsors speakers and social events to keep Sebastian Republicans abreast of the latest in party thinking.
At 19, Keeling – frequently described as "good-looking, affable and smart" – became the darling of both clubs and was rapidly catapulted to leadership positions. Once there, he took control of money.
To cover up when he was suspected of draining club coffers for himself, Keeling turned on those asking questions and convinced his supporters to ostracize them. He also talked his own aunt out of thousands of dollars to replace part of the money.
But Keeling kept some fans.
At his Friday sentencing, two former members of the North County Republican Club were there in his corner, even though a majority of the membership has said they want nothing to do with him anymore.
"I was a North County Club member and I got out over this thing with Dustinn because I believe he deserves a second chance," Dorothy Frances told Vero Beach 32963 outside the courthouse.
Dustinn Keeling's mother, sister, former employer and pastor also spoke on Keeling's behalf at the sentencing.
"Don't ruin the rest of his life. He's only 22. He has received faith-based and mental health counseling," his mother Shalayn Gregory told the judge.
"I've seen a big change in him and received multiple letters from him saying how sorry he is," said his older sister Kristen Hamilton.
Judge Robert L. Pegg responded that Keeling must have been "impressive" to receive as much trust as he did from the two nonprofits.  "But he flushed it down the toilet," said Pegg.
Nevertheless, Pegg's sentence was a mixed bag for Keeling: Two years of incarceration. Twelve years of probation. And the 11 felony convictions were not adjudicated, which means that once Keeling gets out of jail, he keeps all of his rights and can check the box on job applications that says he has never been arrested for a felony.
Pegg said the main reason for withholding adjudication was that Keeling was paying restitution to the victims: $4,100 to the Haiti Clinic, $5,829 to the North County Republicans and $20,550 to his aunt.
That money came from Keeling's former employer Steve Milesic, who owned the Marble Slab Creamery where Keeling once worked. Members of the North County Republican Club recalled Keeling saying that he, not Milesic, owned the ice cream shop.
Milesic said in court that Keeling would pay him back. Getting credit for time served, Keeling should be out of jail by mid-February.