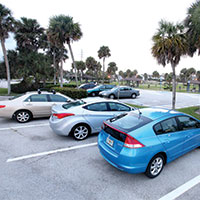 Outcry stops pay parking trial at Vero beaches at least until March
STORY BY LISA ZAHNER (Week of November 28, 2013)
Despite new Mayor Dick Winger's high hopes of peace and harmony at Vero Beach City Hall, a massive public outcry against a proposed test of pay parking at public beaches has ended the council's very brief honeymoon period, and Winger has put the issue off until March.
More than 1,000 people signed an online petition drive started by the management at Waldo's restaurant and the Driftwood Resort after word spread that the council was set to vote Dec. 3 on conducting a 60-day trial of pay parking kiosks at South Beach and Jaycee Beach this season.
The petition called for a public outcry against "metered parking" at the city's beaches.
"The petition was done on the Waldo Facebook page and shared by many of our followers. I have sent the to-date petition to city," Waldo's general manager Lee Olsen told Vero Beach. "Who wants to live in a town and county full of parking kiosks? Not me."
Ocean Drive merchants, local residents, beachgoers and tourists agreed that the idea of paying for parking at Vero's beaches, even if it promised to bring in significant revenue for the city, is not what they want.
Winger sent a memo to City Clerk Tammy Vock last Wednesday night requesting that Vock not place the item as planned on the Dec. 3 council agenda, but instead defer it to March when Recreation Commission Chair Richard Yemm could help examine pros and cons.
"The merchants felt in the Holiday Season they had to have an evening session (of the City Council to consider the proposal), and the City certainly needs (to) react accordingly," Winger wrote.
"There is no urgency. What is important is to reach a decision satisfactory to the business community and the citizens, taking into account the issues versus the potential financial benefit to the City and all of our visions for the future of our city," said Winger.
"So we have won a small victory," Olsen said.
Olsen said he and others with business interests along Ocean Drive attended meetings of the Beach Parking and Events Subcommittee, but that their objections went unheeded when three members of the Recreation Commission on Nov. 12 recommended the City Council consider a trial of the parking kiosks. When Olsen heard the news, he launched the online petition, which quickly gathered 1,151 supporters.
"We the people of Vero Beach, Indian River County and visiting tourists do not want our beachside parking to change. We like our small-town feel that we provide to not only us that live here but the tourists that visit our area," the Change.org petition states.
"One of many things that keeps us from being like the large towns in the area is to enjoy the beach and parks in our area without having to pay for parking. Also by adding meter parking to South Beach, Conn Beach, Jaycee Beach, Sexton Plaza and Humiston Park those who choose not to pay will be occupying parking places in business lots, side streets and Ocean Drive (where) as we all know parking is already an issue and would only add to the problem."
Jeanne Radlet, general manager of the Driftwood Resort, also supports the petition and urged the city to use caution and consult all the stakeholders who might be negatively affected by pay beach parking.
"I attended the same meeting when the owners of the Lemon Tree, Cravings and the Blue Star Lounge were also there.
All these business owners were adamantly opposed to the idea of charging for parking for several reasons, not the least of which is the horrible parking problem we already face along Ocean Drive during the season and on weekends year round," Radlet told Vero Beach 32963.
"The Driftwood Resort would be forced to add parking gates to all three of our lots if this idea goes into effect at Sexton Plaza and Humiston Park. That would not be very attractive or inviting but would be necessary to ensure our guests ample parking for their stays with us. We envision a huge invasion to our lots from those who would not be inclined to pay for parking that has always been free at the city parks," she continued.
In view of the pushback from residents and merchants, Winger stated in his memo that "a healthy dialogue will take time," but the city is under some pressure to come up with a long-term plan for paying for the clean, safe and guarded beaches that city residents have said they want.
Each time the City Council proposes a reduction in funding for lifeguards, residents rise up in protest. Not surprisingly, the lifeguard association has supported the pay parking kiosks, seen as a way to guarantee more funding for them.
Should the City Council opt for a 60-day trial of the pay parking kiosks, to be implemented during the spring or summer beach season, Yemm estimated it could put up to $88,000 in city coffers this year.
If the city opts for tests from two different kiosk vendors, that amount could be doubled.
Olsen said he's skeptical that such dollar amounts would materialize, and that he wants to see more hard-and-fast numbers for installation, equipment and upkeep before the matter comes back up in March.