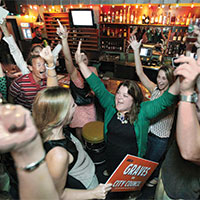 Amelia Graves in big upset win over Tracy Carroll
STORY BY LISA ZAHNER (Week of November 7, 2013)
A landslide re-election win for Councilman Dick Winger and a decisive upset victory for newcomer Amelia Graves mean a dramatic break from the past three years, when the Vero Beach City Council has been controlled by members installed by Operation Clean Sweep in 2010.
Winger, the odds-on favorite to be chosen as mayor by his peers at the 10 a.m. swearing-in ceremony and organizational meeting on Friday, dominated the five-person field, garnering 36 percent of the vote.
Graves came in second with 29 percent of the vote, far ahead of two-term incumbent Tracy Carroll, who placed third with 17 percent. Former councilman Brian Heady came in fourth with 13 percent and newcomer Joseph Guffanti brought up the rear with just less than 4 percent of the vote.
Winger, 75, announced to supporters at his Castaway Cove home that this race would be his last.
"It will be time to pass the baton," he said. "There comes a time when you need to pass it on to the younger people. I did this (ran for office) because I was asked, but I will be asking others who love our city. That is what is important people who love the city should govern the city."
Winger said his number one goal in this next term will be to protect and restore the Indian River Lagoon. He also vowed to work in keeping Vero's parks and beaches pristine and guarded. "The electric (utility)  is going to be sold and I don't think there is any reason that we cannot keep our traditional Vero," Winger said.  "We all came here for what it offered or were born into this very special place."
Many of those who ushered in Graves and returned Winger to office on Tuesday were of the opinion that Vero was on its way to being less special, due in no small part to actions of the council – and Carroll in particular.
Carroll, along with Mayor Craig Fletcher and Councilwoman Pilar Turner, formed a solid, three-vote majority which brought the city into formal negotiations with Florida Power and Light to sell the electric utility for the $179 million package that's now on the table. The trio also banded together to consistently nudge the city ever so slowly toward greater transparency, efficiency and fiscal discipline.
But with Graves and Winger focusing their campaigns more on providing services to city residents and maintaining the status quo – or even re-gaining ground lost in recent years – the legacy of the era since Operation Clean Sweep could be quickly wiped out.
When numbers came in putting Dick Winger and Amelia Graves well in the lead, a tearful Carroll, surrounded by about 25 supporters at Vinz wine bar on the barrier island, conceded.
"It was a toss-up between Dick Winger's little acolyte (Amelia Graves) and me, and I lost. Now, what will keep me up at night is the fear that either Winger or she will say the FPL deal is not a good one and not vote for it, which will cancel the sale."
Fellow contender Heady, who agrees with Carroll on almost nothing, echoed her pessimism about the prospects of an early conclusion of the sale of the electric utility to FPL. "I think the voters have just killed the possibility of a quick exit."
Councilman Jay Kramer, who has been the odd man out since he was seen to have betrayed the fellow council members with whom he was elected in 2010 on a wave of electric ratepayer anger, will presumably have more friends on the dais with Carroll gone.
Graves, a fifth-generation Vero Beach resident, celebrated her victory with an enthusiastic crowd of nearly 75 people at The Grove Bar in historic downtown, her mostly-young supporters cheering as results came in.
Graves politely declined to comment when approached by a Vero Beach 32963 reporter and photographer who attempted to cover the event. She has refused to provide comments for publication since her attorneys sued Vero Beach 32963 on Oct. 25.
Guffanti did not actively campaign, nor did he wave signs at the polling places. Prior to returns coming in, he was stoic about the whole election experience. "I have no emotional stake in all this, I'm too old for that," Guffanti said. "It's no big deal, if I win there will be no celebration. If I lose there will be no mourning. It's just reality."