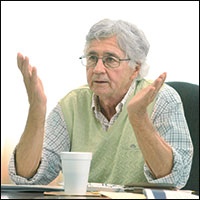 Cancer Center's delay urged over finance concerns
STORY BY MEG LAUGHLIN (Week of October 17, 2013)
Photo: District chairman Tom Spackman.
Hospital District trustees unanimously agreed at an emergency meeting Monday that it would be best to delay construction of a new Cancer Center – at least until trust in Indian River Medical Center's finances has been restored.
No formal vote was taken on Monday – that was supposed to have happened at the regularly scheduled meeting on Oct. 17. Instead, hospital district trustees said they would ask Medical Center CEO Jeff Susi to take the item off the agenda for that meeting in a face-saving measure so they wouldn't have to vote it down.
It was a stunning reversal of fortunes for Susi's plans to push ahead with the planned Cancer Center, for which $30 million-plus in donations has been raised and which is supposed to operate in affiliation with Duke Medicine.
At the last hospital district meeting, it had become clear that four of the seven hospital district trustees had reservations about the plan out of concern over mounting operating losses at the hospital, while three others still wanted to go ahead.
Despite heavy lobbying on the part of Susi and other hospital leaders to immediately proceed with construction, the four district trustees not only remained firm in their desire to slow the center, but they also convinced the three other trustees to join them in the decision to delay.
Trustee Alma Lee Loy, who had previously pushed for proceeding with the Cancer Center, said she now has reservations because of the hospital's problems with communications that have resulted in "negative feelings that we've got to turn around."
Those feelings, for the most part, stem from seeming contradictions in financial information provided by hospital leadership.
"There is so much good at the hospital and so much good done by the foundation, but credibility at the hospital, which is not the fault of the philanthropists, has become a problem," said Loy.
Generous donors on the island have given more than $30 million to build the new Cancer Center. A major concern of the proceed-immediately supporters, led by Susi, is that these philanthropists will become discouraged and either refuse to give in the future or want back what they have already given.
"I have spoken with a number of these major contributing philanthropists, and they say before their giving continues, what we now have at the hospital has to be fixed," District trustee Eugene Feinour said.
District chairman Tom Spackman responded that he thought it would be good for the district trustees, the hospital board and philanthropists on the foundation board to meet and discuss how to proceed with improvements.
The Hospital District, which owns the Indian River Medical Center land and buildings, directed over $8 million in taxpayer dollars to the hospital this year.
 The major issues the district trustees see, beside a lack of transparency in communications, are:
- The current environment at the hospital, which raises questions about the quality of patient care.
- How the hospital's financial problems – even without the Cancer Center – can be turned around; and,
-  What competitive pressures a Cancer Center would face.
On the issue of quality of care, recent patient satisfaction surveys and other numbers are discouraging: In the 22 months prior to August 2013, a total of 2,607 people left the Indian River Medical Center emergency room before being seen by a healthcare professional. These numbers do not include those who left even before filling out initial forms.
In 2012, the average wait time in the emergency room was almost six hours – hours more than at Sebastian River Medical Center or at Lawnwood Regional Medical Center in Fort Pierce. This past June, a total of 233 people left the IRMC emergency room before being seen by a healthcare professional.
Only 61 percent of patients  said they got help as soon as needed, once admitted. Only 64 percent said their rooms and bathrooms were always clean, and only 66 percent said they would give the hospital a nine or 10 rating on a scale of 1 to 10.
"Three to four major physicians have recently talked to me about concerns over the ER, in-room care and patient outcomes and are directing their patients to Sebastian," said Feinour.
While hospital administrators say the areas of concern have improved in the past few months, questions over the excellence of quality care remain, as do concerns over the hospital's financial problems.
Those financial problems are demonstrated by the hospital's precarious lack of liquidity. District trustee Trevor Smith, whose background is in financial analysis (having been responsible for overseeing $4 billion in capital assets for a global corporation), said that if the hospital had a break-even budget next year, which it hasn't for years, it might increase its financial liquidity to $35 million.
That would mean that instead of having enough money to remain open for 60 days if reimbursements were delayed, the hospital could stay open almost 70 days.
"Keep in mind that the median number of days should be 215 days," said Smith.
His analysis, based on the hospital's own records, showed that the hospital would have $12 million more in five years if the Cancer Center was not built.
Those for proceeding with the Cancer Center "make an extremely emotional pitch to move ahead. But we (district trustees) are elected officials and personally responsible to the taxpayers. So, I'm going to listen to you money guys, who show us that the hospital's finances are glaringly deficient," Trustee Burton Lee told Smith.
 On the issue of competitive pressures for the Cancer Center, Lee said that local oncologists are not on board and supportive of the Cancer Center because they've been excluded from the decision-making process.
Those decisions have to do with the feasibility of participating in extensive clinical trials of new drugs, who the medical director of the Cancer Center will be, why the affiliation is with Duke as opposed to Moffitt in Tampa, and whether there are likely to be enough patients to make a new Cancer Center self-sustaining in five years.
"So much of what's proposed isn't realistic," said Lee.
"They can't just say everything is OK and make it OK," said Smith.
After the seven trustees made their position clear that the Cancer Center needed to be delayed until hospital problems are addressed, hospital board member Hugh McCrystal said he would suggest to Susi that he withdraw his request for district approval of the Cancer Center at the Oct. 17 meeting.
According to several trustees, Susi told them that the problems would improve if the hospital hired a public relations firm. Meanwhile, the hospital mailed out an invitation to a cocktail party on Nov. 20 to celebrate the progression of the Cancer Center and honor its donors.