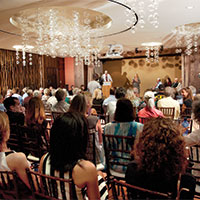 Candidates defend records in debate
STORY BY LISA ZAHNER (Week of October 10, 2013)
Photo: The Vero Beach 32963 debate in the Costa d'Este ballroom.
Campaigning is all about accentuating positives, but before a standing-room-only crowd, under hot television camera lights, the five major candidates for two Vero Beach City Council seats were forced to tackle their own negatives that could give voters pause.
No one was immune to the probing at the first-ever Vero Beach 32963-VeroNews.com debate last Thursday, as there is simply no unblemished candidate in the race. To vote for any of those on this year's ballot, Vero residents will need to determine that their pros outweigh their cons.
For those interested in seeing the candidates under fire, a video of the entire 90-minute debate will remain posted from now until the election at VeroNews.com.
Incumbent Vice Mayor Tracy Carroll took the lion's share of the beating from her debate opponents, but the resilient and dogged Carroll showed she's developed a pretty thick skin over these past few months.
Carroll, who touts herself as a strong supporter of business and tourism, suffers from the inherent distrust long-time Vero residents have of people from South Florida. She has not done much to allay those fears in her three years in office; rather, she has provided ammunition to critics who claim she would degrade Vero with vacation rentals and rampant commercialization.
But Carroll took this issue on directly when Vero Beach 32963 publisher Milton R. Benjamin asked her how she would respond to criticism that she wants to turn Vero Beach into another Fort Lauderdale.
"My family and I moved out of Fort Lauderdale eight year ago and came to Vero Beach. We looked at every city between Cocoa Beach to the Keys and back up to Sarasota and you know where we picked," Carroll said. "We chose Vero Beach because it was a place where we could raise a family, a safe place for our children and a place where our business could thrive and that's exactly why we're still here."
Carroll has been the darling of those whose single issue remains the sale of Vero electric to Florida Power and Light, and she tried to remind city residents who made her the top vote-getter in 2010 and 2011 not to take their eye off the ball.
"For the past four years of my life, and during the last three elections and through two referendums, this city has one goal, and one thing that I have promised the businesses and the families of Vero Beach that I would stand for them on city council, and that was to get lower rates for our electrical by selling the Vero Beach plant, if we could, to a willing buyer," Carroll said.
"The willing buyer that stepped up was FPL and we have worked very closely with them over the last three years to craft a contract that can offer lower rates to every family and every business, not only within the city of Vero Beach but also throughout our service territory, to the many businesses and schools and the hospital who are paying rates 40 percent higher than their neighbors across the street who are on FPL rates."
Incumbent Councilman Dick Winger's biggest negative going into November's election is not a position so much as it is a candidacy built around the nebulous slogan "Keep Our Vero Vero" without addressing the fact that the city amenities and services he wants to maintain will require a property tax increase after the subsidy from Vero electric disappears.
While noting that the debate watchers probably didn't want to be bored with the math, Winger went on to offer a rambling explanation of how the city could lose more than $7 million in annual transfers from the electric utility and not have to raise taxes or make drastic cuts to personnel or services.
"There's no need for any cuts next year whatsoever, although we made them, and in the years ahead, I can see no draconian cuts," Winger said. "I think essentially there will be changes in our services but I think they will be minimal. Yes, I'm guilty of wanting to keep the City of Vero Beach special. I don't see the financial need to do anything else.
"Vero Beach is about to enter an era of great prosperity and change," Winger added.
Winger's promise of "Keep Our Vero Vero" without coming to terms with the price tag might sway the part of the electorate that wants to have its cake and eat it, too. Informed voters fear they'll get stuck with the tab.
Former Mayor Warren Winchester has two major negatives dragging his candidacy down – his age of 81 paired with less than robust health, plus his record of staunch opposition to the sale of Vero electric to FPL. The two combined may appear to voters to be a "Hail Mary pass" to kill the sale.
To counter this perception, Winchester said last month at a Republican candidate forum that the electric sale was a "done deal." Three weeks later, now that the "done deal" theory has been thoroughly refuted by legal experts and City Manager Jim O'Connor, Winchester seemed to suggest he now agreed on the need for a sale – but still opposed this sale.
"Will we sell it? I hope so, someday, but I hope it will be under different rules and regulations," Winchester said.  Winchester says he simply wanted competition, that he had power companies calling him at his home saying they wanted to bid on the system.
"I'd rather know what the real value of the power plant had been if we had done some valuation of the property and knew what it was worth before we started talking to Florida Power and Light," he said.
In an obvious dig at the lack of experience of 30-year-old candidate Amelia Graves, who has not served on any city boards or commissions prior to seeking a spot on the council, Winchester said: "We've been here for 30 years, I immediately started volunteering on board of adjustment, chairman of the finance commission, planning and zoning, four years on the city council, one year as mayor.  I have the knowledge, I have the experience and I have the desire."
Brian Heady has made such a career out of being a contrarian that the big question in voters' minds is whether or not he can sit around a table with people he dislikes and help govern the city during this critical juncture in Vero's history.
"If you want to know about a municipal electric, there's a book out there that was the No. 1 best-seller in Vero Beach, for several weeks in a row, 'Liars, Cheats, and Thieves'," Heady said, holding up the book he wrote under the pen name Kris O'Brian. "If you don't have one you should get a copy. If you can't find one I can provide one, but it tells you exactly what's going on."
 The book chronicles the circumstances surrounding the signing of the city's 2007 power contract with the Orlando Utilities Commission, as well as Heady's rise to the council dais, and subsequent fall back to the ranks of the gadflies.
While in office from 2009 to 2011, Heady worked well with then-Mayor Jay Kramer and teamed up with former Councilman Charlie Wilson to bring FPL to city hall to begin talks about selling the electric utility – a move Heady says he still supports in concept.
But toward the end of this two-year term, Heady continually sparred with Carroll, and his arch-nemesis, current Mayor Craig Fletcher. Heady sued the city in federal court and tried to force former elected officials and city employees to be deposed. When he left the council in 2011 and was appointed to the Utility Advisory Commission, he got kicked off by council members for using colorful language and being generally disruptive.
Has Heady suddenly learned how to work collegially with others?
"I have very little respect for elected officials who would tolerate the abuse of citizens," Heady said.  "I think that there was more change in the two years that I was on – more positive change – than in the previous 10 years. What I did was insist that the citizens have a right to speak."
Graves comes to her first run for public office with a college education and post-graduate charitable work overseas administering humanitarian aid in Asia and Central America, but she faces a field of rivals with long professional careers.
The other candidates have owned homes and businesses and raised families. Four have served on committees and boards and had previous experience on the city council.
"I have not served on a board that had $100 million as its budget (the approximate size of the Vero city budget), but I have served this community as interim director of Main Street Vero Beach and I came in at a time when it was experiencing a lot of turmoil and it was great to work together with that board to steer the organization forward," Graves said about her three-month job earlier this year.
Carroll pointed out in a rebuttal that Main Street Vero Beach only has a budget of about $60,000 but Graves retorted that working within a small budget can be harder than working within a large budget. "I don't know if there's a person in this room that's more conscious of how to stretch a dollar than me," Graves said.