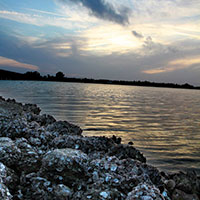 Fisherman likely contracted near-fatal infection in lagoon
STORY BY STEVEN M. THOMAS (Week of October 3, 2013)
A month after Harbor Branch research scientist Peter McCarthy reported a sizable increase in antibiotic-resistant bacteria in the Indian River Lagoon, a Sebastian fisherman nearly died from a drug-resistant, "flesh-eating" bug he says infected him while he was wading near Pelican Island National Wildlife Refuge.
"My wife and I took the kids fishing in a spot off Jungle Trial," says Robert Gogan. "I was wading in the lagoon, casting a net for bait. When I came out of the water I felt a sore spot inside my thigh, like it was rubbed raw."
The soreness developed into a painful boil over the next two days.
"We tried to nip the head off the boil to drain it on Tuesday night," says Robert's wife, Dawanna Gogan. "When he woke up the next morning there was a fist-size swelling in his groin, and it went deep."
Gogan says when he went to the emergency room at Indian River Medical Center, a physician's assistant lanced the infected area, packed it with antibiotics and sent him home with prescriptions for oral antibiotics and pain pills.
"I was in such excruciating pain on my way back from the hospital, I thought I was going to crash my car," Gogan says. "I was praying to make it home."
The first round of antibiotics, which Dawanna Gogan says included penicillin, did not touch the infection and on Saturday, Sept. 7, Gogan was back at the hospital. This time he was seen by an MD who the Gogans say quickly called in an infectious disease specialist and urologist, Dr. Robin Atwell.
"Dr. Atwell came in and looked at him and took him immediately to surgery," says Dawanna. "I remember him saying, 'This is bad, this is really bad.'"
Gogan says Atwell made an eight-inch-long incision and cut away dead flesh inside the wound. "He told me afterward that the infection was so bad, by the time he took me to surgery he did not think I would leave the hospital alive."
Gogan ended up undergoing a second operation and spending six days in the hospital receiving different types of intravenous antibiotics before doctors pronounced the infection – which turned out to be some type of "flesh-eating bacteria" – under control and allowed him to go home. "Dr. Atwell told me that for me to have recovered when the infection was so advanced I must have a lot of people praying for me."
Gogan says when he was in the hospital, "Everyone kept asking me, 'Where did you get the infection? Where were you when you got it?' I told them I got it in the river. I was fishing and then I went home and was home all evening and didn't go anyplace else."
McCarthy, who calls Gogan's experience "scary," began studying levels of antibiotic-resistant bacteria in the lagoon in 2011.
He says, "The amount of drug-resistant bacteria was stable from 2011 to 2012, but there was a substantial increase this year at both locations we tested."
McCarthy says it is too soon to tell if the bacteria that nearly killed Gogan are connected to his findings, because he has only recently begun identifying specific bacteria in his drug resistant specimens.
"Without knowing what the bacterium [that infected Gogan] is, it is difficult to make the direct link," McCarthy says. "We are working out the taxonomy of the bacteria we have collected now.
"So far we haven't cultured anything that would cause severe human infection, but the potential certainly exists."
Brian LaPointe, another Harbor Branch research scientist, reported in March that the Indian River County stretch of the lagoon has highest levels of sewage contamination found anywhere along the length of the estuary, identifying another source of potentially dangerous bacteria.
It is difficult to determine if Gogan's infection is an isolated incident or part of a pattern, because the Indian River County Health Department does not keep track of antibiotic-resistant bacterial infections or of infections contracted in the lagoon, according to Health Department Director Cheryl Dunn.
"Currently, a case of MRSA would not be reported to us unless it was involved in a disease the state requires be reported, such as a drug-resistant strain of tuberculosis, or if the hospital saw an unusual outbreak and called us in to try and find the source," Dunn says.
MRSA – short for methicillin-resistant Staphylococcus aureus – has plagued hospitals around the world for more than 40 years and "has been infecting people outside of health-care settings since at least 1995," according to the science journal Nature.
 It causes around 94,000 infections and 18,000 deaths annually in the United States.
"In most cases the term 'flesh-eating' bacteria has been applied to describe infections caused by the bacterium known a s Streptococcus Pyogenes," according to doctors at medicinenet.com. "But other bacteria or even a combination of bacteria may produce necrotizing fasciitis," or tissue decay.
Antibiotic resistance is spreading to other types of bacteria besides MRSA, according to the National Centers for Disease Control, and the bug that infected Golan seems to have combined "flesh-eating" and drug-resistant qualities.
Dr. Atwell declined to provide any details about the exact nature of Gogan's near-fatal infection, even though Gogan says he signed a form permitting Atwell to release the information to Vero Beach 32963.
"If this is coming from the water, something has to be done about it," says Gogan. "Otherwise, how many other people are going to go out there not knowing anything about the danger and get a terrible infection like this."