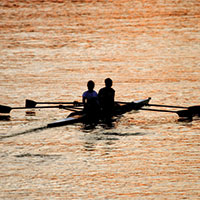 Rowing club gets new Vero home on the lagoon
STORY BY STEVEN M. THOMAS (Week of October 31, 2013)
Island residents will gain better access to an iconic aquatic activity in the next few weeks when the Indian River Rowing Club moves to its new location south of the 17th Street Bridge.
The club's current venue, on the C-54 canal four miles north of Fellsmere, was great for rowing but too remote for many would-be participants, according to club officials.
"We have probably lost a hundred members over the past four years because of the long drive," says club president Todd Young. "They get really interested and like it a lot but just don't have time for an hour-and-a-half round trip. Most of us have jobs and some people have kids and life gets in the way."
The club will join the Youth Sailing Foundation in the new location, on the shore of the lagoon behind the Vero wastewater treatment plant.
The Vero Beach City Council approved a three-year renewable license agreement with the club on Oct. 15 for a nominal $25 per year, according to Young. "The agreement gives us access to the fenced in area beneath the bridge."
The club was disappointed last year in its efforts to build a boathouse in MacWilliam Park. Existing users of the park, which is popular with dog owners, objected and the city council ultimately rejected the idea.
The club will not build a permanent boathouse at the 17th Street location because "the property is in flux," with the pending sale of the electric plant and various proposals for merging city and county water services.
The electric plant, located on the shore of the lagoon north of the bridge, is slated to be sold to Florida Power & Light, and torn down.  If city and county wastewater treatment systems are consolidated at some point, the wastewater plant would likely be torn down, too, opening up a large piece of prime waterfront property for redevelopment.
In the meantime, the site is less than ideal as a permanent headquarters because it is so close to the sewer plant, which could be there for decades to come if the city continues to operate its own wastewater system.
"There is a stigma attached to the wastewater plant," Young admits. "But it is just an access point. Club members will row in whatever part of the lagoon offers the best conditions."
Even without a new building, the site will work well for rowers, according to Shotsi Cain Lajoie, chair of IRRC building committee.
"Youth sailing already has a dock there we can use," she says. "And we have permission to build a boat rack and bring in a storage container.
"We are continuing to look for land on the river that can be our permanent home.  We hope to start a building campaign to raise money for a facility that can be used by middle school, high school and college rowing teams. We also plan to host visiting teams.
"One of our main goals is to introduce rowing to young people in Vero Beach for all of the social and health benefits it brings. We have feelers out for coaches to help create youth training programs and teach the kids, but we need funding to pay the coaches. We need partners."
According to www.rowingforall.com, "rowing on the open water is the perfect activity to keep in shape, lose weight, cross-train for another sport, compete, or recover from an injury or surgery. Because it is a low-impact activity, you can row at any age despite specific physical challenges.
"Open water rowing is an all-body sport, toning your arms, legs, chest, back, and abs. Rowing is also a complete cardiovascular workout that burns calories quickly.
"According to Fritz Hagerman, a professor in the Biological Science Department at Ohio University, competitive rowers expended almost twice the number of calories on a 2,000-meter course as a runner in a 3,000-meter steeplechase."
In addition, open water rowing improves joint health through a wide range of motion and relieves stress.
Founded in 2006, the Indian River Rowing Club has 30 active rowing members, from beginners to those who have rowed for decades, along with another 40 or 50 members who support the organization but don't go out in the long, light shells.
Lajoie says the co-ed club has 8-person, 4-person and 2-person boats, along with one shell equipped for a single rower.
The club offers a regular schedule of rowing, three times a week and members compete in regattas from Boston to Miami.
"We are very happy and excited about the new location," says Lajoie, who believes the in-town site will help the club grow and fulfill its mission.