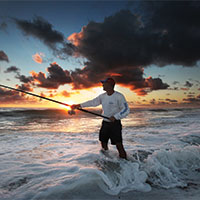 Vero Beach emerging as world pompano capital
STORY BY MEG LAUGHLIN (Week of October 24, 2013)
Photo: Manuel Briceno fishes for pompano on South Beach at dawn.
When most people think about sports in Vero Beach, tennis and golf immediately come to mind. Pros from around the world come here to play and teach. Golf fairways meander down A1A and through the town. Racquets and clubs poke out of convertibles. Dinner conversations revolve around putts and serves.
But there is another sport that is becoming huge here, though still a carefully guarded secret: Surf-fishing for pompano.
"Between November and May from Sebastian to Round Island, you're at the epicenter for pompano fishing, but we'd just as soon the word not get out," said Dann Jacobus, commercial fisherman and wildlife artist in Vero Beach.
"Vero Beach has great, easy-access surf fishing and it's amazing that more people aren't talking about it," said Mike Carr, owner of Fishbites, a nationally distributed artificial bait manufacturer in St. Augustine.
"Pompano Beach used to be the spot for pompano but they prefer the slightly cooler water around Vero Beach," said well-known surf fishing guide, Noel Kuhn from Jacksonville.
In late January, Kuhn and 20 other avid surf fishermen from around the state will land in Vero Beach for several days of annual pompano-fishing. They will be joined by hundreds of other surf fishermen – both residents and visitors – lining the beaches.
Kuhn first came here in June, 2012, to surf fish with island resident Manuel Briceno who, two months before, caught the unofficial world record pompano while fishing at South Beach Park in late April.
Briceno, an Alex MacWilliam real estate agent, caught the 8.8 pound pompano with a 14-foot Ugly Stick, using shrimp-scented Fishbites for bait. The official world record is a 8.4 pound pompano caught in 1999, but Briceno, who weighed his fish in front of several witnesses, did not drive to Ft. Lauderdale to have it officially weighed.
Nevertheless, word traveled fast and Fishbites owner Carr got wind of the catch and took out ads in national fishing magazines with a photo of Briceno and the huge pompano, with a caption saying it was caught in the Vero Beach surf with Fishbites.
"We pompano fisherman don't usually give much credit to a newcomer, but Manuel got immediate acceptance among us because of the notoriety of the world record," said commercial fisherman Jacobus.
Not only did King Pompano win Briceno cachet as a pompano fisherman, news of the prized fish around the country brought more pompano fishermen here.
Jacobus and other experts, including Kuhn, agree on the ideal conditions for catching pompano in the surf here: Sunrise or sunset during season. Clear water between 64 and 76 degrees. A light breeze and three to four-foot waves. A rod 14 to 15-feet long  for a cast of over 100 feet from the edge of the surf.  A level wind Abu Garcia or Penn reel, though Briceno uses a spin reel.
The preferred bait is sand fleas or coquinas (soaked in salt water to toughen them), which fishermen dig for on the island beach. Some fishermen, like Briceno, mix thawed-out sand fleas with Fishbites. Many, like Jacobus and Briceno, design their own rigs with chartreuse, orange and green beads and floaties to attract the fish. They also use a four-ounce pyramid sinker, light line and small hooks since the fish has a small, delicate mouth.
When Kuhn drove down from Jacksonville to fish with Briceno, they headed out at 6 a.m..  Kuhn pulled a cart loaded down with a cooler, bait, tackle, equipment and rods and reels. Briceno, on the other hand, traveled light, with his bait, tackle and rod holders in a book bag, and he carried two rods. To bring fish back to his home in South Beach, he put a small net bag and a small frozen plastic water bottle in the book bag.
Kuhn described "Manuel's Beach," near his Sandpiper Lane home as "especially ideal for catching pompano because of the crescent shape, the wave action and the abundance of sand fleas."
But since it was June, and the pompano weren't running, they caught Bonnethead shark and released them.
Over the past few years, Briceno says he has become "addicted to pompano fishing."
"They are so muscular and such fighters and so delicious," he said.
Fish markets sell the delicate, white filets for over $20 a pound, and the fish is prized on menus at high-end restaurants.
Last Thursday, Briceno was out on the beach fishing at 7:15 in the morning. Five other surfcasters fished near him at South Beach Park, hurling their lines out for pompano. But, while the others caught whiting and jack, Briceno was the only one to land an impressive four-pound pompano.
But the numbers of surf anglers reeling in the prized fish will change over the next few months as tens of thousands of pompano fill our aquamarine waters, and hundreds of fishermen line our beaches. 
]