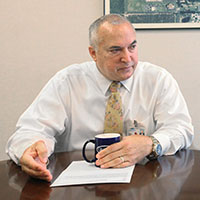 What's going on at Indian River Medical Center?

Executive firings stun medical community
STORY BY MEG LAUGHLIN, (Week of September 19, 2013)
Photo: Jeff Susi, CEO of Indian River Medical Center.
The sudden and unexpected forced resignations of two top Indian River Medical Center administrators last Wednesday sent shockwaves through the Vero Beach medical community.
The hospital's chief financial officer and chief operating officer, Dan Janicak, and Indian River Medical Associates executive director Yoshi Barreirinhas were well-respected and well-liked, and were credited by many with having the know-how and determination to turn a hospital with a $5 to $6 million projected 2013 shortfall into a financially profitable institution.
From hospital board members to hospital district board members to doctors and hospital administrators, the question being repeatedly asked was: Why did the hospital's chief executive officer, Jeff Susi, get rid of them?
Susi said he called everyone he could reach on the executive committee and board to discuss the decision before he acted. But a number of executive committee and board members say none of them was asked by Susi for input about the terminations.
"I had nothing to do with the decision," said hospital board chairman Tom Segura. "But I respect the CEO's right to do it."
"We value the wisdom and insight of our board greatly but ultimately staffing decisions rest on the shoulders of the CEO," said hospital spokesman Betsy Whisman.
Nevertheless, several board members, including Dr. Hugh McCrystal and retired health insurance executive Paul Nezi, along with Drs. Burton Lee, Michael Weiss and Tom Spackmann of the Hospital District, which directed over $8 million in local taxpayer dollars to the hospital this year, spoke well of the two terminated executives and voiced surprise and disappointment over their forced resignations.
Virtually everyone associated with the hospital was asking: Why did this happen?
Perhaps a hospital board meeting in July, whose minutes have just become public, gives clues.
At that meeting, Nezi asked when the board would see a business plan for the new Cancer Center. Nezi's question implied a concern over how the finances would work.
Physician Ted Perry said he wanted to see a business plan because the hospital's last three big undertakings had been money losers, and he didn't want the Cancer Center to lose money. Janicak, who was then CFO only, responded that the hospital didn't have to lose money.
Janicak told the board at that meeting that if hospital staff met productivity levels, the financial picture would be about $3 million better. The implication was not lost on board members, who knew that chief operating officer Cindy Vanek, known as Susi's "right hand," was responsible for hospital operations and productivity levels.
When asked to explain the financial losses, Janicak nodded at Susi.
It's not that simple, said Susi, blaming the combination of ways the hospital gets reimbursed – from private insurance to Medicaid to Medicare – for the shortfall. The "payor mix," caused low reimbursements, which were financially problematic, he said.
No one on the board asked why comparable hospitals in Central and South Florida with a similar payor mix managed to be financially successful, though a few say that occurred to them. But the elephant in the room had been acknowledged: The hospital was losing money and, according to the CFO, didn't have to. Things needed to be run better.
Did that make Jeff Susi uncomfortable?
"No," Susi told Vero Beach 32963. "I agree that the hospital needs higher productivity levels."
As for increasing profits, he points to the endoscopy lab – which Susi  said he and a gastroenterologist were instrumental in launching – as an example of the kind of financial success the hospital has had.
But members of the board's finance committee remember Barreirinhanas presenting the financial plan for the endoscopy lab to them last year, and lab manager Kim Mayo said: Yoshi "was definitely the person I dealt with to get the lab up and running."
A few days after the July board meeting, Vanek suddenly resigned. Those close to the resignation say it was forced on Susi by board members, who wanted Janicak running operations as well as finances.
They wanted him to lead the charge to turn around productivity levels and finances in a combined leadership position to improve financial performance, patient satisfaction and the quality of patient care.
But Susi says putting Janicak in the dual role of COO and CFO was his idea: "I thought the consolidation with Dan in the job would make everything better. It did for a little while. But the communications were not as good as they should have been and things got worse."
As part of his new job, Janicak supervised Barreirinhas, who had previously answered to Susi.
As director of the hospital physician network, Barrerinhas was responsible for a number of successes: increasing the number of doctors employed by the hospital from 30 to 63, supervising the installation of the endoscopy lab, and meeting his budget every year.
Along with Janicak and Barreirinhas, the turn-around team consisted of the chief medical officer, the chief nursing officer, the human resources officer and the VP for finance, with Susi in charge. The team identified three main areas for saving and making money, which would account for about $6 million in savings.
Two weeks ago, both Susi and Janicak held town hall meetings, taking turns going over the changes, which Susi says he approved. Also, last week, Janicak went over them at a Hospital District meeting, with Susi and board chairman Segura at his side. They included improving employee efficiency, increasing employee payment of health insurance and altering the way vacation and sick days work.
Senior leadership, the board and the hospital district board agreed that these painful changes had to be implemented because the hospital board and district were deeply concerned over the hospital's financial situation.
After the meeting, those present heard chairman Segura tell Janicak that he was doing "a great job."
But the next morning at 8 am, Susi told Janicak and Barreirinhas that they were no longer employed by the hospital and ordered security guards to walk them to their cars.
How did they go from doing a great job 16 hours earlier, according to the board chairman, to being suddenly unemployed?
"You'd have to ask the CEO that question," said Segura.
"The board chairman was only referring to the presentation and being complimentary to the turn-around team. He wasn't referring to Dan," said Susi.
But why get rid of Dan and turn-around team member Barreirinhas the next day? "It was a decision that was best for the organization," said Susi. "Team work needs to be ever-present."
 Sources close to the terminations say Janicak and Barreirinhas had good working relationships with board members and freely exchanged information with them. Did Susi consider these conversations a betrayal?
"Absolutely not," said Susi. "When it comes to talking to board members, my rule for senior leadership is to be honest and open and truthful with them. Then, let the team know what was said."
Did the two terminated executives do this?
"I don't want to get into the nitty-gritty," said Susi.  "The direction was right. The path was wrong."
Generally known as an "intelligent, fantastic fundraiser and a warm guy in one-on-one talks," Susi has come under increasing fire in the past year. The criticism appears to center on several complaints:
- The lack of focus on hospital operations as opposed to fundraising and capital outlay.
- The shortfalls and decrease in hospital budgets and operating money.
- The atmosphere of intimidation and fear at the hospital, which silences those who want to improve things.
"We want fewer new, expensive buildings and more attention to the operation of the hospital and the quality of patient care," said Curtis Dalili, an internist who is chief of medicine and sits on the Medical Executive Committee, which represents over 200 local doctors.
Recently, Dalili and several of his colleagues – including specialists in general surgery, cardiology, pediatrics, family medicine and emergency room care – wrote a letter to board chairman Segura.
They said they want to decrease patient wait-times in the ER, which Dalili  says run "six to seven hours and haven't changed in 10 years." (Janicak and Barreirihanas were tasked with turning the emergency room around.) 
The doctors also want to improve the new computer entry system used by the hospital, which Dalili says "loses patients and contributes to long wait times."
And they want to improve patient satisfaction, which rates in the bottom 25 percent of hospitals nationally. Further, they have asked for upgraded hospital technology so that information exchange can lead to better patient care. And, they said they would like to review all administrative changes that affect patient care.
"As medical staff, we want to do everything we can to maintain our focus on patient safety and quality care during this time of chaos," said hospital chief of staff and board member Dr. Charles Celano.
Another area of dissatisfaction is a general perception that anyone who questions what Susi does is in danger of being terminated. A typical response from over 25 people contacted by Vero Beach 32963 was that of hospital staff cardiologist Seth Baker: "No one wants to raise questions for fear they'll be the next to go."
A few board members, with whom Susi spoke right before and after he terminated Janicak and his turn-around team colleague Barreirinhas, say Susi told them he was getting rid of the two executives because they were "uncooperative" and "not part of the team."
"They weren't really uncooperative," Susi clarified later. "But the team in total wasn't on the same page."
Susi says the hospital is moving forward with an outstanding new CFO soon to be announced. "He'll keep us moving in the right direction without missing a beat," he said.
To do that, the new CFO will have to do what Janicak and Barreirihanas tried to do before they were marched to the parking lot: Deal with deficits to turn the hospital around.
"One thing is for sure," said internist Dalili. "We're all going to end up in the hospital at some point so we'd better fix the problems."