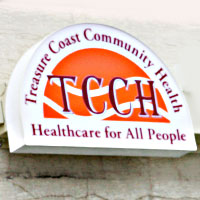 Treasure Coast Community Health retrenching
STORY BY EILEEN KELLEY, (Week of September 26, 2013)
Treasure Coast Community Health, founded in the 1990s to provide health services to the country's poor in part with tax dollars, appears to be retrenching again after a period of rapid expansion that may have come too fast, auditors say.
The organization is now plagued by a mass exodus of staff, low morale and patient dissatisfaction over constant turnover of key personnel. Federal auditors have also called the organization to task over a myriad of financial and management issues.
Ultrasound service appears to be one example of what's been happening at Treasure Coast – here today, gone tomorrow. Just a year ago when a call went out to help save the lives of poor women, an island resident stepped forward, donating $10,000 to buy an ultrasound machine to detect breast and cervical cancers and tracking down the very best machine his money could buy.
But last Wednesday, like many other services, Treasure Coast scrapped the ultrasound program. The organization also told pregnant women to find care elsewhere because as of Oct. 31 it will no longer offer obstetrics services.
"I wish they'd bring these programs back," said Candace Star, who broke the news to Treasure Coast patients that ultrasound was no longer available. One woman's eyes welled with tears and it's easy to see why. Treasure Coast provided ultrasounds for $60. Two other agencies that conduct pelvic and breast screenings with an ultrasound charge more – one $472, nearly eight times as much.
One ex-employee said she was told ultrasound was discontinued because it was only a break-even proposition.
Treasure Coast Community Health came to life as the Fellsmere Medical Center in the early 1990s when doctors set up shop in the basement of an old school to care for the poor. Between 2009 and 2011 Treasure Coast grew rapidly from one clinic to four, which apparently strained finances. The number of medical exam rooms increased from 12 to 34, an increase of 283 percent while at the same time the number of patient visits grew only 36 percent from 16,675 to 22,731.
Treasure Coast currently operates two clinics in Fellsmere, one on Oslo Road serving South Vero and one in central Vero Beach.
In addition, since April, 2012, the cash-strapped organization has been paying approximately $5,000 per month for another site that remains unused.
According to the organization's 2011 tax return for non-profits, Treasure Coast took in only $8.7 million in 2011 against expenses of $8.9 million.
The uninsured, about 50 percent of the organization's patients, do pay something for their services. Helping to defray those costs – aside from federal tax dollars and occasionally the dollars from the Indian River County indigent care fund – is the other 50 percent of the patient population who have private insurance or who are on Medicaid and, to a lesser extent, Medicare.
"I'm very upset," said Dr. Humberto Posada, an island resident who has delivered about 6,000 babies. "I hate to see Treasure Coast go down the drain." Until a few months ago, he worked for Treasure Coast, but his hours were cut so drastically that he left.
Last week, Star, the woman who performed ultrasounds, joined Posada and more than three dozen other staffers, mostly doctors and dentists, who have left in recent years. Some resigned while others worked out deals to go away and keep quiet; separation agreements prohibit some former employees from discussing the organization.
The list of employees to leave in recent months includes three island residents: Medical Director Dr. Herman Fountain, Dental Director Heidi Turk, who was in private practice for 20-plus years and obtained two large grants from Impact 100, and Foundation Director Steve Dorrance. Three chief financial officers have also left the organization in as many years.
"Just look at that turnover," said Dr. Mariam Sampson, an ob/gyn whose last day is Oct. 31. "There is a reason they're not staying and (they're) not (leaving) for a better job."
"It's a crime," said a former employee who asked that her name not be used but would like the federal government to reconsider where it spends its money to care for the poor. That former employee, along with several others, faults CEO Vicki Soule and her governing board. "The board chairman has allowed this to happen," she said.
In a brief response to a series of written questions, Soule said that a later audit actually showed an improving year-end financial picture.  She added board members and clinical leaders are "fully involved in all decisions."
Robert Rappel, the longtime board chairman, got an earful in February, 2012, when he and two other members met with more than a dozen physicians who wanted to express dissatisfaction with Treasure Coast's direction amid great financial problems and shed light on what they called Soule's poor management and decision making.
"We talked to them face to face," said Sampson. "They made us think they were listening." In the end nothing came of it but an exodus of nearly all the people who attended.  "I don't think they care. You couldn't possibly (care) and allow all these decisions to be made."
Decisions such as:
-  Opening a second clinic in Fellsmere just 1½ miles from the main clinic at a cost of $37,500 although just $7,500 was budgeted. That secondary clinic is now operating on reduced hours and not open five days a week as was intended.
-  Signing a lease agreement with a $50,000 penalty clause in 2011 on a store front that has yet to be turned into a medical facility in Vero Beach.
-  Offering a full-fledged obstetrics program only to scrap it two years and about 130 babies later after hiring a woman who does not – and will not – have privileges to deliver babies at the Indian River Medical Center.
-  Opening a pediatric center in Sebastian that failed to attract customers because of poor placement and lack of marketing. The center closed after seven months.
"I'm extremely disappointed with the leadership of the board," said another ex-employee. "The buck stops here. For them to watch one provider after the other go by the wayside is nothing short of shameful."
"It is just so astounding that you give someone with no medical background so much control," said another ex-employee. "We're leaving because we feel useless. We're not listened to and patient care is not important. So you take off."
The organization's latest federal audit – obtained through a the Freedom of Information Act after Soule denied Vero Beach 32963's public records request last year – suggested decision-making wasn't healthy.
"Initiatives have not been made under the advisement and consultation of key executive staff members and did not flow properly from executive administration to the board for consideration. Full financial feasibility on facility expansion, services and staff additions is not being considered each time a new initiative is considered," reads one audit.
Findings from more than 80 pages in three recent audits show:
-  Rapid expansion caused dire fiscal problems. Cash on hand as of June 30, 2012, was just $160,000 although monthly expenses averaged $802,000.
-  In 2012, just $50,000 remained of the organization's original $350,000 line of credit.
"In the past six months provider paychecks have been delayed on a couple of occasions and important accounts payable supplies accounts are reaching levels where staff has had to call and manage payment terms," said one audit.
Auditors were so alarmed after reviewing Treasures Coast's books that they required the organization to submit a financial recovery plan and halt expansions, services and staff additions that required additional expenditures.
They also told Treasure Coast to review all lease arrangements and negotiate for new terms or terminations to reduce monthly cash outlays.
"Treasure Coast is a really good organization and to have one person take it down is disappointing," said Linda Costa who has more than a dozen years' experience working with federally qualified health centers like Treasure Coast. She was recruited from Arizona to work as the organization's chief financial officer, but she left, not by choice, in December.
All the while, Indian River County's poor have few good healthcare options. "People are not happy," said Maria Zamarripa of Fellsmere. "I really don't think they care about taking care of the poor people here anymore."