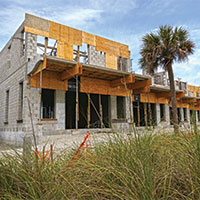 Central Beach townhouse project sells out months before completion
STORY BY STEVEN M. THOMAS (Week of April 3, 2014)
Photo: East End townhouses have sold out before completion.
In yet another sign of strength in the island real estate market, the five-unit East End townhouse project – with prices ranging from $1.995 million to $2.25 million – sold out the third week in March, six months prior to its scheduled October completion.
"That is the first time that has happened on the island in many, many years," says Clark French of Premier Estate Properties who, along with his partner Cindy O' Dare, handled the marketing and sales effort for the luxury oceanfront development.
French credits the five-unit project's success to low new-home inventory, an attractive product and realistic pricing.
"With new inventory at a 35-year low, buyers are hungry for new product, and the developer had realistic pricing expectations that matched the market," French said. "We sold three units before construction began, during the design and permitting phase, and signed the final two contracts last Friday [March 21].
"Once the walls came up out of the ground it created a tremendous flurry of interest. I honestly believe we could have sold five or even ten more townhomes, if we had them."
The two-story, 3,200-square-foot units were offered for $1,995,000 pre-construction, and for $2,250,000 after groundbreaking, though it is possible the last two homes sold for over that price. French and O'Dare had all five listings and brought two of the buyers; outside brokers brought the other three buyers.
Located on the beach at the end of Gayfeather Lane, two blocks south of Humiston Park, the project was developed by East End Development, LLC, a partnership that includes Vic Lombardi, whose construction company Water's Edge Estates is building the townhouses, French and a couple of silent partners.
The 1.5-acre building site was purchased for $1.55 million in 2011, according to public records, but the actual cost may have been a bit more since deals of this type typically have off-contract expenses in fees, commissions and closing costs.
The property is zoned RM 10/12 residential multifamily, which allows for medium to high density, up to 12 units per acre.
"We could have built as many as 16 units," French says, "but we decided to do a low-density project out of respect for our beautiful village-by-the-sea and to create a more exclusive product."
Lombardi started work the first week in December and the second-story walls are now going up. The townhomes were available in three different floor plans, all featuring 3 bedrooms, 3.5 baths, large kitchens and expansive family rooms on the beach side.
The units will have individual detached 2-car garages on the land side with an additional one-bedroom, one-bath guest suite above, private courtyards with swimming pools, and oceanfront patios overlooking one of the most popular beaches in Vero.
Lombardi, who has a strong track record with luxury oceanfront estates and commercial property development, says "the building is built on piers with concrete block construction and concrete floors, including the second floor. The roof will be concrete tiles and of course everything will be up to the latest storm codes with high impact glass."
Wrapped around the rock-solid core will be a wealth of charming West Indies design details supplied by project architect Gregory Anderson P.A., including a variety of entryways, balconies and color combinations that will make each home unique while maintaining a pleasing unity of overall style.
Interior details will be by Susan Smith of Spectrum Interior Design, with high-quality finishes including hardwood and stone flooring, detailed millwork, elegant cabinetry and gourmet-level appliances.
Front courtyards between the townhomes and garages will have 8-foot-high privacy walls and each unit will be set back approximately eight feet from the one next door to maximize ocean views and help the homes feel more like single-family residences than condominiums.
"When you say townhouse, we all have the perception of narrow, tightly connected units, but these feel like very spacious single-family homes," says French. "The width of each property is 30 feet, and the family rooms that overlook the ocean are 28-feet by 20-feet with 12-foot ceilings. That is big!"
The townhomes were sold with fee-simple deeds, not as condominiums, which French says is a superior form of ownership. "In a condominium setup, the condominium association, which is a type of corporation, owns 100 percent of the property and individual owners buy shares of the corporation. At East End, families will own their own unit – the land, walls and roof. The homeowners association will own the common areas."
Buyers signed contracts and put down 20 percent deposits. Closings will occur after the units are complete and certificates of occupancy are issued.
Association fees will be $12,500 per year for each homeowner, which comes to $1,040 a month for insurance, landscaping, maintenance, exterior illumination, pest control, contingency and reserves, with 75 percent of the fee going for insurance.