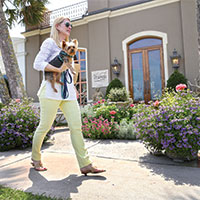 Vero Beach gaining reputation as the 'Hamptons of Florida'
STORY BY STEVEN M. THOMAS (Week of April 10, 2014)
Photo: Shopping on Vero's Ocean Drive.
One of the things powering the barrier island real estate market is the emergence of Vero Beach as The Hamptons of Florida – so say island realtors, Miami residents who decompress here on weekends and The Palm Beach Post, among others. A Wall Street Journal article that takes up the theme is rumored to be in the works.
"My husband and I have very active and demanding careers in Miami, working 12- and 14-hour days," says Sissy DeMaria, co-owner of a luxury real estate and hospitality public relations and marketing firm with offices in Miami and New York. "We love Vero because it is a wonderful change of pace, very quiet and beautiful and relaxing."
The DeMarias have had a place in Sea Oaks since 2002 and weekends in Vero are an integral part of their high-powered lifestyle, just as a couple of days each week in Southhampton – or at least a couple of weekends each month in the summer – are essential to stressed-out stockbrokers and other over-worked Manhattanites.
"From our home in Miami, Vero is a quick two-and-a-half hour ride up the toll road," says DeMaria, an equestrian who trades in crisp business suits for jodhpurs and polo shirts when she arrives. "We come up most weekends, leaving on Thursday evening and going back on Sunday or Monday. We know other Miami couples who do the same."
Miles and driving time between Miami and Vero are similar to distance and driving time between Manhattan and the Hamptons.
DeMaria, who is familiar with the Hamptons and traffic along both routes, says it actually takes longer to get from Central Park to the beaches at the far end of Long Island. "It is about a three-hour drive to the Hamptons," she says.
Besides big-city proximity, Vero shares the Hamptons' quaint village ambiance.
A walk down Hill Street in Southhampton or Newtown Lane in East Hampton reveals the same mix of classy eateries and high-end boutiques found along Ocean and Cardinal in Vero's village by the sea. Some of the shops are actually the same. Jay McLaughlin, for instance, has stores in Southampton, Bridgehampton and Vero Beach.
I have been saying it for years." says Cindy O' Dare of Premier Estate Properties. "Vero Beach really has become the Hamptons of Florida."
No Vero Beach private community has more winter residents who use the Hamptons at the tip of Long Island for summer weekend getaways than John's Island.
"We probably have 25 to 30 New York area families who weekend in the Hamptons in the summer and have a third home here in John's Island," said John's Island Real Estate broker Bob Gibb. 
Two other families who summer in the Hamptons recently joined those  who have bought at the Orchid Island Golf & Beach Club, according to Bob Niederpruem, broker at Orchid Island Realty.
"They like the fact that both the Hamptons and Vero have a non-glitzy feel," Niederpruem said. "Both areas have strict zoning ordinances, and both are very low-key and very uncommercial."
Is Vero destined to become a similar escape valve for wealthy families who live in South Florida?
Premier's O'Dare and her partner Clark French say 60 percent of their luxury home buyers come from Miami, Fort Lauderdale and Palm Beach, and that almost all those buyers purchase weekend getaway homes, not full-time residences.
"The number of people coming here from South Florida has increased with every cycle in the real estate market since I have been in the business," says Michael Thorpe, co-owner of Treasure Coast Sotheby's International Realty.
"Part of the allure of Vero for people from South Florida, especially older native Floridians, is that it reminds them of the way Florida used to be when they were growing. Miami has changed dramatically in recent decades and it is not as fun as it used to be. When our buyers see Vero, they remember those child-like days of going to the beach without huge crowds and walking around at night without fear of crime. It tugs on something very powerful in their minds and memories."
"People with weekend homes in Vero tell me they can feel their blood pressure drop when they come up over the top of the bridge and see the green island with no high-rises with the ocean beyond," says French.
A nostalgic attraction was part of what brought the DeMarias to the barrier island. "As a child, I grew up summering on the barrier islands near Charleston," says Sissy DeMaria. "There are a lot of good memories and at one time we bought a lot on the Isle of Palms with the idea of building there. But it was nine-hour drive from our home in Miami.
"We drove home from Charleston one weekend, all the way down the east coast of Florida, and when we came to Vero it was exactly what we were looking for with the sprawling live oaks and unspoiled beaches and dunes. It has a small-town feel I really like and it is close to Miami."
Besides proximity and ambiance, factors driving the Hamptonization of Vero include the arrival of Gloria and Emilio Estefan and oceanfront home prices that are much lower than in South Florida.
"Gloria Estefan opening Costa d'Este has certainly accelerated the trend," says Thorpe. "Because of her, more people are coming up from Miami to escape the growing congestion and falling in love with Vero."
"The Estefans have brought a ton of Miami people up here," says O'Dare.
When Miami residents arrive and see what they can buy on the water here for $1 million or whatever they have to spend compared to what they can get in Miami, that often seals the deal.
"Prices for waterfront here are far lower," says Kim Hardin Thorpe, co-owner of Treasure Coast Sotheby's. "And everyone from South Florida wants waterfront."
O'Dare says buyers from Fort Lauderdale and Palm Beach are a big part of the influx. "I would say our buyers are about evenly split, with half from Miami and 25 percent each from Fort Lauderdale and Palm Beach."
The steady parade of potential buyers streaming up from the south is one reason the Thorpes recently moved their real estate office to a location on A1A south of the 17th Street bridge.