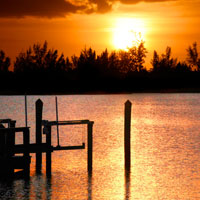 The lagoon yields healthy fish count
STORY BY MEG LAUGHLIN (Week of April 17, 2014)
Florida Fish and Wildlife Commission fish biologists have good news for lagoon lovers – at least for the part of the lagoon between the Barber Bridge and south to Round Island: "You've got good fish diversity there, which indicates a high level of health in that area," said FFWC lead fish biologist Jim Whittington.
The news came last Thursday after Whittington and three marine biologists conducted fish counts at random spots between the Barber Bridge and Round Island.
To get the job done, they pulled a huge weighted seine net – a 120-foot rectangle – behind a boat and watched it sink to the bottom. Then they dumped the hundreds of fish in it into a well full of lagoon water. With small nets they scooped the fish up, noting their health and writing down what kind of fish they were.
"There were nice surprises," said Whittington.
Behind Tidewater Island Club and Tarpon Island Club condominiums, east of Miracle Mile, they found barracuda, mangrove snapper, pompano, jack gravel, catfish, ladyfish, sheepshead, mullet and sand perch – small to medium-sized and in abundance.
"To see these fish means that there are plenty of pinfish for them to eat, which tells us the grass is healthy in that area," said Whittington.
Furthermore, he said, it also meant the oyster beds are healthy. "There are a lot of oysters in that part of the lagoon," he said.
As the count continued last Thursday, condo residents lined the grassy bluff and beach, commenting on the great variety of fish and asking about their condition.
"It's good to see the fish aren't being depleted and they're healthy," said Whittington.
Further south, closer to the Fort Pierce inlet, the crew saw the same fish along with more predatory fish – snook, redfish, grunts, hog snapper and shark – which they said was a further sign of a healthy lagoon.
The Florida Fish and Wildlife Commission conducts fish counts several times a year.