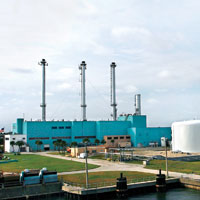 Vero picks new lead negotiator in bid to escape power co-op
STORY BY LISA ZAHNER (Week of April 24, 2014)
Tallahassee attorney Robert Scheffel "Schef" Wright has been put in charge of spearheading the city's negotiations to get out of its long-term power contracts with the Florida Municipal Power Agency, facing formidable challenges on a number of different fronts.
According to City Manager Jim O'Connor, the FMPA has "unquantifiable issues" with John Igoe and Rick Miller, the transactional attorneys who have been working the Vero sale to Florida Power and Light for the past three years.
Since the FMPA refused to meet with the Igoe-Miller team and wanted an attorney more to its liking, the city, in an another example of its historically puzzling negotiating style, acquiesced and added Wright to the payroll.
As lead negotiator, Wright will travel from Tallahassee to attend face-to-face meetings with FMPA officials and will report back to Igoe and Miller on any progress that's made. So when the attorneys get their heads together, that will cost $225 per hour for Wright plus up to $500 per hour each for Igoe or Miller.
The council vote to add Wright to the team was 4-1 with Councilwoman Pilar Turner dissenting. Turner's objections ranged from the fact that the council had not even been provided Wright's resume or given a chance to vet him, to the fact that the staff had not offered up a budget or a proposed scope of work for the attorney – yet another scary blank check for Vero ratepayers to fund.
Mayor Dick Winger acknowledged that Turner's concerns about not having any information about Wright were valid. Winger asked that staff get Wright's resume for council members to review and also request that Wright travel from Tallahassee to appear in person before the council soon.
Before Wright lies what many consider an impossible task – brokering a compromise that would allow Vero to break what may well be unbreakable membership and cooperative ownership contracts that are the very fiber upon which the FMPA is built, and (here's the catch) to make the FMPA and its remaining member cities "whole" in the process.
Top FMPA officials admitted recently in one of a series of letters back and forth with Vero and FPL that the contracts to which previous city councils tied Vero did not anywhere in the documents, or in the intent behind them, contemplate that a member city would ever want to sell its utility, leave the co-op and get out of the electric business.
So there's no how-to manual to follow for getting out of the FMPA. More importantly, no price tag was ever established for exiting. Nailing FMPA officials down on a figure for the "stranded costs" and potential, contingent liabilities of the co-op and its various financial entanglements will be one of Wright's biggest hurdles.
Time is on the FMPA's side. The longer it can delay, the longer the status quo is preserved. The longer the sale to FPL is drawn out, critics assert, the more impatient all the stakeholders will get and the less likely the city will ever be able to close the sale.
O'Connor said he thinks Wright's experience and his previous business relationships make him the man who can help move all this forward.
"One of the things we're going to have to be able to do is work with the cities, and we're going to need to get the cities to approve these waivers," O'Connor said. "I think he can add some credibility to what we're trying to do in the process."
Negotiations have been stalled for the past few months as the FMPA has hardened its position on not letting Vero out of its long-term contracts. Until a couple of weeks ago, FMPA officials had also not been returning any of FPL's calls and had refused to meet directly with FPL officials.
O'Connor said FPL's attorney expressed respect for Wright as a lawyer, though Wright has done battle with FPL on other issues.
City Attorney Wayne Coment concurred with O'Connor, saying Wright would fill a gap in the city's current legal representation.
"Quite frankly what we've been missing is somebody who is well-versed in utilities," he said, adding that one of Wright's tasks will be "working out its new updated assignment agreement for Vero to assign its assets to the Orlando Utilities Commission."
Wright has worked for or with many of the FMPA member cities over his long career practicing utilities law and trying rate cases before the Florida Public Service Commission. He's even taken on FPL previously. Sounds like a dream for the FMPA, but will Wright be a good bet for Vero electric ratepayers?
If not, and if the deal keeps heading down the seemingly hopeless path that currently appears to be on,  Wright will still get lots of business out of the City of Vero Beach.
If Wright's name sounds remotely familiar, it's because Vero put him on the payroll in December 2009 to beat back complaints filed at the PSC by utility activists Dr. Stephen Faherty and CPA Glenn Heran. It turned out that the city didn't really need to use Wright's services at the time, as the citizen complaints were put in abeyance, or in layman's terms, on hold.
Faherty and Heran's complaint filed on behalf of the 20,000 customers outside the city limits has not been dismissed by the PSC, so it is still very much out there, asking the PSC to re-examine Vero's assigned electric territory to give South Beach, Indian River Shores and mainland county customers a way out, and therefore a way to becoming FPL ratepayers.
Should sale negotiations finally pass the point of no hope in the eyes of those so-called "outside customers," Wright may well have quite a bit of work on his plate.
"The complaint has been sitting there since the fall of 2009 so it would have to be fine-tuned and there are some aspects that would have to be added by the county," Faherty said.
Those 20,000 customers have elected officials who are already growing increasingly impatient with the process and who are poised to find an alternative solution for their constituents – a solution that, unfortunately for Vero Beach taxpayers, may leave Vero city proper holding the bag for a failed sale.
Indian River County has already hired the respected Tallahassee law firm of Nabors Giblin and Nickerson, which has seven attorneys on staff who specialize in utilities and utility regulation, and more recently added a contract with lobbyists Ballard Partners to support utility efforts on the political end.
The Indian River Shores Town Council last week put forth a united front to develop a contingency plan to get town residents out from under Vero electric should the sale totally fall apart.  At its scheduled Thursday morning meeting, the council had on its agenda two action items regarding electric – setting aside funds to pay for legal fees and directing Town Manager Robbie Stabe to begin talks with law firms to represent the Town's interest in the electric battle.
Wright would presumably defend Vero against this potential onslaught of challenges to its territorial rights by Indian River County and the Shores should he be unable to find solutions to all the FMPA's many legal and financial problems with Vero leaving the family.
Faherty said that, by the end of September or earlier, the PSC complaint could be tweaked and re-activated should there be the political will and financial backing from the county and the Shores to fund a legal team to join the case, and take it before the statewide regulatory commission.