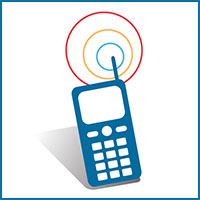 Tower could finally bring Shores better cellphone service
STORY BY LISA ZAHNER (Week of April 10, 2014)
Is it possible that residents of the southern half of Indian River Shores – one of Florida's more affluent townships – are finally going to be able to enter the cellphone era, and make and receive calls from their homes?
That tantalizing possibility seemed a bit closer this week with word that a much-needed cellular tower seemed set to be built at the county's Tracking Station Park just outside the town limits at the southern end of Indian River Shores.
The idea of a new tower inside the town limits had been debated for more than a decade, with residents who could not use their cellphones inside dwellings for lack of a strong enough signal pitted against opponents concerned that a tower would be an eyesore and a safety risk.
Last year, with more residents relying on cell phones and using data services on smart phones and tablets, the scales appeared to be tipping in favor of approval for a tower. Then the calls and emails poured in, and residents from John's Island to Bermuda Bay to The Estuary packed town hall meetings to voice their opposition.
After the idea of installing the tower behind the town's public safety headquarters died for lack of support last year, town officials approached the Florida Institute of Technology about locating the tower on its property adjacent to Tracking Station Park. That proposal was nixed due to the college's plans to expand its oceanfront marine lab research facility.
So last winter, County Administrator Joe Baird and other Indian River County staff entered into talks about erecting a tower on a small parcel of county property between the town limits of Vero Beach and Indian River Shores on the ocean side of A1A behind the CVS drug store.
Baird wrote to town officials in January, saying "We met with American Tower Corporation last week at the Tracking Station regarding putting a cell tower on that site. The County has been searching the title to make sure are no restrictions that would stop us from being able to put a cell tower at the park. I will keep you updated on our progress," and assigned Telecommunications Manager Manny Cabo as point person on the project.
Shores Vice Mayor Jerry Wieck said he's pleased that Shores residents and his neighbors will benefit from the tower.  Service is especially spotty in Bermuda Bay, Weick said, where he had to install a booster device to be able to use his Verizon cell phone inside his residence.
"It's the perfect location, and it's on the county land so we don't care. It will be a stealth tower like the one at Sea Oaks, because that's all the county will allow and there are no houses really close by," Weick said. "It's too bad that the town couldn't have gotten the (rental) money for it being on town property, but now the county is putting it up and the county will get the money – not us."
The tower would be designed to fill the gap between the existing towers at Sea Oaks at the northern end of Indian River Shores, and atop the Village Spires condominium on Ocean Drive in Central Beach.
Those towers are nearly eight miles apart and the typical maximum reach of a cell tower is about five miles, leaving much of Indian River Shores in a veritable dead zone.
The new tower would be roughly 1.6 miles north of the Village Spires and about 6.2 miles south of the Sea Oaks tower.
Town Manager Robbie Stabe updated the Shores Town Council at its last meeting on the status of the new cell tower, and said the county was still working on the project, but that it appeared to be a go for the Tracking Station site.
"We've met with two different companies and we're trying to do this for the Shores because they asked us to," Baird, the county executive, said Monday.
 "They really need better cell phone coverage and the company will also pay us a monthly rent, so I think it will be a win-win.
"We're looking at doing it in the retention area and what we're looking at is one of those flag-pole towers like the one at Sea Oaks, and we'll landscape it real nice," he said. "The landscaping needs to be upgraded there at the park anyway."
Baird said he did not know an updated timeframe for construction. He said Cabo, the county's communications director, was trying to research other companies to "maybe find someone else who is interested."
Meanwhile, County Public Works Director Chris Mora said the proposed cell tower for Tracking Station Park had not yet been formally approved or scheduled for construction, and was still only in the early planning stages.
"County staff met with representatives from American Tower Corporation three months ago and the county followed up and provided survey and mapping information for the park," Mora said.
"To date, however, we have not heard back from American Tower regarding a proposed tower schedule. We anticipate a stealth tower design. However, we have no specifics regarding cell providers, tower height, etc."