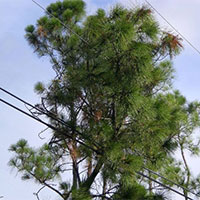 Summer island power outages blamed on trees
STORY BY LISA ZAHNER (Week of August 28, 2014)
Australian pine trees are a fast-growing non-native, invasive species that was reportedly brought to Florida by developers as a way to stabilize sandy shorelines – especially on barrier islands – and they're a big reason why your Vero electric service may have been spotty this summer.
"The major cause of the power outages were due to Australian pines that grew into the electric feeder corridor," said Ted Fletcher, head of transmission and distribution for Vero electric.
The State of Florida promoted the planting of the Australian pine, which is not a pine but just looks like one, since the late 1800s – way before power lines shared the rights of way – until biologists demonized the tree in 1990. The issue has attracted groups of tree-haters and tree-huggers, the former pushing for eradication and the latter urging that the Australian pines need "saving."
Electric customers melting in 90-plus degree weather without air-conditioning would presumably fall into the eradication camp after this summer's experience. Those pesky trees caused nine outages, several of them affecting hundreds of customers for an hour or more since Memorial Day, and keeping arborists busy carefully chopping limbs and grinding trunks down to stumps.
A bad feeder line made the situation worse, leaving more customers in the dark off and on until it was replaced. All Vero Beach 32963 readers knew was that their power was going out and that it was darned inconvenient.
The first major outage on the report provided by the city in response to a public records request was on May 27, when 900 customers were out of power for 35 minutes.
"The large outages that started around Memorial Day were addressed immediately to prevent further outages," Fletcher said.
In June there were two minor outages from trees, but they lasted 70 minutes and 225 minutes. On July 4 250 customers were out for 23 minutes, followed by 25 customers out on July 8 for 40 minutes and 800 customers out for 99 minutes on July 13 – all caused by trees. Trees knocked another 400 customers out for 69 minutes on July 27.
On Aug. 1, 10 customers were out of service for 40 minutes, followed by 30 customers being out for 60 minutes on Aug. 4 and 800 customers being out for 60 minutes on Aug. 5 – again, trees were to blame.
So why were these "tree outages" still occurring through the middle of August if the problem was "addressed immediately" in May?
"The reason for the length of time is due to the city's current tree contractor Asplundh addressing other tree issues in the electric service territory. Asplundh is currently trimming all feeders on the barrier island from north county to south county line," Fletcher said.
"The trees have been cut to ground level to prevent future outages," he said, noting later that ratepayers paid by the pound to have the trees taken down and hauled away.
Fletcher assured us that the city has done everything in its power, so to speak, to finally stop the island outages.
A full-time tree crew has been assigned to the barrier island and since the preventative work began, there have been no new blackouts from trees.
"The other power interruptions were due to a distribution feeder cable fault at Central Beach substation. All the distribution feeders at Central Beach were replaced which required switching loads to an alternate source," he said.