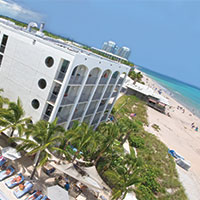 A farewell to off-season: The island's busiest summer ever
STORY BY STEVEN M. THOMAS (Week of August 14, 2014)
The barrier island is in the middle of its busiest summer ever, with hotels, restaurants and real estate companies on the beach reporting business up as much as 35 percent over last year's already bustling summer season.
A revived economy, innovative marketing campaigns and Vero's increasing national and international reputation as an idyllic beach vacation spot are driving what can only be described as a tourism boom on the beach.
"It is kind of scary to say it, but Vero Beach has been discovered," says Ocean Grill General Manager Beth Edwards. "Our business is up 15 to 20 percent over last summer."
"I remember last year at this time, I was saying, 'Wow, we are really busy for summertime,'" says Scott Varricchio, executive chef at Citrus Grill. "My only concern was about how I would ever top that level of business. As it turns out, we are exponentially busier this summer than last. We are doing season-like numbers on weekends and almost season-like during the week."
"We have been extremely busy, indeed," says Vero Beach Hotel and Spa General Manager Duncan Clemens. "Business is up 10 or 12 percent over last summer, mainly due to our fellow Floridians coming here for summer vacation.
"We have also been getting a lot of business from overseas this summer. I was in London in June, visiting with British Airways and Virgin and package companies like Thomas Cook that sell Florida vacations to Europeans. There is great interest in the Treasure Coast and the Palm Beaches. A lot of European travelers already know Miami and Fort Lauderdale and they are looking for a new beach experience.
"The outlet mall helps with that business. International travelers love to shop because of the exchange rate, and here they can combine shopping with the beach. Activity has become sustained through the week instead of just the weekend."
"We have been open six years, and this is our best summer ever," says Ed Riley, general manager of Costa d'Este. "We are 70 to 80 percent full during the week – which are amazing occupancy rates for summer – and sold out every weekend.
"At this hotel we used to have a season, a shoulder season and an off-season. We don't have an off-season anymore."
Riley says most of his guests come from Florida, "everywhere from Jacksonville to Orlando to Miami," and from a pocket in the Midwest that includes Ohio, Michigan and Illinois.
He attributes Costa's success to a reviving economy, successful marketing efforts, strong repeat and referral business and Vero's inherent charms.
"Social media has become a very big part of our marketing and we have added dedicated staff to make sure we stay current with social media as it evolves and reach people where they are."
Costa d'Este lures guests with an upgraded beach experience, too.
"We made a concerted effort a year ago to improve the beach experience," Riley says. "People can go to our beach and rent a chair and umbrella and have lunch served to them on the sand whether they are guests or not. Through our beach management partner Shark Bait Scuba, we have most of the water sports covered. We rent gear and offer snorkeling, scuba, kayaking and paddleboards."
"Summer season has been excellent," says Jeanne Radlet, general manager of the 100-room Driftwood Resort, Vero's original beach hotel, founded by area pioneer Waldo Sexton and listed on the National Register of Historic places since 1994.
"I think it is mainly the economy. Now that things are better, people are tired of staying at home and want to travel. The majority of our summer guests are people from the interior of the state taking their family to the beach for their weeks' vacation, but we are also seeing more overseas visitors than in the past as Vero becomes more well known."
With hotels full, restaurants from casual to fine-dining are crazy busy.
"Dale and I were going to Bobby's on Saturday night and every parking place was full, in the lot and on the street," says longtime island resident Matilde Sorensen, co-owner with her husband of Dale Sorensen Real Estate. "I have never seen that in the summer before. People have discovered Vero as a weekend destination."
"You have to make reservations at restaurants where you never had to make them before during summer," says Premier Estate Properties broker-associate Cindy O'Dare. "I have to stand in line at the Lemon Tree!"
"It has been incredible," says Jean Zana, co-owner of di Mare Restaurant in South Beach.  "Business is up close to 35 percent this summer compared to last summer."
"It is one of those things where you have to pinch yourself to be sure it is real," says Varricchio of Citrus Grill. "People have gotten to know us and trust us."
Varricchio says his business is evenly split between locals and people from other parts of the state, country and world. "I look at the area codes of reservations and about half of them are 772 numbers."
Island realtors are enjoying a symbiotically busy season, benefiting from the influx of new visitors, who often turn into home buyers, and attracting potential buyers to town who stay in the hotels, eat in the restaurants and shop in the village boutiques.
"I have never been this busy in summer before," says O'Dare, who like Riley at Costa d'Este, uses social media extensively, in her case to spread the word about high-end island properties via Twitter, Facebook, Pinterest and other sites.  "Tony Robbins found out about Vero through social media. That is why he was here looking at homes recently.
"I posted on Facebook when Vero was named one of the top 10 beaches in Florida, and that was shared and re-shared and read by hundreds of people who had never heard of Vero Beach before."
"We have done probably 40 percent more sales volume this summer than last summer," says Sally Daley of Daley & Company Real Estate. "A lot of people who looked earlier are coming back and buying. There is a real sense of urgency as prices rise and inventory gets thinner."
"Vero is special place," says Matilde Sorensen. "People who live here do not need to go on vacation because we have the best vacation lifestyle right here with our great restaurants and beautiful beaches and safe environment.
"We had an office meeting on Wednesday and our sales were so high, it was mind-boggling. When you report $30 million in sales in a single week, it is kind of hard to comprehend."
"It is great to see Vero booming the way it is this summer," says Duncan Clemens.