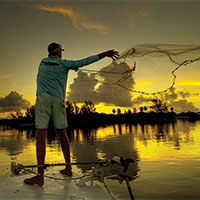 Lagoon seagrass and fishing making a comeback?
STORY BY STEVEN M. THOMAS (Week of August 7, 2014)
Photo: Fishing at sunrise on the Indian River Lagoon.
At long last, seagrass seem to be beginning to recover in parts of the central and northern Indian River Lagoon. The rebound is not widespread but Harbor Branch Oceanographic Institute scientist Dennis Hanisak says he is encouraged by what he has seen in recent weeks.
It's the best news – possibly the only good news – about the health of the lagoon received in years, and may help explain why many local people say that fishing in the lagoon is better now than it has been in a long time.
"We just started our summer survey for one of our seagrass projects and we saw a lot of regrowth by Grand Harbor and near the south canal, which are two areas we monitor that had a lot of loss in 2011 and 2012," Hanisak said. "The shoal grass is almost back to where it was before the blooms. On a personal level, it felt good to see that.
"Both beds have always been small – 90 or 100 feet by a couple of hundred feet – but the regrowth is encouraging. I think there is room for optimism."
Hanisak's optimism is significant. During a 37-year career as a research scientist at Harbor Branch, he has become the leading expert on lagoon seagrass. Google a research paper on the topic and his name is likely attached.
If he is hopeful, there is probably good reason to hope the underwater meadows that are the foundation of the lagoon's ecology will one day be as lush and productive of life as they were before the Superbloom.
"There are some areas that have made some incredible gains," says Lori Morris, a senior environmental scientist with St. Johns River Water Management District. "The water is clearer in some places in the Banana River than I have seen it in 20 years. A lot of the transects in the northern IRL are getting deeper and starting to approach their earlier depths."
Transects are survey lines St. Johns routinely checks to see how far out from shore seagrass is growing in specific location. When water is clear, more light penetrates and seagrass can grow at greater depths. The depth at which the grass thrives is a fundamental measure of lagoon health.
"The last time they checked our seagrass, there were a lot of positive signs," says Marty Smithson, administrator of the Sebastian Inlet District.
The District has been monitoring seagrass on the shoals along the inlet since 2007, which gives Smithson a solid historical perspective.
"We had about 240 acres of seagrass on the shoals before the blooms," he says. "We probably lost 80 percent of it, but regrowth is on a positive trend and we are back to 40 or 50 percent of what we had in 2010."
"That is very good news," says Hanisak of the recovery near the inlet, and then immediately adds a caveat: "No one should read into this that we don't have to keep doing everything we can to help the lagoon recover. A lot of things we do in daily life in the watershed contribute to bad water quality, and we need to change those things. The more we do, the better it will be for seagrass recovery.
"Even with all the efforts that are being made, it may take 20 or 30 years for everything to take effect. How much the grasses recover will depend on what the continued stresses are," Hanisak added.
During the early 2000s, up until 2010, seagrass thrived in lagoon, becoming nearly as abundant as it was in the 1940s when the shoreline was mainly natural terrain. Scientists and state agencies believed conservation and water clean-up strategies were working.
Then came the infamous 2011 algae Superbloom and several severe blooms that followed in 2012. Together, the series of blooms killed tens of thousands of acres of underwater meadows, wiping out 60 percent of the lagoon's seagrass by clouding the water and cutting off light to the photosynthetic plants.
The exact cause of the superbloom, which was unprecedented in severity and timespan, has not been pinned down, though some contributing factors have been identified.
While the cause remains a mystery, the consequences have been clear. Seagrass provides food and shelter for countless forms of lagoon life, from manatees to immature game fish that hide in the wavering blades until they are large enough to venture out to sea.
With most of the lagoon floor denuded, there have been far fewer fish for locals and tourists to catch and much less food for dolphins to eat.
Studying the lagoon since the blooms, scientists have made a number of troubling discoveries, finding that it is, and has long been, heavily polluted with nitrogen, phosphorous and bacteria from human sewage seeping through groundwater from outdated septic tanks. Also, urban and agricultural runoff regularly carry fertilizer, pesticide and petroleum residue into the estuary.
Since 2011, there have been catastrophic marine mammal die-offs and an alarming rate of disease in the lagoon's resident bottlenose dolphin population, with as many as half of the animals suffering from some type of serious illness.
In retrospect, scientists believe the increase in seagrass coverage prior to the Superbloom was due to a period of drought that lessened the amount of polluted runoff entering the lagoon, and possibly to the flushing action of the 2004 and 2005 hurricanes that pushed out stagnant water.
"The lagoon has taken a big wallop," says Bob Chamberlain, a top environmental scientist with St. Johns. "When you lose this amount of seagrass it is an indication the system is badly out of balance. There have been water quality changes that were very damaging."
Even though water clarity improved in many places in the lagoon after the end of the blooms, creating conditions favorable for seagrass recovery, little recovery was seen until this year, another indication of serious water-quality issues.
Trying to understand why seagrass was not growing back where it had grown before even though the water was clear, and also trying to discover if regrowth was even possible, St. Johns launched a seagrass transplant pilot project in July 2013.
"We went to three separate locations where water clarity was good enough to support grass but that were not showing any signs of recovery," says Morris. The sites are in the Banana River south of the Pineda Causeway, in Melbourne and in Wabasso, near the Environmental Learning Center.
Hanisak and his graduate students are conducting the research for St. Johns under a contract agreement. He says there are multiple sub-sites at each location that include grass planted in the open, grass planted beneath wire cages to prevent grazing animals from depleting it and grass in staked or fenced-in areas.
Results from the original sites have been mixed, with unprotected grass eaten in some places and caged grass faltering for want of light in others.
But there have been encouraging results, particularly in Wabasso, where the transplanted seagrass plugs have filled in their meter-square patches and spread outward in all directions.
Hanisak transplanted more grass this spring and that grass, planted at the start of the peak growing season, has generally done better than the grass planted last summer.
Sebastian Inlet District has a cooperative transplant experiment going near the inlet and scientists from Bethune Cookman University in Daytona Beach are conducting a similar transplant study in the north Banana River.
"We all got together and agreed on some methods so our research would be comparable," Hanisak says.
Chamberlain and Hanisak say they don't know yet if transplanting seagrass can be done effectively on a large enough scale to significantly aid lagoon recovery.
"This is a pilot project," Chamberlain says. "Our first goal was to figure out why grass was not recovering when conditions seemed good; second was to figure out if it is feasible to do restoration on a larger scale, but we haven't come to that conclusion yet."
Hanisak will continue to monitor the transplanted seagrass though 2015. Likewise the Sebastian Inlet District and the Bethune Cookman team.
"We will probably want to continue watching it for another year," says Smithson.
By the end of the experiment, St. Johns will know a lot more about seagrass growth in polluted waters and maybe be prepared to seek funds for large-scale transplants, but that is still up in the air.
In the meantime, only a fraction of the grass that was lost has grown back, by natural means or transplant, and Hanisak's warning that no one who cares about the lagoon can afford to relax or cease efforts to slow pollution and speed cleanup is the key takeaway – that and the little bit of optimism this summer's natural regrowth has sparked in some veteran lagoon scientists.
"I don't think we are seeing the devastation or total death of the lagoon, but what we gone through is a huge wakeup call about how fragile the ecosystem really is," says Morris, who has been with St. Johns for 20 years, watching seagrass.