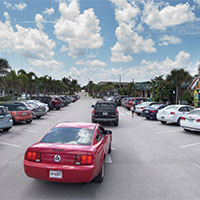 Parking: The big oceanside problem
STORY BY MEG LAUGHLIN (Week of August 14, 2014)
Photo: Sexton Plaza parking lot.
The planning and zoning meeting at City Hall last Thursday could have been a fashion show as owners of upscale shops lined up to question what effect the outdoor expansion of Mulligan's restaurant would have on parking for businesses in Central Beach.
While they applauded Mulligan's success, they worried aloud that more business for Mulligan's could mean fewer on-street parking spots for their customers.
"I have no problem with what Mulligan's is trying to do. But our older clients are not going to park down the road, and if they can't park close to us they are not going to come into our shops," said Laurie Connally, whose family owns the Petite Shop in Sexton Plaza.
"Aren't there penalties for the extra seating at Mulligan's and not getting it cleared first?" Veranda owner Cathy Padgett asked the planning board, which was deciding on Mulligan's request for a variance after the fact. 
The answer came back that Mulligan's had been fined $50 but had since met code requirements for its additional tiki roofs and tables, and the planning board was trying to work with them.
"That's pitiful," said Padgett. "If I put balloons out, code enforcement comes to see me. I have to deal with a balloon policeman, but Mulligan's can expand."
Planning board chair Lawrence Lauffer responded: "It's a balancing act. Expansion sparks synergy but sometimes hurts individuals. We are looking at solutions."
Twig owner Nancy Cook took the microphone next.
"We are all happy Mulligan's is doing well, but we don't want it to happen at the expense of our businesses doing well because of the parking crunch," said Cook.
Mulligan's owner George Hart had come before the city planning and development council to get approval for an outdoor expansion of 3,280 square feet that included tiki huts, tables, Adirondack chairs and pavers.
"Thank God for all of us it's crowded; it's a positive thing," he told the shop owners, explaining that the Mulligan's was actually only expanding by seven tiki tables.
Most of the parking spaces in Sexton Plaza and on the street, he estimated, were being taken by hotel restaurant and bar customers, as well as their employees, and not  by customers and employees of Mulligan's.
He offered to contribute to bringing in a trolley to ferry employees from Riverside Park to their jobs in order to free up street parking.
Bobby McCarthy, owner of Bobby's Restaurant, which has 40 parking spaces, spoke in support of the retail merchants. Employee parking at the hotels and Mulligan's is a problem because often employees take the street spaces which are only supposed to be allotted for two hours to a vehicle, said McCarthy.
"How about a meter maid on patrol more? One day we have one, the next day we don't," he said.
Joey Replogle of the Ocean Grill, which has its own parking lot, also had a suggestion to create more parking spaces in popular Central  Beach: "What if the Holiday Inn No Parking signs came down?" he asked. 
Unlikely, Holiday Inn manager Scott Dipietro told Vero Beach 32963.  "We like to reserve the lot for guests, but we don't patrol it and it's unattended."
City planning director Tim McGarry reminded the Central Beach restaurant and shop owners that despite parking issues, "the main issue here is whether Mulligan's outside dining meets code, and I believe it does."
Because of that, the planning board voted to approve Mulligan's expansion with only Richard Cahoy dissenting.