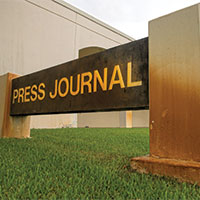 Scripps says it is getting rid of Press Journal
STORY BY MILTON R. BENJAMIN (Week of August 7, 2014)
How many Vero Beach residents are aware that the E.W. Scripps Co. announced last week it plans to get rid of our daily newspaper, the Press Journal?
Probably not many.
Unlike 1996, when Scripps announced with great fanfare that it was acquiring the Press Journal from longtime local owner John J. Schumann Jr., last Thursday's announcement that the E.W. Scripps Co. is dumping all its newspapers – including the Press Journal – was buried in a back section of our local daily under the curious headline: "New Venture for Scripps Newspapers."
Given Scripps growing contempt for its Vero Beach readers, it seems only fitting that the story never actually mentioned our community.  Hence, it was not all that surprising to discover a couple of days later that most area residents were totally unaware Scripps was jettisoning the Press Journal.
But the first nine words of the story – written by a Scripps reporter (!) – said it all: "The E.W. Scripps Co. will say goodbye to newspapers ..."
In several other cities, Scripps newspapers ran stories in which a local editor or publisher sought to reassure readers and advertisers that not much will change, at least until the deal is completed in 2015.  But what were Press Journal readers told by the local headquarters in Stuart?  Nothing.  Nada.
So what's going on here?
The Scripps bosses in Cincinnati, it turns out, have decided that a company with booming local television stations – like WPTV, channel 5 – should no longer see its stock price dragged down by the lagging performance of dying local newspapers.
Their solution: Scripps and a Wisconsin-based company, Journal Communications, worked out a deal to combine their broadcast properties in a joint company that seems certain to be a big hit, and cast their newspapers adrift in a new company that can sink beneath the waves without sullying the Scripps name.
The legacy company, which will continue to be called E.W. Scripps and continue to be controlled by the Scripps family and current management, will wind up with 35 television stations and 34 radio stations in 27 cities – a deal that will make Scripps the nation's fifth largest broadcaster.
"In one motion, we're creating an industry-leading local television company," declared CEO Rich Boehne, who will continue at the helm of Scripps.
The new newspaper holding company, which will be called Journal Media Group and be run out of Milwaukee, will consist of the 13 Scripps dailies plus the Milwaukee Journal Sentinel – a big city newspaper that like many other major metropolitan papers is struggling.
To keep retirees from the Press Journal and other Scripps papers from rioting, E.W. Scripps will not seek to off-load their pension obligations on the new company – and it plans to give the newspaper group a clean balance sheet and a $10 million dowry as it shoves the papers out the door.
While the absence of debt is good, a cash position of $10 million is not a lot for a new company that can anticipate declining income and annual expenses approaching $500 million.  Life is going to be precarious, one analyst observed, unless management does something wonderful with cash flow.
As for any notion that Journal Media Group may be able to come up with some magic plan for saving the Press Journal and the other papers from continuing an inexorable downhill slide, Scripps announced that the new company would be run by the current head of the Scripps newspaper division, Tim Stautberg.
How different this all is from those heady days in 1996, when Scripps acquisition of the Press Journal for a price of more than $120 million was announced.
"We have coveted this newspaper and its market for many years," Lawrence A. Leser, then the Scripps CEO, enthused at the time in announcing the purchase of the Press Journal.
"The Vero Beach Press Journal is one of those rare gems in the newspaper industry," bubbled William R. Burleigh, president and chief operating officer.
At that time, the Press Journal's daily circulation was 33,000 and growing.  Today, it is half that and sinking fast.
In interviews after the announcement that Scripps was getting out of the newspaper business, Boehne described it as an "enormously difficult decision." But he said "we thought it was time to take the newspapers and put them into a dedicated company so they could grow and pursue their own strategy and take advantage of opportunities that we couldn't do inside this company."
Grow? Stautberg went even further, saying the newspaper holding company would have the ability to expand beyond its 14-markets following the closing.  Sure.  Perhaps other media conglomerates will give Stautberg some money to take in their unwanted newspapers as well.
"Clearly newspapers on a financial basis have less and less value, and very little in the way of growth prospects," said media analyst Ken Doctor.
Take away the support of profitable TV stations, he added, and "it leaves them without a safety net."
Among other things, the deal means that Vero will lose access to Scripps' philanthropic arm, the Scripps Howard Foundation.
But the best indicator of how E. W. Scripps views the future of the newspaper holding company came in its decision on how to carve up assets.  The Scripps National Spelling Bee, organized 89 years ago by newspapers, will remain with the broadcasting company.