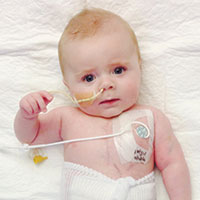 Christmas miracle for Vero infant
STORY BY MICHELLE GENZ (Week of December 25, 2014)
HOLLYWOOD, FL – Kaiden Bracken, age 11 months, was clearly hoping to spend the first Christmas of his young life at home in Vero. Five minutes into a news conference here at Joe DiMaggio Children's Hospital last week, Kaiden let the room know that after eight months in the hospital, he was more than ready to head back to Vero with his mom and grandparents.
Stretching his tiny arms over his head, he yawned mightily, an audible sigh interrupting the doctor who headed up the transplant team that just gave him a new heart. 
Kaiden, the latest of 18 transplants the pediatric unit had performed since it opened in 2010, in mid-December became the first infant in South Florida ever to get a heart from a donor of a different blood type.
Kaiden was "basically dying" when he arrived at Joe DiMaggio in April, transported via a specially equipped ambulance sent by the hospital to Fort Pierce's Lawnwood Medical Center, according to Dr. Maryanne Chrisant, head of pediatric transplant at DiMaggio.
Lawnwood was where his mother, Kristen Bracken, along with first-time grandparents, Linda and George O'Malley, had driven the baby this past April on an awful Good Friday.
Bracken, then 40 and a forensic sociologist with the public defender's office, was on maternity leave with her baby, her first. She had given birth in January at Indian River Medical Center in what Kristen described as an "awesome" easy delivery.
That Friday before Easter, though, her otherwise healthy baby seemed to be breathing too quickly. His chest rose and fell to a wider than normal degree.
"I googled 'baby breathing habits'," she said. Right away, she saw that more than 60 breaths a minute in a resting baby was reason to call the doctor. She checked: Kaiden was right at 60.
"But he was playing," Bracken recalls. "So I waited until he was ready to take a nap and checked again. Still 60."    
Being Good Friday, her calls to Kaiden's doctor went to a hot-line recording. Her instincts kicking in, she bundled Kaiden into the car seat and drove to an urgent care center.  The clinic didn't see babies under six months.
Kristen's next thought was Lawnwood Regional Medical Center. She'd been told that in an emergency, it was the place to go, a Level ll trauma center with the only pediatric emergency room on the Treasure Coast.
She went to find her parents at the island's Holy Cross Catholic Church, where she plays flute every week and her mother sings in the choir. Circling the building she found them in the parking lot socializing after Good Friday mass.
"You should have seen her face," recalls a somber George O'Malley. "That's what really got us excited ... and rightfully so."
Only two weeks earlier, the O'Malleys, who owned Darby Fine Art, a respected downtown art gallery, had gathered their roster of artists together to tell them they intended to close the gallery down, that they really wanted to help their daughter with their first and only grandchild.
She needed them, they said. That was before the health problems.
Half an hour later they were at Lawnwood. Kaiden underwent an echocardiogram, and was at first diagnosed with bronchiolitis. The treatment: a nebulizer. The family was waiting to go home, when Dr. Marshall Lewis, a pediatric cardiologist who was about to take off on Easter break, took a look at that echocardiogram.
"This heart's enlarged," he said.
Enlargement of the heart is a key symptom of dilated cardiomyopathy, when one or both pumping chambers of the heart weaken, and the heart swells to deliver more blood with each beat.
A nurse came to Kaiden's family. Kristen remembers her horrifying words. "I can't tell you why, but your baby's about to be air-lifted or taken by ambulance to Tampa or South Florida. Which would you prefer?"
Lewis was already on the phone to hospitals in Tampa and South Florida. Joe DiMaggio Children's Hospital in Hollywood had a pediatric cardiac care unit, and a transplant team since December 2010, one of only four in the state. The specially equipped ambulance drove up from Hollywood and with Kristen looking on, paramedics immediately started Kaiden on an IV drip of Milrinone, a drug used in heart failure.  
Kaiden was in good hands: Chrisant came to Joe DiMaggio after directing heart transplant programs at the Cleveland Clinic Foundation, the Children's Hospital of Philadelphia and the University of Virginia Children's Hospital.
After a month of medication failed to maintain adequate blood flow, doctors implanted a line into the baby's left ventricle and another into his aorta. That connected his body to a pump called a Berlin heart.
For more than half a year, the fist-sized device rested between his legs, while a computer atop a three-ton generator with multiple battery-driven backups remained at all times just a few feet away.
Also omnipresent was mom Kristen, who has slept in a recliner in his hospital room every night since April. She was there every time doctors made their rounds.
She was there – "masked up and gowned up" – for every procedure her baby boy underwent, including one in which a clot being routinely removed from the Berlin heart suddenly caused a stroke. "I watched it happen," she says. When he came to, half of Kaiden's body was paralyzed.
"His eyes wouldn't track, he couldn't focus; it was awful. I said, 'I don't care, I want him. I want him anyway we get him!'" cried George O'Malley, fighting tears as he recalled the calamity. "Honest to God, we had nurses crying and doctors with tears in their eyes."
When the grandparents had gone home, the neurologist came into Kristen's room. They went over details of the stroke and she spoke candidly to Kristen. There was worse news:  a stroke would take Kaiden off the transplant wait list.
"He was going to be hospitalized for the rest of life," Kristen says. "I started asking: how long can a child survive with a Berlin heart? Nobody knew."
Within weeks though, to the amazement of the neurologist, the plasticity of Kaiden's infant brain compensated for the zone damaged in the stroke, effectively rewiring itself and letting him relearn how to move. Pediatric physical and occupational therapists were brought in. Soon he was kicking his leg again, then moving his arm, and finally smiling with both cheeks.
He was also back on the transplant list, and at the top of it because of the urgency of his case. His Berlin heart was checked with renewed vigilance for the first trace of a clot – and there were eight more procedures, including one when the original clot became dislodged, creating the risk of another stroke. Kristen, who was in the room, saw a petite African-American nurse raise her eyes to the ceiling before Kristen knew what was happening, and heard her pray, "Dear God, don't let it happen." It didn't.
He was also marked eligible for a heart of a different blood type – ABO incompatible, they call it – provided a heart donor with a matching type wasn't available.
This procedure had never before taken place in South Florida, and only children up to two years old can make the necessary adaption. DiMaggio is even more conservative – they would only consider babies up to a year old for ABO incompatible transplants.
Kaiden had a month to go.
It's 1 a.m. on Monday, Dec. 8, the Feast of the Immaculate Conception, and Kristen, a Catholic like her parents, has always felt a closeness to Jesus' mother, Mary.
Kristen has managed to fall asleep in her pull-out recliner. Kaiden manages, too, in his crib beside her and at least as uncomfortable, his mechanical heart pumping between his little legs, tethered to the giant generator. A feeding tube taped to his cheek runs from his nose to his stomach. After the lines to the Berlin heart were implanted, his chest was left "open," with only skin covering it. You have to be careful how you pick him up, and he can't be on his tummy.
Even encumbered with monitors and tubes, he is beautiful boy, his luminous sugar-cookie face fringed with apricot hair.
Something in his pout and large, moody eyes gives him a look like he's a little fed up. Who could blame him? But it turns out, he looked the same when he was well. 
A tiny Christmas tree stands in one corner, sent by a friend in Vero, and Kristen has strung lights around the room. She decorated for Thanksgiving too.
Marking time made the nurses anxious. The director of the transplant program, a nurse, wept as she tried to tell a press gathering what it was like to wait for a heart. Her tears hinted at the mixed emotions: hope for Kaiden, sorrow for the donor's family.
Kristen's phone rings, waking her: in the blur of sleep, she is incredulous.  Somewhere, a little heart, still capable, no longer had a reason for beating. It is the unspoken and necessary horror behind everyone's dream come true: a child has died and now Kaiden may live. The organ procurement team rushes to the scene – it is a "distant" heart, in the jargon of transplants, outside this region, and often Lear jets are used to save time.
The heart has to be what doctors called Kaiden's angel heart. It wasn't the first heart to become available in the eight-month wait, and it hadn't been the first time Kaiden was readied for surgery, but it was the first to be perfect enough for them to go through with a transplant.
The donor transplant system, which puts donors and recipients together by blood type, age, and district – there are nine in the U.S. – has a website. At any given moment, the family could check to see how many candidates were in need.
"Every one of them is critical but there are some more critical than others," says O'Malley. "You could get on the Internet and you could see that there are, say, seven people in this district."
This time, Kaiden topped the list. The heart that became available was not of his blood type but his need was tremendous.
That meant that when he was taken into the O.R., around 3 p.m. that same Monday, the first step was an exchange transfusion, "what you have to do in order to bring down the level of antibodies before they do the transplant," says Dr. Lisa Tyler, a pathologist and medical director of transfusion services at DiMaggio. "We removed his entire blood volume – twice."
Six hours later, his new heart was allowed to take over.  It did so flawlessly.
"He's done so remarkably well," says Tyler. "He hasn't needed any blood. He's going great. He's a champ."  
Kaiden's family – including his uncle Sean O'Malley who's been taking care of Kristen's white Labrador retriever whom the baby has yet to meet as well as everyone else's dogs – are hoping their Vero friends understand if they keep to themselves for a while. There's still a significant amount of care required for Kaiden: he will have to return twice a week to Hollywood for checkups.
On her first day outside with Kaiden last Friday – first walk, first trip to the park and beach – Kristen was adjusting to not having a support system of trained nurses and doctors.
"I'm up to my ears in motherhood," she said happily.