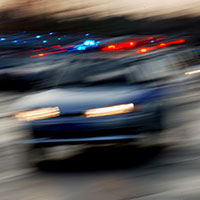 Crisis situations don't always produce headlines
STORY BY LISA ZAHNER (Week of December 18, 2014)
When a crisis situation results in a death or an arrest, it often ends up in the headlines, but the average citizen never reads or hears about all the crisis situations that are defused by police.
That's what happened two days before Thanksgiving last year when Sgt. Phil Huddy and his team were dispatched to the Merrill Barber Bridge. A 22-year-old man was on the bridge, ready to jump. He phoned his mother to say good-bye and told her he intended to end his life. She called police, as did a driver passing by who saw the young man.
Huddy and backup units quickly arrived on the scene and began talking to the troubled young man. They had no idea that the subject had a couple of run-ins with the law and had a recent history of violent behavior. They didn't know if he might have a gun or a knife. They didn't know if he was on drugs.
Within five minutes, officers were able to distract the jumper and secure him. Huddy delivered the young man into the hands of mental health professionals. Lt. Matt Harrelson, who oversees Vero's Crisis Intervention Team (CIT) training, was listening to the drama unfold on the radio and nominated Huddy for the regional 2014 Treasure Coast Crisis Intervention Team Officer of the Year award for which Huddy was recently recognized before the Vero Beach City Council.
"Sgt. Huddy did an exemplary job in coordinating officers to assist in thwarting the suicide attempt," Harrelson wrote in the nomination. "Without Huddy's quick response and ability to align his officers to de-escalate the scenario, this call for service may have had a tragic outcome."
Handling dicey situations often goes beyond the skills the average recruit learns at the police academy. That's why agencies send officers to advanced CIT training.
"Sgt. Huddy graduated from the 40-hour CIT class several years ago and he excels on a daily basis with crisis intervention scenarios," Harrelson said.
Public Information Officer Anna Carden said Vero tries to send all officers within their first two years on the beat. Since 2008, 45 of Vero's police officers – the vast majority of the 52-member police force – have been trained.
Chief David Currey said officers spend a solid week at the Treasure Coast Public Safety Training Complex, learning from experts in mental and behavioral health, suicide prevention, substance abuse and post-traumatic stress disorder. When a crisis occurs, day or night, Currey said, "Somebody on that shift has had the training that gives them the compassion and the understanding to handle the call."
This bridge incident might seem like an extreme event, but the City of Vero Beach had 111 suicide attempt calls over the past 12 months, an average of more than two per week.
On top of that, officers encounter residents with mental illness, dementia or substance-abuse issues on other types of calls, like the 32 missing persons investigations Vero handled over the past year, or the 59 confirmed domestic battery incidents, which often require crisis intervention skills. These are the calls that Currey calls the compassionate side of police work.
"People immediately think that we're the police and we take people to jail when they commit crimes, but we provide other services as well," Currey said. "We want to make sure that we provide the right service."
The first priority when a 911 call comes into Vero's communications center, Currey said, is to make sure there's no imminent danger to the public or to anyone on the scene. Dispatchers send information to officers en route by radio and via on-board computers.
Upon arrival, officers work to establish a dialogue, to size up the situation on the ground and determine whether or not a crime has been committed. If so, crime scene personnel are called in and evidence is secured. If no crime has been committed, the next job is to unravel the dispute or disturbance, separate the parties if need be to defuse the situation, and figure out who needs what kind of help.
As Vero's population swells from November to April, all calls for service increase, Carden said, "and the disturbances increase over the holidays." Currey said his officers are instructed to increase their presence over the holiday season and step up patrols of retail shopping areas as a deterrent to property crimes, but it's tougher to prevent the calls that stem from erratic behavior or substance abuse.
"So many of the individuals we deal with are suffering some kind of mental illness," Currey said "And so many times with the mentally ill, they are by themselves and in many cases there is a detachment with the family."
When families are away from loved ones who are elderly, chronically ill, severely depressed, suffering from dementia or forgetful about taking medications, law enforcement performs welfare checks upon request. The Vero Beach Police Department conducted 326 welfare checks over the past 12 months.
When the subject of a disturbance call, suicide attempt or a welfare check is without family support, or when the situation has escalated to the point where it's too severe for friends and family to handle without professional help, officers can take the person to Indian River Medical Center's psychiatric facility for observation under the Florida Mental Health Act of 1971, known as the Baker Act.
Vero police officers invoked the Baker Act 173 times since Sgt. Huddy and his colleagues pulled the young man off the Barber Bridge just before last Thanksgiving. They also assisted nine people who voluntarily sought psychiatric help. Vero admitted three people under the Marchman Act, a Florida law used to commit people for substance-abuse rehabilitation services.
Indian River Shores Public Safety officers handled seven domestic disturbances, two incidents of battery and invoked the Baker Act four times over the past 12 months, according to Lt. Mark Shaw."Fortunately, we don't see these types of calls very often in Indian River Shores but our officers are properly trained and equipped to deal with them if we do," Shaw said. "Being triple-certified, our officers have the benefit of a medical background to assist their decision-making when dealing with emotionally disturbed people. They can also provide medical treatment to people injured as a result of a critical incident."
"If needed, we request mutual aid through the Indian River County Sheriff's Office for victim advocates and grief counselors," Shaw added.
The Indian River County Sheriff's Office handles its share of crisis scenarios as well, and Sheriff Deryl Loar said that not only are the officers in the field specially trained to handle a crisis, but "the moment a call comes in, my 911 call takers are trained to begin to identify whether or not there is a crisis."
Call takers have to make on-the-spot judgments about the urgency and severity of a situation, so the proper resources can be dispatched to help.
On the back side of these crisis calls, both Loar and Currey agreed that the Mental Health Court set to launch in January will provide a much-needed pre-trial intervention program to help local residents get the counseling and treatment they need, and possibly avoid jail time or harsh criminal charges.